Type
Restaurant
Wine & Spirits
Cuisine
Chesapeake Bay theme, offering American fare and a raw bar. For full menu click here.
Average Drink Price
$5-$7
Average Food Price
$15-$20
Hours of Operation
Mon-Sat: 11 AM-2 AM; Sun: 10:30 AM-2 AM
Kitchen Hours
Mon-Sat: 11 AM-11 PM; Sun: 10:30 AM-11 PM
Atmosphere
Bright
Domestics on Tap
Impress a Date
Relaxed
Dress Code
Casual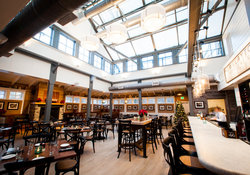 Address
5700 Newbury St
(Newbury St & Sulgrave Ave)
410-367-6903
mtwashingtontavern.com/
Neighborhood
Mount Washington
About
From The Mt. Washingtn Tavern's Website:
From wedding receptions and rehearsal dinners to birthday parties or more intimate gatherings, the Mt. Washington Tavern is the area's premier location to host and celebrate events of all types and sizes. We offer combinations of menus and rooms to suit most any occasion and our seasoned Tavern staff works with you or your party planner to create memorable events. Fantastic food., award-winning wines, amazing ambiance, stellar service and a memorable menu all since 1979.
Monday
Happy Hour (4:00 pm - 7:00 pm): $3.90 Drafts, $5 glasses of select wine and $5 16 oz. Margs (Mondays and Wednesdays only)
Tuesday
Happy Hour (4:00 pm - 7:00 pm): $3.90 Drafts, $5 glasses of select wine and $5 16 oz. Margs (Mondays and Wednesdays only)
Wednesday
Happy Hour (4:00 pm - 7:00 pm): $3.90 Drafts, $5 glasses of select wine and $5 16 oz. Margs (Mondays and Wednesdays only)
Thursday
Happy Hour (4:00 pm - 7:00 pm): $3.90 Drafts, $5 glasses of select wine and $5 16 oz. Margs (Mondays and Wednesdays only)
Friday
Happy Hour (4:00 pm - 7:00 pm): $3.90 Drafts, $5 glasses of select wine and $5 16 oz. Margs (Mondays and Wednesdays only)