Bars with Purse Hooks in Baltimore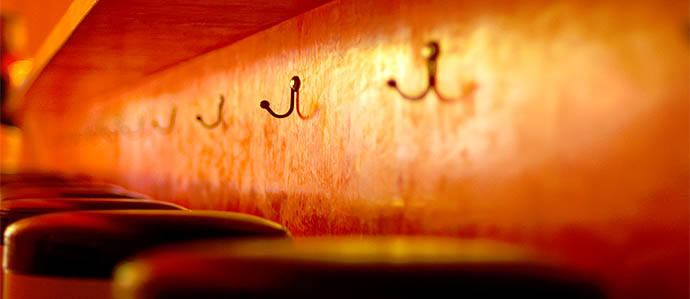 Hanging your bag on the back of a chair could be one of the top five most annoying things about going out. People bang into it and the straps press up against your back, and you never can be sure someone isn't sneakily reaching inside. Happily, many of our favorite bars have installed hooks to alleviate our bag-at-bar woes. Here is a quick list of Baltimore bars with purse hooks. Know another? Let us know on Twitter or Facebook and we'll add to the list.
The Admiral's Cup: Hang up that bag for an all-you-can-drink brunch on Saturday or Sunday (1647 Thames St.; 410-534-5555).
The Americana: With one of the best selections of local brews on draft, we knew this tavern would have the foresight to add purse hooks as well (900 South Kenwood Ave.; 443-708-8466).
Birroteca: Get on the artisan pizza bandwagon with a craft beer in your hand, instead of your bag (1520 Clipper Rd.; 443-708-1934).
Bond Street Social: Hiding under the bar are rather tucked away hooks in this Fells Point social spot (901 S Bond St.; 443-449-6234).
Brewer's Art: You need two hands to hold you beer and the delicious fries at this brewery/restaurant (1106 N. Charles St.; 410-547-6925).
Charleson: Put down your bag and pick up the wine menu of over 600 options (1000 Lancaster St.; 410-332-7373).
The Chesapeake: The massive bar has plenty of hooks to spare while you taste test the variety of Union beers options on tap (701 N. Charles St.; 410-547-2760).
Don't Know Tavern: This WVU sports bar in Fed Hill has all the televisions and purse hooks you would need for a good time (1453 Light St.; 410-539-0231).
Food Market: Up on the Avenue, enjoy a phenomenal menu of food, wine and cocktails with both hands free (1017 W 36th St.; 410-366-0606).
Gordon Biersch: If you grab a seat in the bar on the harbor-facing side, you can sit back and enjoy the beautiful breeze with a house-brewed beer and no bag to distract you (1000 Lancaster St.; 410-230-9501).
Heavy Seas Ale House: In the bar area, posts are lined with hooks for coats and purses alike (1300 Bank St.; 410-522-0850).
JD's Smokehouse: Grab a seat at one of the three main bars and be rewarded with delicious specials and a home for your bag (3000 O'Donnell St.; 410-675-4029).
Johnny's: Check out a mix of wine, food, and coffee at this Roland Park establishment also sporting purse hooks (4800 Roland Ave.; 410-773-0777).
Johnny Rad's: It would be hard to play skee ball and drink a beer while holding your bag, so you can put it down on hooks by the bar or the tables (2108 Eastern Ave.; 443-759-6464).
MaGerks: Hang up your purse up and relax at this laid back sports bar in Fed Hill (1061 South Charles St.; 410-576-9230).
Mamas on the Half Shell: It can be tight in the main bar area, so save yourself some room and hang up that bag (2901 O'Donnell St.; 410-276-3160).
Max's Taphouse: If you are lucky enough to score a seat at the big main bar, you can also enjoy the extra accommodation of a purse hook (737 South Bwy.; 410-675-6297).
No Idea Tavern: There are plenty of places to hang your coats and bags at this Federal Hill bar (1649 S. Hanover St.; 410-685-4332)
Owl Bar: With 17 seats at the bar and 10 double-pronged purse hooks beneath, you are sure to find a spot to enjoy delicious pizzas and beverage menu (1 East Chase St.; 410-347-0888).
Pazo: This Harbor East Mediterranean restaurant is looking out for your handbag needs (1425 Aliceanna St.; 410-534-7296).
Petit Louis: This French bistro has plenty of hooks to spare so you can fully concentrate on thier delicious menu (4800 Roland Ave.; 410-366-9393).
Ryleigh's Oyster: Two out of the three bars have a place to put your bag, so choose carefully, and then make sure to check out the crush menu (36 E. Cross St.; 410-539-2093).
Slainte: Put your bag down and enjoy watching the game at this Irish pub (1700 Thames St.; 410-563-6600).
Townhouse Kitchen + Bar: There is a ton of space around the main bar for both you and your bag to hang out for a while (1350 Lancaster St.; 443-268-0323).
Turp's Sports Bar and Restaurant: This Mount Vernon sports bar is lined with hooks to make it easy to cheer on your team with full force (1317 N. Charles St.; 410-347-0349).
Waterfront Hotel: The $10 all-you-can-drink mimosas at brunch are worth hanging up the bag for a few hours (1710 Thames St.; 410-537-5055).
Feedback
How are we doing? Tell us what you like or don't like and how we can improve. We would love to hear your thoughts!