Bar Review: Mahaffey's Pub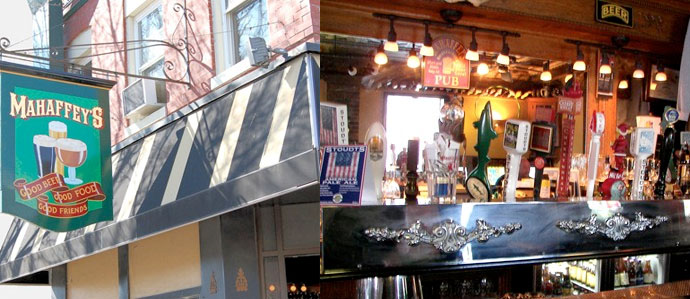 If you ever find yourself in Canton with a burning desire to try some of the best beers from around the world, make it your business to head to Mahaffey's. The welcoming but discerning pub effortlessly exudes the atmosphere of a cozy neighborhood bar but has the beer selection of a world-class taphouse.
Mahaffey's 19 taps are rotated weekly. About three-quarters of the taps are dedicated to out of town breweries, but the AB InBev crowd is entirely banned. Possibly even more impressive is the bottle list, which currently sits at a solid 100.
The walls are festooned with brewery signs, as well as taps not on the current rotation. There are also a series of plaques adorning one wall displaying the members of Mahaffey's "100 Beer Club". Try 100 different beers and you to can gain admittance to this vaunted group of loyal beer drinkers. The food doesn't stray beyond normal bar fare but is quite good and reasonably priced at that.
Many of the patrons who accompanied me on Monday night were no doubt on hand to take advantage of the best deal in Baltimore: three 10-oz. mugs of any draft for five dollars. This offer is normally relegated to happy hour, but on Mondays it goes all night. It's a fantastically economical way to sample an astounding variety of drafts, but be forewarned, discounted beers don't count towards your 100 beer club total. Some expensive beers – such as Allagash Four – are excluded from the deal, but you won't be disappointed by the available choices.
Overall, Mahaffey's is a great place to relax with a delicious brew and watch the game, or engage in friendly discourse with fellow beer fiends.
Recent Articles
Sign Up for Early Word on Brad Pitt and Angelina Jolie's Next Wine Release
Maryland Zoo's Brew at the Zoo, May 25-26
Best Bars for Sushi and a Drink in Baltimore
Feedback
How are we doing? Tell us what you like or don't like and how we can improve. We would love to hear your thoughts!