Ommegang: Hennepin
Top Drinks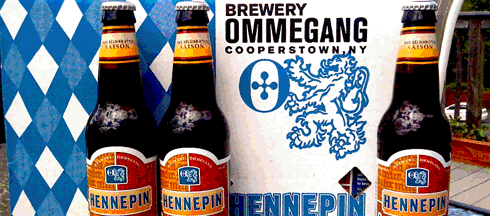 One of the best representatives of the Saison style ale, Cooperstown, New York's Brewery Ommegang offers the spectacularly complex and easy drinking Hennepin. Saison is also known as Belgiian farmhouse ale, and in Hennepin you'll taste every part of the farmhouse - the yeasty straw on the packed dirt floor, the funky remnants of livestock, notes of dried apples and tart black cherries, and the weathered oak of the roof overhead. Despite these complexities, this brew goes down easy enough to make an afternoon in the sun a lot more enjoyable, and provides enough citrusy refreshment to motivate even the most overworked farmhand to get back into the fields. You'll have no problem finding this around town in any of the many Belgian inspired taprooms, but if you're planning a spring or summer hoedown, pick up a case at your local distributor.
About Beer Geek Steve:
Steve spends as much time as his wife will let him tracking down rare beers and trying to analyze the intersection between quality beer, hype, and viral marketing. When he's not reviewing beer for Drink Philly, he writes about his adventures in chasing bottles and taps at his blog, Beer Geek Steve. You can also follow him on Twitter, where he tweets about happenings in the craft beer industry and often locates some of the best barrels in southeast PA.
Recent Articles
Sign Up for Early Word on Brad Pitt and Angelina Jolie's Next Wine Release
Maryland Zoo's Brew at the Zoo, May 25-26
Best Bars for Sushi and a Drink in Baltimore
Feedback
How are we doing? Tell us what you like or don't like and how we can improve. We would love to hear your thoughts!