Ever Wonder What Christopher Columbus Drank?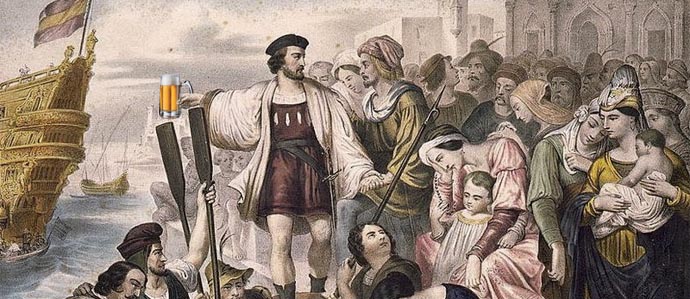 More than 500 years ago, in search of new trade routes, Christopher Columbus packed away wine and water in barrels of oak and led a voyage west. The casks likely contained sherry, in addition to red wines. Like "ship's beer," which was also undoubtedly on board, the vino carried across the ocean was extra-high in alcohol content, the better to preserve it during a journey of unknown duration.
After two months of incessant "are we there yet" complaints from his crew, Columbus threatened to pull the ship over, and upon doing so landed in what is known today as the Bahamas. Upon meeting the natives, he discovered they made a fermented beverage of maize and black birch sap, not unlike the meads and porters of 16th Century Europe. Today we commemorate this meeting of two brewing cultures with a day off (if you're lucky) in the explorer's honor.
However, it is now generally agreed that not only did Christopher Columbus not "discover" America (as the lands were already well populated), but he was not even the first European to visit. Norse explorer Leif Erikson made landfall in the northern part of the continents a few hundred years prior. Bored with the usual daily habits of a Viking (doing battle, wearing awesome helmets, washing down meals of rocks with flagons of ale), he set sail toward the west past Greenland in search of new lands, and found the coast of Canada. This occasion is celebrated every October 9 as "Leif Erikson Day." (New party excuse! We'll give you better warning next year.)
However you feel about the methods of its namesake or the veracity of its foundation, Columbus Day commemorates the origins of our country as we know it. The events of more than half a millennium ago culminated in current day America, so raise your flagons, steins, glasses, mugs, or skulls (for our Norse friends) in celebration.
Interesting (and possibly unrelated) facts:
The other famous Chris Columbus (and arguably as influential), co-wrote The Goonies, helped create the characters for the Gremlins movies, and directed the first two Harry Potter movies.
Christopher Columbus is most likely the English translation of Cristoforo Colombo.
Some of the crew on the original journey was scared of falling off the Earth, though Columbus was not, because he was probably drunk.
Vikings didn't actually drink out of the skulls of enemies; this is a result of a mistranslation, unfortunately.
Recent Articles
Sign Up for Early Word on Brad Pitt and Angelina Jolie's Next Wine Release
Maryland Zoo's Brew at the Zoo, May 25-26
Best Bars for Sushi and a Drink in Baltimore
Feedback
How are we doing? Tell us what you like or don't like and how we can improve. We would love to hear your thoughts!