Auchentoshan: Triple-Distilled Scotch With Varied Flavors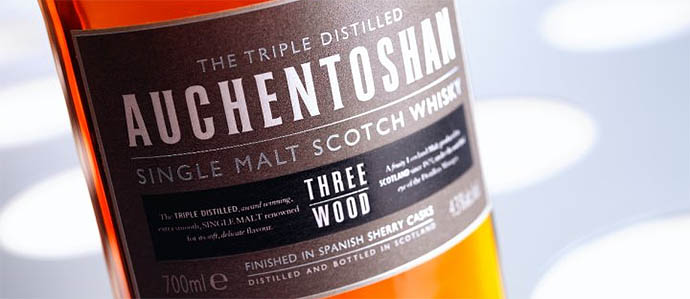 We recently had a chance to taste the array of Scotch whiskys produced by Auchentoshan. One of just five distilleries in the Scottish Lowlands, Auchentoshan has been producing single malt Scotch for nearly 200 years. It's the only distillery in all of Scotland that triple distills its product — using a wash, intermediate and spirit still — to create the "smoothest, most delicate tasting single malt Scotch whisky," according to press materials. After sampling the Three Wood and Classic whiskys, we find it difficult to dispute the claim.

One of the allures of Auchentoshan is the multiple casks used for aging. Three Wood spends time in three different barrels (clever name, right?) before heading to the bottle — it begins in American oak, then moves through two different Spanish sherry casks. This process creates a complex set of flavors, with sherry hints that cut down and nearly eliminate the heavy smokiness usually characteristic of Scotch — a note that many find unpalatable. Three Wood actually drinks more like a bourbon than a Scottish single malt. Even so, it's considered first-rate worldwide, having won a silver medal at the San Francisco World Spirit Awards in 2009.

Auchentoshan Classic, on the other hand, is a a smooth single malt straight from the book of Scottish tradition. Aged entirely in bourbon casks from America — which gives the spirit an opening hint of vanilla — it's a pale yellow in color, the light blond most Scotch drinkers are familiar with. The finish has a pleasing smoke bite, tempered by floral notes.

Although those were the only two we tasted, the company also produces a single malt 12 Year, 18 Year and 21 Year whisky, available throughout the U.S. And if you happen to be attending next week's Tales of the Cocktail in New Orleans, you can get a free hot shave (or hand massage) at Aidan Gill For Men on Thursday, July 26, courtesy of Auchentoshan and complete with sips of the classic spirit.
Recent Articles
Where to Drink on Memorial Day Weekend in Baltimore
Memorial Day Drinks: 5 Fun and Easy Summer Pitcher Cocktails
Orioles Gameday Drink Specials
Feedback
How are we doing? Tell us what you like or don't like and how we can improve. We would love to hear your thoughts!