Dogfish Head, Victory, Stone Brewers Host Google Hangout, July 26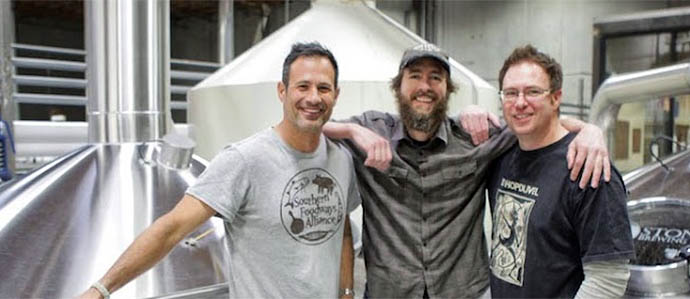 Want to kick back with some of the biggest stars of American craft beer? Now's your chance to raise a glass with Sam Calgione (Dogfish Head), Greg Koch (Stone) and Bill Covaleski (Victory), albeit in virtual fashion. This Thursday, July 26, at 9 PM ET/6 PM PT, the trio of brewers will be hosting a Google+ Hangout, and you can spend an hour with the brew virtuosos, video chatting and following the conversation live.

The three have collaborated before, forming the group Brewers United for Freedom of Flavor in 2003, cementing their positions as craft brew pioneers. In 2010, they got together to create Saison du Buff, a "hellaciously herbaceous" ale which is made from a common recipe at each brewery. Calgione, Koch and Covaleski will be tasting each of the three versions during the hour-long stream. Along with commentary on the Buff, the three amigos will take questions via the hashtag #HangBUFF on G+ and Twitter, and the whole session will be moderated by writer/actor/homebrewer Wil Wheaton.

If you've never done a Google Hangout before, it's actually pretty awesome — think of those scenes in sci-fi movies where a big head shows up in the room and talks to everyone, live, from millions of miles away. Distances here may be more like thousands of miles, but videoconferencing is here for the masses. The whole thing works pretty well, in our experience.

You don't even have to have a Google+ account to watch the video live, as it will be beamed out like a YouTube video, and will be archived on the Stone Brewing channel.

So save the date, set up your webcam, and have a glass of good brew at the ready. Bill, Greg and Sam want to chill.
Event Date: 07/26
Event Time: 9 PM ET/6 PM PT
Location: The Internet
Price: FREE
Website: plus.google.com/events/c07tqsujn4a9c6lkcr5qgtqcuhk/104060331429659495608

Recent Articles
Memorial Day Drinks: 5 Fun and Easy Summer Pitcher Cocktails
Orioles Gameday Drink Specials
Beer Review: Two Brothers Brewing Cane and Ebel
Feedback
How are we doing? Tell us what you like or don't like and how we can improve. We would love to hear your thoughts!