Wedding Drinks: How to Do It Right
Bar tips, signature cocktails and drink recipes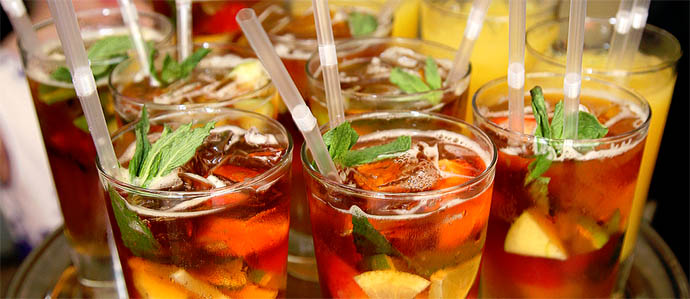 As the appetite for well-crafted cocktails grows, more couples are looking for ways to incorporate boozy appreciation into wedding day celebrations. Set aside the dusty and overpriced "premium" bar packages and take charge of your wedding day with our tips and suggestions.

Creating the Bar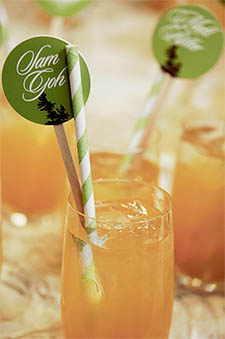 The first thing to determine is if your venue allows you to bring your own booze or if you must purchase a package. There are pros and cons to both, but overall BYO is cheaper, and since you can return excess unopened liquor bottles to the store, it's ok to overbuy. BYO also gives you more freedom with the types of drinks on offer. If you're lucky enough to have this option, consult with your catering company or knowledgeable staff at a liquor store on the quantities you should buy, based on the number of guests attending and what kinds of drinks you'll be serving.

If your venue does require you to purchase a bar package, don't fret! You'll still have access to a variety of basic spirits that can build any number of classy cocktails. You can also speak to the bar staff about adding special ingredients, such as bitters or syrups.

The next thing to consider is what kind of bar you'll be having. An open bar is certainly the most generous option and likely to please boozehounds, but it's also the most expensive. An alternate idea that has been gaining popularity is to offer guests unlimited sips, but from a specific cocktail list of just three to five drinks. This way you can save money by focusing on a few select spirits, rather than having to buy a wide variety of liquors and mixers. Do you and your partner love bourbon and rum? Great! Emphasize them in a specially chosen cocktail featuring each spirit.


Setting the Tone

In addition to being delicious and fun, cocktails can also help set the tone of your wedding. There are many places to find inspiration what drinks to serve — consider some of the options below to help get the creativity flowing:
Think about the time of year you'll be getting married to help determine the kind of drinks on offer. Spring or summertime soiree? Look at refreshing drinks with fruit and herb elements. Fall and winter weddings can feature drinks with seasonal flavors like warm spices, ciders and citrus.

When selecting drinks, also consider the general theme of your wedding. Beach wedding? Find inspiration in tropical favorites like daiquiris or mai tais.

If you love your city, why not show off the best local spirits to your out of town guests? Include a drink that features this booze.

Look to heritage for another inspiration, and consider a spirit that is native to your or your partner's background. For example, if your family has Italian roots, serve a drink with a unique amaro.

If done right, you can include cocktails that incorporate a color from your wedding, though be careful not to go for a bright pink or blue cocktail with artificial or low-quality ingredients just for the sake of matching. Instead, perhaps use a garnish or swizzle stick to pick up a hue.

Crafting a "Signature Cocktail"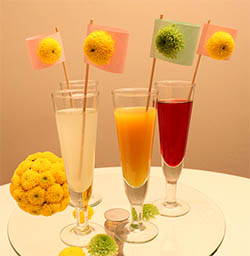 Signature cocktails are almost a staple at weddings these days, and they're not as complicated to create as you might think. And there's nothing more personal than having your guests toast you with a drink you and your partner have specially designed together.

Some common signature sips include variations on a basic Champagne cocktail (Champagne, sugar cube, dash of angostura, twist of lemon) that mix in sweeter spirits such as elderflower liqueur, orange liqueur, maraschino liqueur or cassis.

If bubbly isn't your thing, don't be afraid of having a signature drink that features something stronger, like whiskey or tequila. If you or your partner have a specific kind of booze you love, use that as the base of your creation. Build off of this base spirit by using complementary secondary liqueurs or fortified wines. Finish off the cocktail by making a homemade syrup such as Earl Grey (one part water, one part sugar plus ingredient, boil then strain), using fresh citrus or juice or adding a dash of interesting bitters. Most importantly, experiment, taste and have fun creating your signature cocktail! Things to keep in mind when creating your drink:
Start with around two ounces of a base spirit.

The amount of secondary liqueurs and syrups to add to a drink can range in volume depending on how boozy or intense the flavor is. Start with three-quarters of an ounce and work up from there. However, don't overpower your base spirit.

In general, use citrus and juice in small amounts such as a half ounce, and bitters in one to two dashes, to help balance the drink.

Cocktails That Will Please Anyone

Finally, while you may love complex cocktails with obscure ingredients, your Aunt Mildred probably doesn't. At the end of the day, you do want your guests to be able to enjoy their drinks. Make sure to have one good, stiff drink on offer, as well as something more smooth and drinkable for those who like their drinks less boozy. Also remember is that the most successful wedding drinks are simple; simple drinks are quicker to make and less likely to intimidate guests.

Here are five picks for drinks that are sure to please.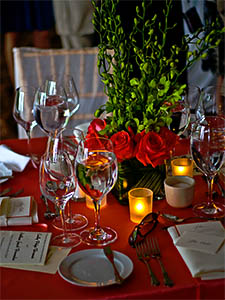 Lemon Ginger Martini

1½ oz vodka
1½ oz ginger liqueur
¾ oz lemon juice
½ oz simple syrup
Candied ginger for garnish


Red Hook

2 oz rye
½ oz vermouth
¼ oz maraschino liqueur
Dash of angostura and orange


Pimm's cup

3 oz Pimm's
3–4 oz lemonade or club soda
Cucumber spear
Lemon slice


Kir Royale

3½ oz Champagne
½ oz Chambord
Fresh berries


Honey Sidecar

1 oz brandy or cognac
½ oz fresh lemon juice
½ oz honey syrup (equal parts honey dissolved in water)
½ oz triple sec
Lemon twist garnish
Photos via Flicker users, in order: Elegant Cuisine, VancityAllie, O Nosso Casamento and Jon Fravel
Recent Articles

Feedback
How are we doing? Tell us what you like or don't like and how we can improve. We would love to hear your thoughts!