Celebrity Drinks: Favorite Sips of 7 Baltimore Celebrities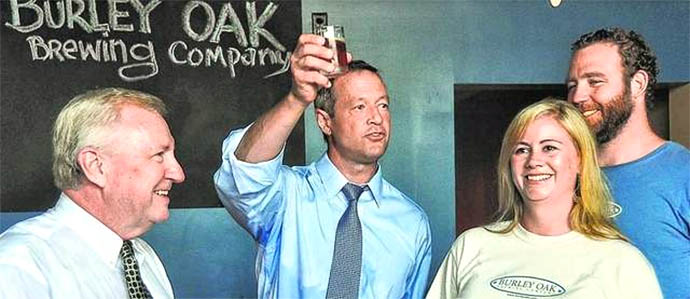 At the end of the day, celebrity status or not, everyone has a go-to beverage they're drawn to, especiallywhen the mood strikes to celebrate. Check out what seven of Baltimore's favorite personalities choose when they clink glasses.
Duff Goldman: Nothing
Famous for his role as the star of Ace of Cakes, Goldman is the executive chef of the Baltimore-based Charm City Cakes shop located in Charles Village. Though he embraces essences of alcoholic flavoring in his delicious desserts laced with liquors, Duff is actually allergic to alcohol and thus does not indulge.
Edgar Allan Poe: Whiskey
It is no secret that this famous Baltimore native loved the drink. On a cold day in the mid 1800s you could certainly find Poe wandering between pubs, but the last bar that Poe was seen drinking at, The Horse You Came In On, still stands in Fells Point. The Horse is known for its bountiful selection of whiskeys and we're sure Poe partook on many occasions.
Governor O'Malley: Irish Stout
It doesn'tt get more Irish than the name O'Malley, and it's pretty likely that after a long day of policy making, Martin often kicks back with a cold one in one hand. His drinking ties even crossed into the political realm when he signed the 2011 tax increase on alcohol in Maryland —to the chagrin of drinkers state-wide. However, since then, the money has gone to support health care and community services which, in our mind, makes drinking a philanthropic activity for us Marylanders.
John Harbaugh: Champagne
Rumor has it that since the Ravens took home the Super Bowl XLVII trophy, head coach John Harbaugh has sipped on nothing but Champagne. We certainly don't blame him, especially after the long road the Ravens traveled to get there.
Michael Phelps: Natty Boh
Phelps — aka the "Baltimore Bullet" — has been spotted throughout the city grabbing a beer with his buddies, as well as on social media, mastering his beer pong technique with fellow Baltimorean Stacy Keibler (see below). We think 18 Olympic gold medals pretty much entitles you to drink wherever and whatever you want — we can perfectly picture this Canton resident hanging at Looney's with a Boh in hand.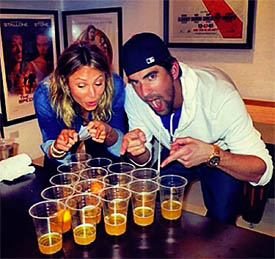 Mike Rowe: Heavy Seas Loose Cannon
Born in Baltimore and a graduate of Towson University, this Dirty Jobs star launched a three-part series on Discovery in 2012 called "How Booze Built America" in which he (rightfully) claims that "beer was what held everything together." Any man who can crash an audition for the Baltimore Opera and win the part and then turn around and serve as an apprentice for over 200 of the dirtiest jobs in America certainly appreciates the craft variety of his city after a long day.
Stacy Keibler: Tequila Shots
The onetime Ravens cheerleader and WWE powerhouse is a Baltimore native. After using the phrase "pounded that one" in reference to drinking in her interview after the Governor's Ball, we know the lady is well-rehearsed in hardcore drinks.
Top photo via My Journey Through Beer; middle photo via Baltimore Sun; bottom photo via Stacy Keibler/Instagram
Recent Articles

Feedback
How are we doing? Tell us what you like or don't like and how we can improve. We would love to hear your thoughts!