Amaro Guide: Gain the Courage to Try These Classic Liqueurs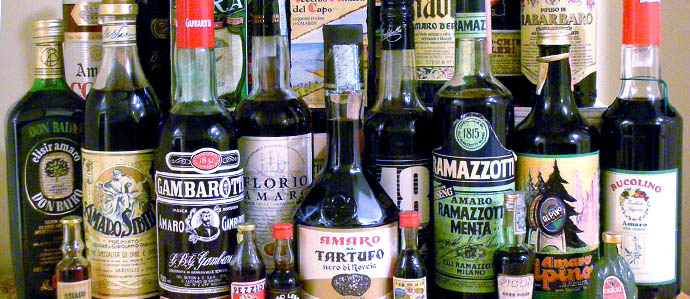 Amaro is a kind of Italian bitter liqueur that's often consumed as a digestif, and until recently was often buried among the lists of ingredients in cocktails. (An example that has been well-known for a while, even in the U.S., is Campari.) Amari are made with a dizzying array of secret ingredients that includes herbs, fruit and a neutral base spirit; they were once prized for their medicinal qualities but eventually fell out of favor as the times changed and tastes evolved. They often have a herbaceous and bitter flavor profile that might take some getting used to, but once you start trying them, your curiosity will give way to the daring notes offered up by these liqueurs.

The cocktail scene in the past several years has happily shifted away from ubersweet cocktails to drinks featuring more complex notes, along with savory flavor profiles. Bartenders across the city and county have started to make use of more obscure brands of amaro. Unless you've tasted a particular amaro on its own, you probably wouldn't even realize the flavor it was adding to your glass.

Here's a list of several amari found at areabars, to help give you the courage you to explore this realm of beverages. Try them before and after your meals to add a whole new layer to your drinking and dining experience.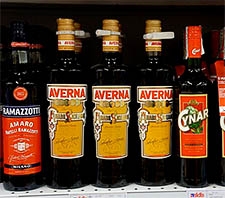 Cynar: A relative newcomer to the scene compared to some of it's counterparts that have been around for hundreds of years, this liqueur features bold herbaceous flavors. It can be consumed as both an aperitif or digestif, on it's own or topped with soda or OJ. Order up a Negroni made with this instead of Campari — it's called a Cin-Cyn — and it's a really delicious take on the classic cocktail (16.5% ABV).

Cocchi Americano: This is an Italian fortified wine flavored with cinchona bark, citrus peel, spices and other botanicals, giving it a bitter bite. It is often used by bartenders as a substitute for Lillet in cocktails like the Corpse Reviver No. 2 (16.5% ABV).

Zucca: This bittersweet amaro's base ingredient is rhubarb. It was often prescribed as a digestive aid, and the rhubarb is said to be good for the liver (16% ABV).

Averna: A blend of herbs, roots and citrus rinds, this sweet, thick liqueur has a gentle herbal bitterness and a higher alcohol content that makes it another great digestif to indulge in (29% ABV).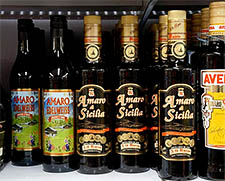 Ramazotti: Created in 1815 by Ausano Ramazzotti, this was Italy's first bitter liqueur. Its recipe of thirty-three carefully selected herbs and spices is known only to three people. The flavor profile includes notes of orange peel, cardamom and cinnamon (30% ABV).
Fernet Branca: One of the trendiest amari around these days, select bars even dedicate a tap to this spirit. It's more sharply bitter than others, and drinking it straight requires a bit of practice.

Nardini: This luscious and full-bodied liqueur isinfused with peppermint and bitter orange. We recommend ordering this digestif during your dessert course if you're on a date; the peppermint really stands out and the flavor profile will leave you feeling refreshed and relaxed (31% ABV).

Amaro Nonino: Grain alcohol is aged in oak barrels for five years and infused with herbs, ingredients for this amaro include caramelized sugar, bitter orange, liquorice, rhubarb, saffron, sweet orange and tamarind, among others. It is served chilled as an aperitif with a slice of orange, or on it's own as a digestif (35% ABV).
Recent Articles

Feedback
How are we doing? Tell us what you like or don't like and how we can improve. We would love to hear your thoughts!