Cheese and Cocktails: An Unlikely Pairing Success Story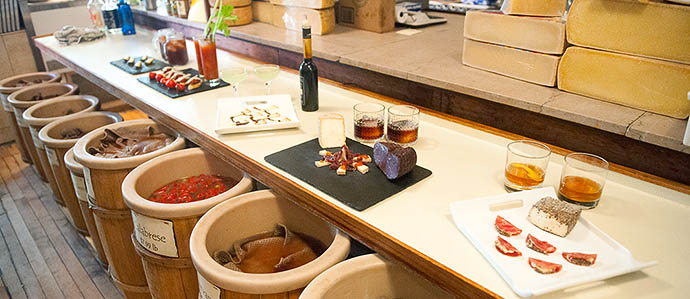 Wine and cheese has long been an iconic pairing, and recently beer and cheese tastings and dinners have come into vogue. However, thanks to the recently published Di Bruno Bros. House of Cheese book, we discovered that cocktails and cheese can complement each other just as well, if not better.
Walking into the original Di Bruno Bros. cheese cave in the heart of Philadelphia's Italian Market is like entering Willy Wonka's chocolate factory. Scents of cheese, freshly-sliced prosciutto and briny olives waft over you as grey-haired ladies with carts nudge you out of the way. Locals and tourists alike flock to Di Bruno's for their vast selection of specialty cured meats, olives, and cheeses (for example, see the scene in the The Layover where Anthony Bourdain stops at Di Bruno's and is giddy as a schoolgirl to have found Stichelton, a rare, unpasteurized version of Stilton blue cheese).
It was there that professor and author Tenaya Darlington — aka Madame Fromage — began her cheese education, which she now chronicles through her ultrapopular blog. In collaboration with the Di Bruno's cheesemongers, she penned the "Guide to Wedges, Recipes and Pairings." The "cookbook" gives readers a crash course in unusual cheeses, and is full of suggestions for things like themed cheese boards and how to host a cheese party. That's where the cocktails come in.
To test out the liquor-cheese connection, I chose five easy drinks using a range of booze from Philadelphia Distilling and challenged Di Bruno's cheesemonger Rocco Rainone to pair cheese creations with each cocktail. Click through to see what matchups we came up with, and don't miss the drink recipes at the end.
All photos by Jen Killius

Recent Articles

Feedback
How are we doing? Tell us what you like or don't like and how we can improve. We would love to hear your thoughts!