9 Bars in Hampden to Grab a Drink During the Mayor's Annual Christmas Parade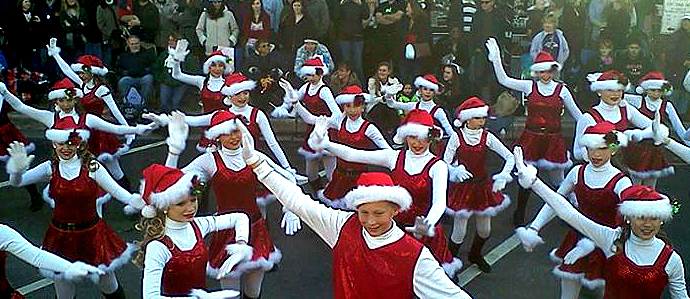 If you're still in denial that the holiday season is now in full swing, perhaps the fact that the Mayor's Annual Christmas Parade is coming up on Sunday, December 8, will snap you out your holidaze.
Right now the forecast for parade day calls for cool temps and the possibility of a wintry mix. In case you need to slip out of the elements and into the cozy comfort of a bar, here are your best bets for escaping winter's chill along the parade's route.
Golden West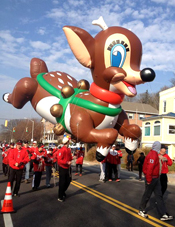 You can't go wrong with this trusty Hampden watering hole. Whether its a perfectly pulled pint, seasonal bottled beer, or a piping hot mug of spiked cider, Golden West has you covered. The Southwest-inspired plates should help you defrost too. (1105 West 36th St.; 410-889-8891)
Frazier's On the Avenue
This Avenue mainstay offers parade-goers a no-nonsense, affordable and extremely friendly refuge from the crowds and cold temps outside. The usual suspects of bar food — wings, nachos, and fried mozzeralla sticks — are all present on the menu, but for something a little less ordinary, try the gyro of bison burger. (919 W 36th St.; 410-662-4914)
Holy Frijoles
As one of Baltimore's Best Mexican Bars, Holy Frijoles is well worth a visit. Its close proximity to Santa's route makes it a perfect pit stop on parade day. (908 West 36th St.; 410-235-2326)
Cafe Hon
All that corny Christmas camp in the parade will surely have your appetite whet for the pink flamingoes and Baltimorian kitsch that bedecks Cafe Hon. (1002 W. 36th St.; 410-243-1230)
Alchemy
Home to one of the Charm City's best Sunday brunch drinking deals, Alchemy serves as a perfect refueling station for weather-weary parade-goers. Be sure to ask about the $10 bottomless mimosas. (1011 West 36th St.; 410-366-1163)
Birroteca
The fact that this polished craft beer, wine and artisan pizza spot is a bit of a hike from Sunday's parade route, ensures that it wont be too crowded. Women will appreciate the thoughtful purse hooks that allow them to eat and drink completely unencumbered. (1520 Clipper Rd.; 443-708-1934)
Rocket to Venus
This hip, casual and most affordable bar loves the holidays so much that they stay open on Christmas Day. Stop in for a quick pint of Guinness and thaw out, or stick around and have a bite to eat. (3360 Chestnut Ave.; 410-235-7887)
David's 1st and 10 Sports Bar
This spot situated near the parade's starting point opens early on Sundays at 11 AM. That means once all the yuletide festiveness disappears over the horizon, you can slip in there for a drink and big plate of mussels. (3626 Falls Rd; 410-662-7779)
Zissimos Bar
Before Hampden was trendy, this cozy and most friendly tavern righteously served the neighborhood's drinking needs. It still does today, as it did more than 75 years ago. (1023 W 36th St.; 410-467-4707)
Photos: Courtesy of The Mayor's Annual Christmas Parade (top); Cafe Hon (side)
Recent Articles

Feedback
How are we doing? Tell us what you like or don't like and how we can improve. We would love to hear your thoughts!