Baltimore's Coolest Summer Cocktails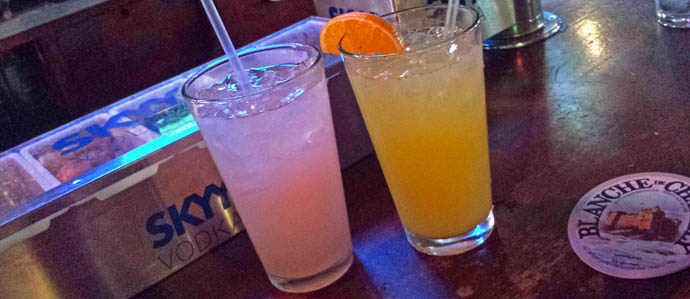 Instead of trying to solve the age old question of whether the greatest cause of sweaty discomfort in the summer months in Baltimore is due to the heat or the humidity, we think you should sidle up to one of Charm City's watering holes and cool off with a refreshing beverage. Nothing says summertime like light cocktails with flavors of tropical fruit or coconut, and even a few bubbles. Run, walk, or take a nicely air conditioned cab to one of these top destinations for summery cocktails.
Hawaiian Martini
Roy's (720 Aliceanna St.; 410-659-0099)
Does anything say summertime quite like Hawaii? And does anything say Hawaii like coconut and pineapple? This signature cocktail screams summer with Malibu Coconut Rum and Stoli Vanilla mixed together for a smooth sip, garnished with a SKYY Vodka drenched pineapple. Even better, get there for happy hour and it's a cool six bucks.

The President Poroshenko Rickey
Ze Mean Bean (1739 Fleet St.; 410-675-5999)
In keeping with their Eastern European tradition, Ze Mean Bean has created this riff on a Gin Rickey, naming it after Ukraine's newest president. No matter its origin, the Gin Rickey is a pleasantly light and slightly fruity way to welcome summer. Blackberries and limes are muddled in a mixture of soda water and Bombay Sapphire gin, then enhanced with a touch of sugar and lime juice. The result is a slightly bubbly cocktail with just enough fruit to give the drink its gorgeous bluish purple shade while retaining the subtle taste of the Bombay.

Mocktail
Tapas Adela (814 S. Broadway; 410-534-6262)
Have you had a bit too much but are still in the early stages of a bar crawl? Or do you just need to hydrate a bit? There are a multitude of reasons why you might want to take a break from alcohol and enjoy a mocktail instead. At Tapas Adela, Luis has created a perfect concoction of muddled strawberries and blueberries shaken with cranberry juice, orange juice and water. Served in a martini glass with two slices of lemon, you won't feel like you're missing a thing drinking this lovely mocktail.

Hendrick's Gin Mule
Oceannaire (801 Aliceanna St; 443-872-0000)
In Baltimore there are several food and drink items that are synonymous with summer, one of them being seafood. Why not marry together the love of all things from the water with a perfect warm weather beverage? That is just what Kristen at seafood restaurant Oceannaire has accomplished. In a summery riff on a Gin Mule, she has muddled a cucumber into a combination of cucumber infused Hendrick's gin, mint, lemon juice, simple syrup and Gosling's ginger beer. This refreshing take on a classic cocktail will no doubt go stunningly with anything from oysters on the half shell to your favorite crab cake.
Air Mexico
Hard Rock Cafe (601 E. Pratt Street; 410-347-7625)
You think the Hard Rock is just for tourists? Think again. With a revamped menu that speaks to those looking for fresh, house made dishes to their impressive new cocktail list, Hard Rock is aiming to please locals and tourists alike. Stop in for an Air Mexico which is a flight consisting of your choice of three of their six flavored margaritas (think: cucumber, pomegranate, wild berry, and more) served alongside some tasty tortilla chips and fresh salsa. Feeling like being al fresco in the warm weather? Hard Rock's on-the-water covered patio is great for taking in some drinks and some music, rain or shine.
Orange and Grapefruit Crushes
Kislings Tavern (2100 Fleet Street; 410-327-5477)
Who knows if this drink has nearly the following elsewhere as it does in Baltimore and on the Eastern Shore, but it has quickly skyrocketed to the top of the list of quintessential summer beverages. At Kislings, they make an authentic Crush using a big metal crusher (no bottled juice allowed - hence the name "crush"), to extract all of the juice of the orange (or grapefruit) over ice before adding Triple Sec, vodka and a splash of lemon lime juice. The resulting refreshment is summer in a cup, and at $5 each, it can't be beat.
Valiyaparumba
Fork and Wrench (2322 Boston Street; 443-759-9360)
This tongue twister of a drink could be your new favorite summer cocktail. Fork and Wrench, known for their innovative and ever expanding cocktail program, creates this light cocktail with so much depth of flavor it was profiled by local drink experts at Let's Drink On (www.letsdrinkon.net). By first muddling cucumber, Kaffir lime and mint leaves with two dashes of cardamom bitters, then adding simple syrup, lime juice, London dry gin and soda water, Fork and Wrench has created one of the most refreshing beverages of the summer.
Aviation
Tapas Adela (814 S. Broadway, 410-534-6262)
We visited Tapas Adela earlier for a mocktail, but their cocktails are equally as summer satisfying. This grape flavored cocktail served in a martini glass is a mixture of gin, grape pucker, simple syrup, a squeeze of lemon and a splash of cranberry. Indeed, it will elevate your evening.

Mint Vodka Lemonade
Laughing Pint (3531 Gough Street; 410-342-6544)
This cozy corner bar routinely serves up some amazing seasonal cocktails. Shannon, a long time bartender and an expert on making classic cocktails has so many ideas for deliciously refreshing summery drinks you better make sure you have cab fare. While the bar's signature drink is a Greyhound (a tart/fruity blend of grapefruit and vodka), in the warmest of weather it's hard to turn down anything with lemonade. The mint lemonade is a shaken blend of house made lemonade (perfectly concocted without too much sweetness), Luksusowa potato vodka, and mint, all garnished with a bright lemon wheel. If you like drinks that are dangerously delicious (read: perfectly balanced without any vodka bite), this is where you should spend more than a few summer evenings.
Tags:
Cocktails
Recent Articles

Feedback
How are we doing? Tell us what you like or don't like and how we can improve. We would love to hear your thoughts!