Blue Pit Barbecue and Whiskey: With Drinks This Good, We Can't Wait to Try the Barbecue!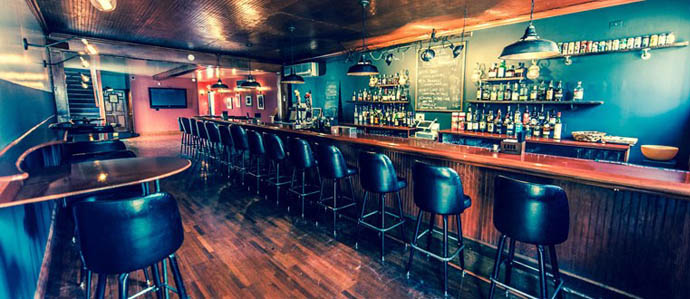 Owned by former Brewer's Art Chef Dave Neumann, Blue Pit BBQ and Whiskey is in its final phase of its "soft opening," with their beer garden recently opened and a full menu on the horizon in early to mid July.
One of the newest additions to the thriving food and drink scene in the Hampden and Woodberry communities, this dog friendly whiskey bar boasts an understated industrial ambiance inside, while the backyard beer garden is a highly casual space that feels like you're drinking at your good buddy's place, with a wooden fence for privacy from the street traffic and long tables that encourage communal drinking.
Blue Pit offers an impressive list of at least 60 whiskeys to be sipped on their own, or used to make any of several classic cocktails from an Old Fashioned to a Vieux Carre. For those craving something more contemporary, Blue Pit delivers with their innovative handcrafted cocktails which utilize their main liquor of choice, whiskey, as well as other standards like gin, a locally distilled vodka or a quality reposado tequila. High quality liquor is paired in the cocktails with homemade syrups and fresh juice to create the perfect libation. While the whiskey choices are calling our names, we can't help but love the idea of cooling off on a hot summer afternoon with a Pink Betty (Sloop Betty Vodka, grapefruit, elderflower, cardamom), or kicking the night off with a smoky Howling Man (reposado tequila, honey, lime, bitters, black pepper, islay whiskey).
In addition to the extensive and creative liquor-based options at Blue Pit, beer drinkers can rejoice as well. With six rotating drafts (at least half of them local, on a recent survey of the taps), and more than thirty brews in cans or bottles, any beer aficionado will want to sidle up to this bar.
Happy hour runs all night on Monday and Tuesday from 4 p.m. to 1 a.m., while Wednesday through Friday those looking for specials can find them at two times: 4 p.m. - 6 p.m. and 11 p.m. - 1 a.m. Discounts include $2 off all draft beers, $1 off all rail drinks, $5 glasses of wine and $6 Four Roses Yellow Manhattans and Old-Fashioneds. Additionally, entertaining and unique event nights, such as a recent Drunk Spelling Bee, have been known to occur. Keep an eye on their Facebook page to be in the know.
While the kitchen is not yet fully functional, there is no need to worry about imbibing on an empty stomach. Several food items are currently available for snacking, including an artisanal cheese plate, a sausage sandwich and a reuben. But we must say, given the care and attention that the drink program has been afforded, we can't wait to try the BBQ.

Blue Pit BBQ and Whiskey, 1601 Union Ave., 443-948-5590, www.bluepitbbq.com
Tags:
Beer
,
Cocktails
,
Food
,
Outdoor Seating
,
Whiskey
Recent Articles

Feedback
How are we doing? Tell us what you like or don't like and how we can improve. We would love to hear your thoughts!