Where to Chill in Baltimore This Summer with Boozy Brain-Freezing Drinks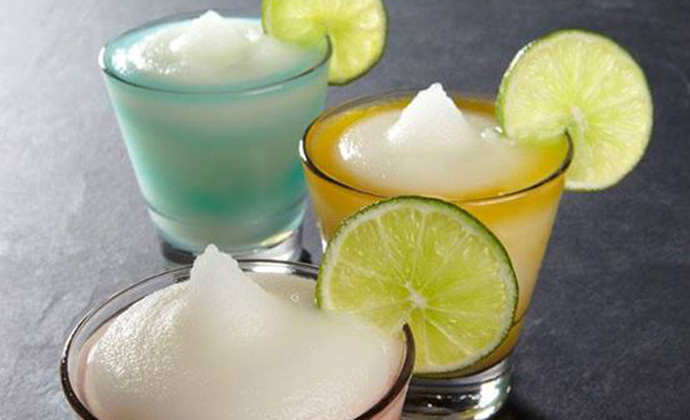 It's another steamy summer in Baltimore but Charm City's bars have all you need to cool off on a hot afternoon. Sure, you could reach for an icy cold brew or a chilled glass of white, but why not add a little whimsy to your cocktail hour and try one of these fun frozen drinks or boozed up shakes?
Abbey Burger Bistro (1041 Marshall Street; 443-453-9698)
Quite possibly one of the absolute best boozy shakes in all of Baltimore, Abbey Burger Bistro's Berger Shake is a must-have in the summer months. This alcoholic shout out to Baltimore's favorite iconic sweet treat, the Berger Cookie, combines the decadent Taharka Brothers Berger Cookie ice cream with milk, Stoli Vanilla and Godiva liqueur. Blended together, then topped with whipped cream and a Berger Cookie, this is the way to celebrate the warm weather months in Baltimore.
Hard Rock Cafe (601 E. Pratt Street; 410-347-7625)
This Inner Harbor mainstay recently upped the cocktail ante by creating an innovative new drink list that includes, among other creative cold drinks, the Twist and Shout Shake. With Ben & Jerry's Vanilla Ice Cream as the base, they are already off to a good start, but then blended into that creamy deliciousness is Monin Salted Caramel Syrup, chocolate syrup, dark creme de cacao, Bacardi OakHeart Spiced Rum and Guinness draught beer. As if that's not incredible enough, topping the whipped cream is caramel, chocolate and crispy applewood smoked bacon. Bacon plus blended booze? This is a frozen drink we can get behind.
Shoo Fly Diner (510 E. Belvedere Avenue; 410-464-9222)
Spike Gjerde's restaurants are known for their creativity in the kitchen but there is certainly no lack of innovation behind the bar, either. Shoo Fly Diner has a multitude of creative drinks and we absolutely love their old school slushy machines that, on one visit, housed spiked orange juice and plum wine frozen goodness. However, who can resist a milkshake at a diner? Especially one that combines soft-serve, coffee, and oatmeal stout. This Black Russian milkshake is the best way to complete a meal at Shoo Fly — or to kick off a night out.
Stalking Horse Vodka Bar (26 E. Cross Street; 410-244-6722)
This Federal Hill favorite is known for their variety of spiked slushies mixed in machines behind each of the bars. While there are a variety of flavors, what Charm City sipper isn't going to try the Ravens Grape? The sweet treat uses purple (of course) grape vodka to booze it up and sounds like the perfect way to show some Ravens love in the off-season.
Woody's Rum Bar (821 S. Broadway; 410-563-6800)
This second floor rum bar in the heart of Fell's Point is known for its spectacular view of the waterfront neighborhood. It's also known for its tasty cocktails like the tropical and fruity Painkiller. However, on Monday nights, start the week off right with Pina Coladas and Strawberry Daiquiris for only $4.50. After all, if we're going to be as hot as if we were on a tropical island, we might as well all drink like we are.
Luckie's Tavern (10 Market Place; 410-223-1105)
This Vegas themed Power Plant Live! bar serves up slushies from behind each of its several bars. While there are several choices, we think the American Hero Slushie is a winner. Mixing together frozen strawberry, pina colada and blue raspberry, the red, white and blue drink also has an addition of Castillo silver rum. Jackpot, indeed.
RA Sushi (1390 Lancaster Street; 410-522-3200)
With a rotating list of frozen beverages, including flavors like Berries and Cream or Green Tea Margarita, this stylish sushi restaurant takes frozen cocktails seriously. We recommend their house signature cocktail, the Fuzzy Momo Bellini. A classy take on a traditional bellini, this blended beverage combines Bacardi Rum and a proprietary mixture of sparkling and white wines with yuzu, peach and strawberry puree to create a refreshing and fruity twist on a famous classic.
Photo: RA Sushi/Facebook
Tags:
Cocktails
Recent Articles

Feedback
How are we doing? Tell us what you like or don't like and how we can improve. We would love to hear your thoughts!