Craft Beer Meets Unforgettable Service at the Dogfish Inn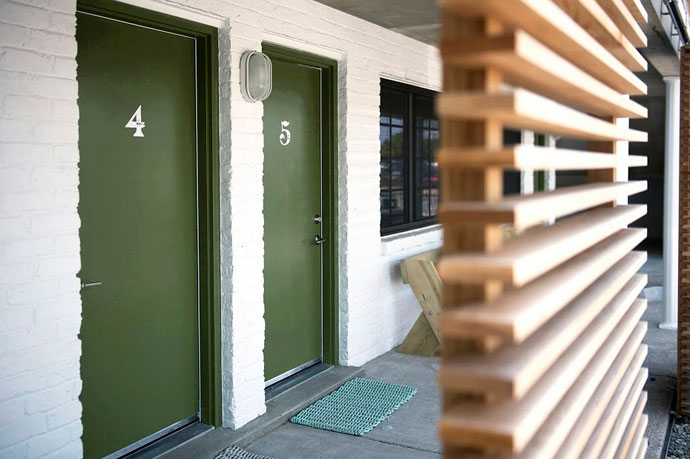 As a craft beer lover and Jersey Shore local, I try to make my way across the bay to Dogfish Head and the Delaware shores once a year. Especially when the summer meets fall, when the usual tourist crowd starts to slim and is replaced by other beer fans looking to escape. The Delaware beaches- particularly Rehoboth Beach and Lewes- have been totally transformed since Dogfish Head has exploded onto the craft beer scene, and have turned what is already a quaint and comfy beach spot into a destination. It's an easy enough trip from Philly, Baltimore, DC and especially from the Jersey Shore: Just hop onto the Cape May-Lewes Ferry for a quick ride across the Delaware Bay.
When you land in Lewes, you have a new option right on the bay: the Dogfish Inn. Both the brewery in Milton and the brewpub in Rehoboth Beach are about a 15 minute drive from the Inn, and other guests took advantage of quick and easy taxi services on nights when they wanted to have more than a few brews. Located right in the heart of town, Sam Calagione and the team behind Dogfish Head converted the former Vesuvio Motel into an all-new, two-story space for craft beer lovers to crash.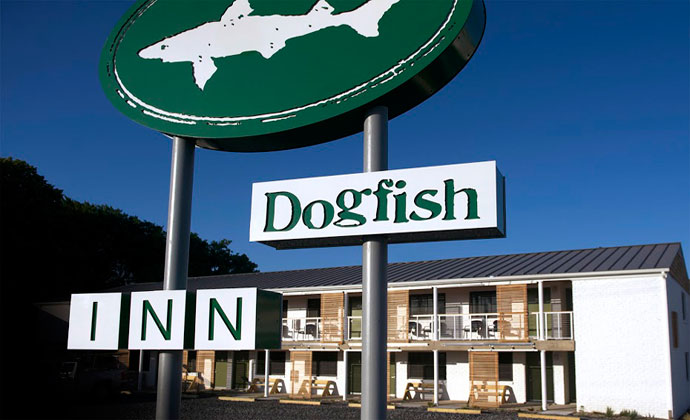 Opened on the Fourth of July weekend, the Inn still has that just-built smell to it. Of course, the added perk of staying in a brand-new motel is the new-and-improved feel. The modern renovations include lots of clean, bright accents, and simple decor, with art from unique artists you won't find at any other motel. The outdated bathtubs of yore are gone from the rooms- let's be honest, who has ever used a motel bathtub?- and replaced with simply-chic, tiled showers featuring glass half-walls. The sleeping area itself skips the big, rickety headboard in exchange for a slightly-elevated platform, with outlets right next to the beds for easy-cell phone access (and yes, there's free and surprisingly fast Wifi).
Each room includes beach chairs for borrowing, along with beach bags, blankets and a selection of gourmet mini-bar treats for late-night snacking. You can borrow mountain bikes straight from the Inn and hit up the local Henlopen State Park for a swim or a hike, or walk across the street for dinner- I suggest Half Full, a wine bar and pizza place where Dogfish Head's 61-minute was supposedly created-, dessert or to grab some craft brews from a well-stocked liquor store only a few blocks away.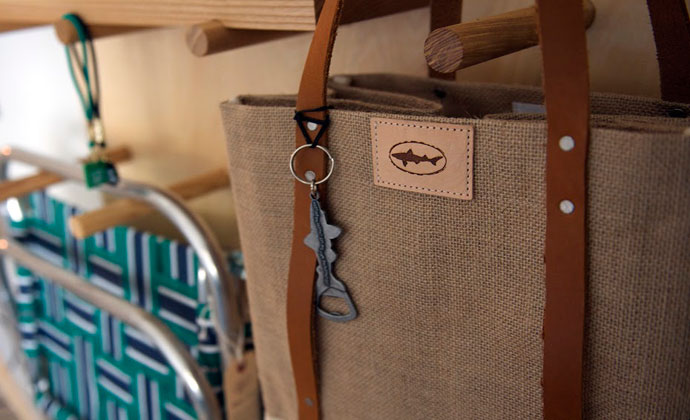 The Inn itself does not sell liquor or beer on-site, but there is no shortage of Dogfish Head perks. Even the bottle openers placed strategically throughout the Inn and in each room make all the difference when you're a craft beer fan looking for a drink. Alongside that, guests are welcome to the brewery's handcrafted beer soap, and a selection of Dogfish glassware, available both in the room and in the guest services building. The innkeeper provides Dogfish-brand iced and hot chicory coffee at all hours, and dogs- that's right, the Dogfish Inn is also dog-friendly- can enjoy spent grain treats. The guest services area is surprisingly welcoming; very mellow, with room to relax or a dining space to sit with a cup of coffee and some food, and you can buy all the Dogfish goods you want right at checkout.
And the bonuses extend beyond the front door. Dogfish Inn guests are given the chance to put their names in for dinner at the Dogfish Brewpub and can reserve a spot with the innkeeper for brewery tours before hitting the road. As Dogfish grows more and more popular this simple service is an invaluable perk; especially at the brewpub, where others waited almost an hour and a half for lunch reservations.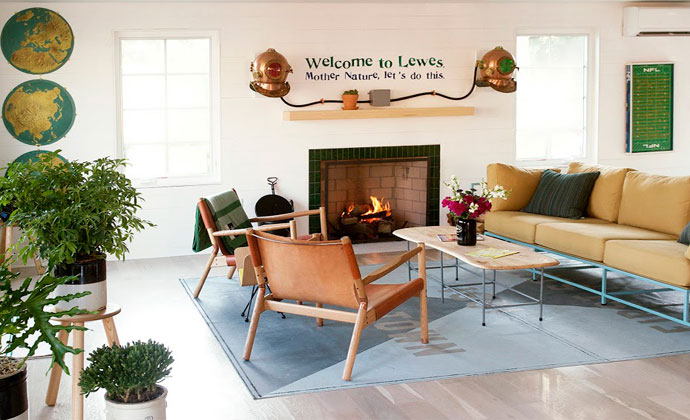 Though, of all things, when people ask me what I liked most about my trip to the Dogfish Inn, it would without a doubt be the company. It was a very communal experience, as everyone- from head innkeeper Andrew Greeley to co-workers, guests and even the furry visitors- had a shared interest in quality craft beer and the craft brewery movement that has erupted across the country.

For proof, look no further than the Inn's pride and joy: the yard. The small space includes a massive cauldron that the innkeepers keep going every night, benches, beach chairs, a huge picnic table with an ice well for beer, and lawn games like ladder golf and bags. You can find guests out there every evening, and the innkeepers keep things interesting with events on various nights; I was even told that founder Sam Calagione stops by the pit on occasion for a fireside chat. On this particular weekend, head innkeeper Greeley was out grilling over the pit for a free tasting of juicy Dogfish Head-brand Bratwursts and all varieties of pickles.

Meanwhile, it seems like every guest opted for a night by the fire as opposed to a trip out and about. We all mixed and mingled, sharing beers and stories. The employees, like every Dogfish employee I've ever encountered, were so full of knowledge, and so friendly and excited to share. They recounted their favorite memories on the job, and helped the guests learn a little bit more about the Dogfish community that has completely transformed the Delaware shore. Just that night would be enough to make me return over and over again.
I don't think words can do the overall experience of the Dogfish Inn justice. It's an atmosphere you just won't at any other inn or motel. And when travelling to a new place, meeting so many people with such similar interests is truly transformative: It turns a quick, weekend getaway, into an unforgettable experience, and has left me with memories that I won't soon forget.
If Dogfish Head is a craft brewery, then consider the Dogfish Inn a craft motel. It's truly more than just a motel, or a place to sleep. It's an experience that true craft beer lovers should not pass up, so make your reservations now for a getaway unlike any other.
Photos via Dogfish Inn and Erica Bauwens
Tags:
Beer
,
Food
,
Outdoor Seating
Recent Articles

Feedback
How are we doing? Tell us what you like or don't like and how we can improve. We would love to hear your thoughts!