Where to Celebrate the Orioles Postseason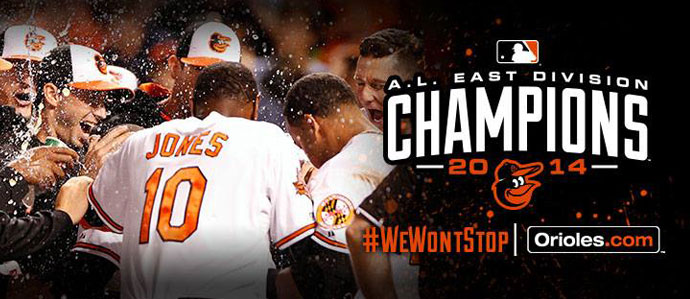 With tickets to see O's playoff games selling out in minutes, it's pretty safe to say that nearly everyone in Birdland can't wait for the start of the games on Oct 2, 3, 5, 6 and 8. Though many of us may not be able to get to Camden Yards or Detroit (or beyond, should the O's pull out their magic in this first set of games!), there are plenty of events popping up around town where fans can root on the team before and during game time. So don your orange and black, and get out to these celebrations for some of the best post-season drinking in town.
Orange Playoff Pep Rally
Tuesday, September 30, 5–10 PM
Canton Crossing (3501 Boston St.)
On September 30, one enormous pep rally will kick off at 5 PM at Canton Crossing. With players like Manny Machado and Adam Jones, live music, and food trucks from all around the city, this is going to be the party to beat this playoff season.
Adult tickets are $8 ($10 at the door), and children's tickets are $4 ($5 at the door). However, we are a little biased toward the Unlimited Drink ticket option that includes admission, too, for $25. Enjoy the party with the addition of an open bar that will feature cocktails like Finlandia Orange Crushes, Dobel Maestro Margaritas, Red & White Sangria, Bacardi Mango Rum Punch and beers such as Bud, Bud Lite, Bud Light Lime, Straw-ber-rita, Shock Top Belgian White Ale, Stella Artois and varieties from Heavy Seas. Wine will be available as well.

Della Rose's Rally in the Alley
Sunday, October 5, 11 AM
Della Rose's (8153 Honeygo Blvd.; 410-933-8861)
At The Avenue at White Marsh, Della Rose's is celebrating the excitement of a double game day with both the Ravens and the O's hitting the fields. Outdoor food and drinks begin at 11 AM with the 1 PM Ravens game airing on the outside LED big screen. There are promises of mascot appearances and a Bud Light Pop Up Bar. The time of the Sunday O's game has yet to be released at the time of this publication, but we're pretty sure that you'll want to get to this party as early as possible to secure a prime game watching spot.

#WeWontStop Rallies
October 1-5
Various Locations
These events are happening all over the city and beyond. The Oriole Bird, accompanied by the "We Won't Stop" street team, will drop in to various scheduled locations around Charm City in order to give away promo items, rally support for the O's, and possibly choose winners of autographed memorabilia. In addition, some dates are boasting appearances from O's players.
While not all the events themselves are drink focused, we're pretty sure you'll find a nice selection of beverages at nearly all the locations and some events even feature a bar crawl:
Oct 1: 11 AM-1 PM at the Hard Rock Cafe featuring Tippy Martinez (601 E Pratt St.)
Oct 1: 5:30-6:30 PM at the Under Armour Brand House featuring Larry Bigbie (700 S President St.)
Oct 1: 6:45-8:30 PM at Canton Square featuring a bar crawl presented by Budweiser (O'Donnell St.)
Oct 3: 5-7 PM at Plaza at Pratt Street and Light Street with appearances TBD
Oct 4: 7-9 PM at Mother's Bar and Grille featuring Larry Bigbie (1113 S Charles St.)
Oct 5: 2-4 PM at The Avenue in White Marsh featuring a bar crawl presented by Budweiser (8125 Honeygo Blvd.)
Oct 5: 5-7 PM at Bond Street Social featuring Joe Orsulak (901 S Bond St.)
Photo via Baltimore Orioles
Tags:
Beer
,
Food
,
Sports
Recent Articles

Feedback
How are we doing? Tell us what you like or don't like and how we can improve. We would love to hear your thoughts!