Where to Host a Holiday Party in Baltimore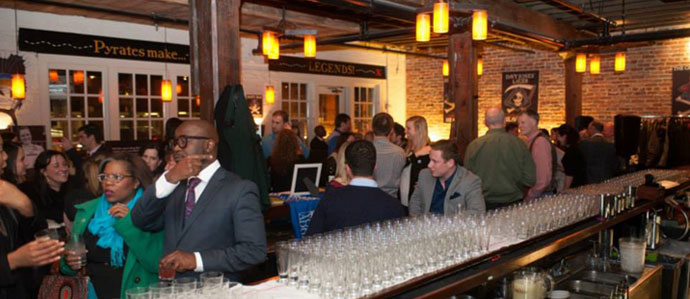 There are tons of spots around Charm City to have a happy hour with co-workers to celebrate work wins, or just the end of a long work week. But when the holidays arrive, it's time to step it up, Baltimore. Here's where to celebrate a long year of hard work, and kick off the holiday season.
Wit & Wisdom (200 International Dr.; 410-576-5800)
If the words "classy" and "waterfront" fit the description of where you want to throw a party, this is the place. Bonus: Those who imbibe too many of the dangerously delicious craft cocktails from the bar can mosey up to a room rather than ride home.
Space details: Private dining room and semi-private space available, hosting 40 or 25 guests, respectively. Also, reservations may be made for semi-private areas of the bar and lounge.
Contact: Email Shannon Toback or call 410-223-1464
Heavy Seas Brewery (4615 Hollins Ferry Rd.; 410-247-7822)
What could be cooler than having your holiday party at a brewery? Book a party at Heavy Seas and enjoy local brews with your buds.
Space Details: Room for up to 50 people at set pricing ($125 for 50 guests) available on Mondays and Tuesdays only. More people can be accommodated but with greater fees associated with increased staffing.
Contact: Email Clare Bublitz or call 410-247-7822

BoatHouse Canton (2809 Boston St.; 410-773-9795)
This newcomer to Charm City takes the cake in terms of prime waterfront real estate, both inside and out. With only about six (!) seats in the whole establishment that don't have a direct waterview, this is the place to show off Baltimore in an upscale casual environment.
Space details: Every space in the restaurant can be reserved with nearly all able to accommodate at least 60 seated and 80 reception style, with ability to combine spaces. Also available for buyouts. Smaller groups can also be accommodated for holiday happy hours in the bar with pre-ordered food available.
Contact: Email Hanly Heubeck
The Prime Rib at Maryland Live Casino (7002 Arundel Mills Cir. #7777, Hanover; 443-842-7000)
Just south of the city, those looking to add a little entertainment to their holiday celebration can check out the options at the The Prime Rib. Party goers can dine and drink, then entertain themselves on the built-in fun of the casino environment.
Space details: Within the casino, an enlarged 75-seat bar/lounge area includes a terrace that opens out to the casino floor; The Patio at The Prime Rib is a 76-seat enclosed lounge with a retractable roof and large glass fire pit; The 14-seat Private Dining Room is ideal for a smaller formal sit-down holiday dinner.
Contact: Email event.sales@marylandlivecasino.com

Apropoe's (700 Aliceanna St.; 410-895-1879)
Why not host a holiday party at a joint just quirky enough to pay homage to the city's favorite literary genius Edgar Allen Poe in their punny name?
Space details: Private dining room for 40 people, located within the restaurant; Raven Room, adjacent to Apropoe's, offers lounge style seating for 75 people; Poet's Corner, lounge inside of Apropoe's, can be roped off to create semi-private space for 25 people.
Contact: 410-895-1879
The Oregon Grille (1201 Shawan Rd., Hunt Valley; 410-771-0505)
This historic farmhouse gem in Hunt Valley is known for its expansive (500+ bottles) wine selection and reliably high quality cuisine and service. Oregon Grille can accommodate the typical dinner party environment for the holidays, or toss things up and do a brunch or lunch, instead.
Space details: Four unique dining rooms, each with a fireplace: The Golf Room accommodates 12 guests, The Patriot Room: 15 guests, The second floor: up to 50 guests, and The Fox Den on the third floor: up to 32 guests.
Contact: Call Devin at 410-771-0505 or email info@theoregongrille.com

Ware House 518 (518 N Charles St.; 443-869-3381)
Newly reincarnated from its previous life as Creme, this New American restaurants boasts an impressive sprawling space with hardwood and modern fixtures. The casual fine dining spot offers a loft style upstairs overlooking the sleek long bar that would make for a, literally, elevated holiday celebration.
Space details: There are three separate spaces available to accommodate up to 60. A buy-out of the entire restaurant is available and can accommodate 130-180.
Contact: 443-869-3381

Grand Historic Venue (225 N Charles St.; 443-573-8444)
This Mount Vernon mainstay, previously part of the Tremont, has no shortage of options for the party planner. Staying at the neighboring Embassy Suites is also a good option for those who choose to get particularly "festive" at the celebration.
Space Details: There are 19 unique rooms from which to choose, making for plenty of options.
Contact: 443-573-8444

Hard Rock Cafe Baltimore (601 E Pratt St.; 410-347-7625)
Rolling out a rockin' holiday party is definitely possible at the Hard Rock. Sporting a new(ish) cocktail menu (rolled out earlier this year) and some fresh menu changes and additions, plus the central location in the city makes it a top spot for a casual, fun event.
Space details: Groups of 20-300 can be accommodated throughout the restaurant.
Contact: Email baltimore_sales@hardrock.com or call 410-347-7625

Farmstead Grill (3721 Boston St.; 410-762-2100)
Parking, friends. Parking. It may not be the top reason to choose a venue, but we city dwellers and workers know the value of free parking, so if you're looking for a city venue with tons of free spots, Farmstead Grill is it. Of course, it's also one of the newest farm-to-table restaurants in Baltimore, so party planners, prepare to look in-the-know for getting your event booked here.
Space Details: Loft: 40 people, Bar: 30 people, Main floor: Varies depending on configuration.
Contact: Email catering@farmsteadgrill.com or fill out the online form here
Wine Market Bistro (921 E Fort Ave.; 410-244-6166)
This spirited spot for crafty cocktails and an abundance of wine is open to hosting any lunch, brunch or dinner party as well as cocktail tastings or mixers. The large lot makes parking a breeze, and the market itself is great for those who might want to buy a bottle or two and extend the celebration after the party.
Space details: There is a private dining area that can accommodate up to 36 for a comfortable seated lunch/brunch/dinner or up to 50 people for a mixer/cocktail tasting event. The main dining area is available for private bookings at a higher cost.
Contact: Email winemarketevents@gmail.com or call 410-244-6166
Waterfront Kitchen (1417 Thames St.; 443-681-5310)
On the far edge of Fell's Point, Waterfront Kitchen boasts a gorgeous view of the water (naturally, given its name) and an ambitious menu and cocktail program. If you're looking to impress, this is one of the top spots.
Space details: Main dining room, as well as addition rooms at Maritime Park, can accommodate small or large groups.
Contact: Email catering@waterfrontkitchen.com or call 410-864-0215

Roy's Baltimore (720 Aliceanna St; 410-659-0099)
Why not bring a little Hawaiian style to the cold weather months and plan your holiday event at Roy's? Choose from tons of pre-made menu options or create your own, with or without the addition of Roy's signature creative cocktails.
Space Details: Pau Hana Room: Seats 30; Lanai Left or Right: Seats 40 each; Lanai Room: Seats 80; Entire Restaurant: Seats 180
Contact: Call Merritt Dworkin, Group Sales Manager at 410-659-0099 or PDBaltimore@RoysRestaurant.com
Photo via Heavy Seas
Tags:
Beer
,
Cocktails
,
Food
,
Parties
,
Wine
Recent Articles

Feedback
How are we doing? Tell us what you like or don't like and how we can improve. We would love to hear your thoughts!