Home Bar Project: How to Make an Old Fashioned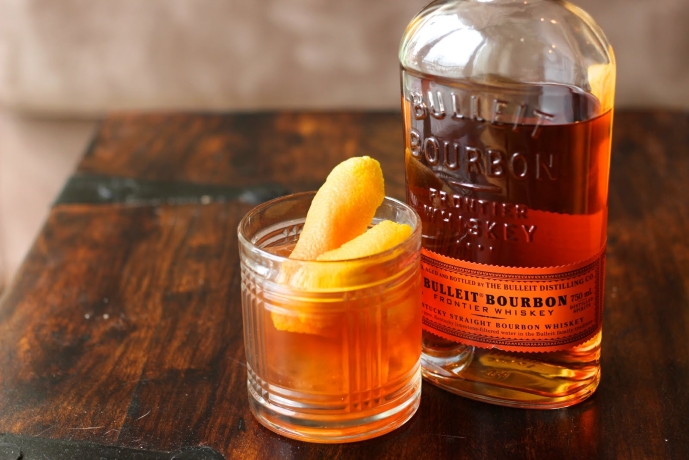 Have you ever dreamed of having an amazing home bar, filled with bottles you actually use and the tools you need to execute a fine crafted cocktail? Enter the Home Bar Project. Through this series we are going to take this challenge piece by piece. We'll teach you the proper techniques and make sure the spirits you purchase aren't collecting dust on your back bar.
So let's start from the beginning. The very first mixed drink to bear the name "cocktail" was the Old Fashioned, which is actually short for "Old Fashioned Cocktail". By definition, to be considered a cocktail you needed four ingredients; sugar, water, alcohol and bitters. In recent times, basically all mixed drinks tote the word cocktail, regardless of what's in it. There's a reason why this delightfully simple drink has withstood the test of time. Here's what you'll need to get started.
About the instructor:
Dan Lan Hamm is a craft bartender at 1 Tippling Place in Philadelphia. He was Pennsylvania's winner of Bombay Sapphire and GQ's Most Imaginative Bartender Competition in 2014. He runs Spirit Forward, a cocktail-centric group which caters local events and provides educational workshops.

This week: How to Make an Old Fashioned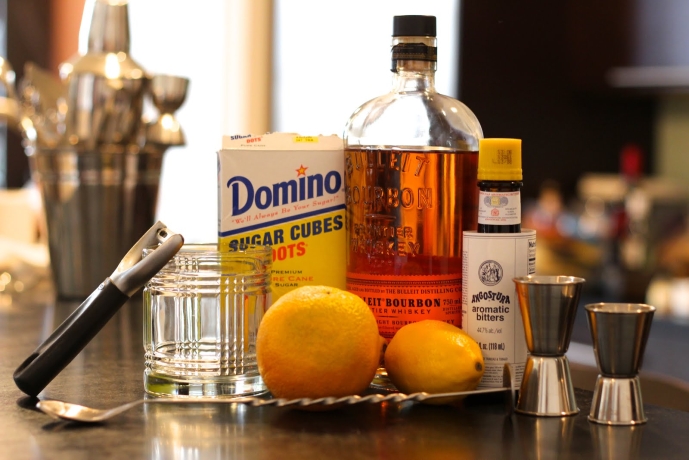 Tools you'll need:
Stirring spoon with muddling disk (Amazon)
Y peeler (Amazon)
Oxo 1/4 cup measuring cup (Amazon) or jigger or a small measuring instrument for liquids
Ice cube tray, not necessary but recommended (Amazon)
Rocks glass
Ingredients:
Sugar cubes (Domino)
Your favorite whiskey
Angostura Bitters
1 orange
1 lemon
1 teaspoon of club soda optional
---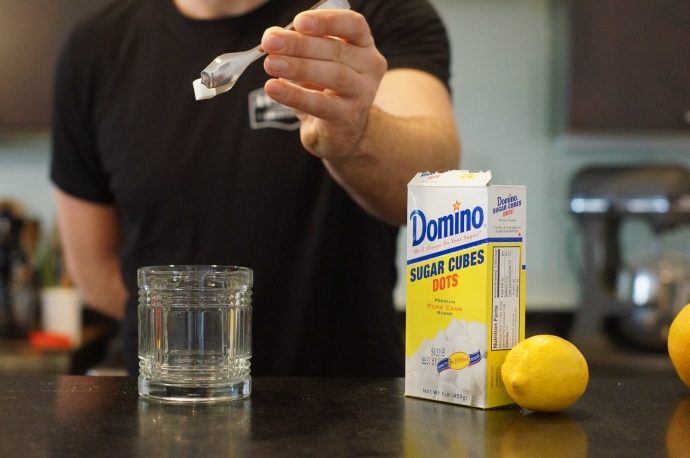 Step 1 of 9:
Place a sugar cube into the bottom of rocks glass.
---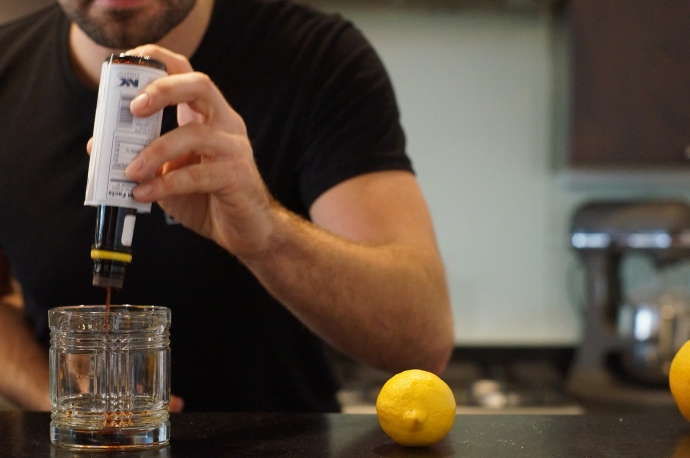 Step 2 of 9:
Douse sugar cube with 5-7 dashes of bitters, making sure to dash directly onto the cube.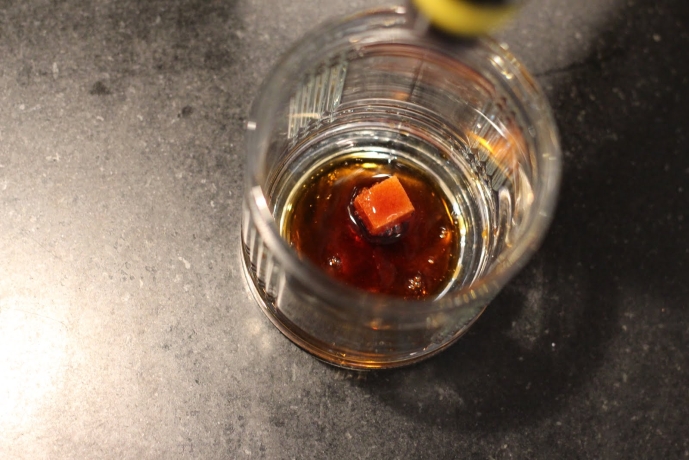 ---
Step 3 of 9:
Add a cap full of club soda or water to your glass.
Tip: Make sure not to measure ingredients directly over top of glass to avoid spillage. Extra whisky spillage, however, is encouraged.
Tip: The foaming of club soda tends to dissolve sugar better, but don't worry about any extra granules.
---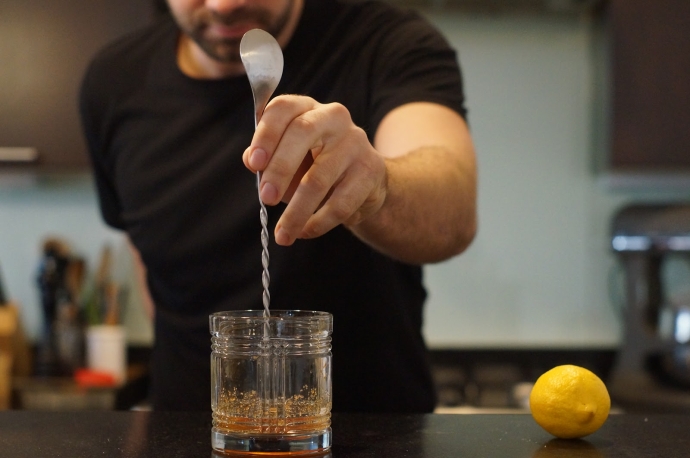 Step 4 of 9:
Muddle the cube into a paste.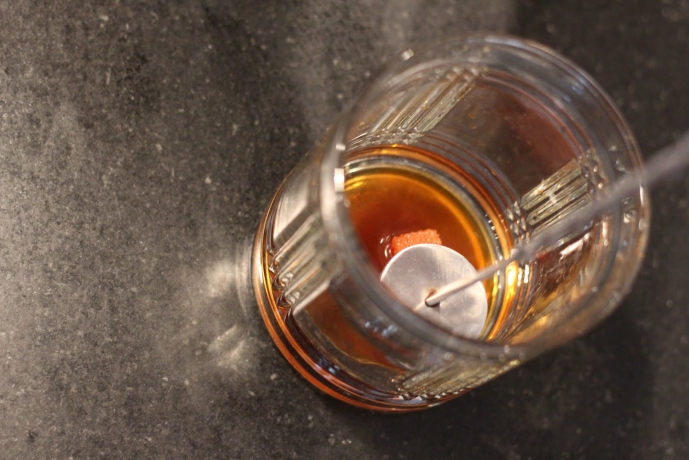 ---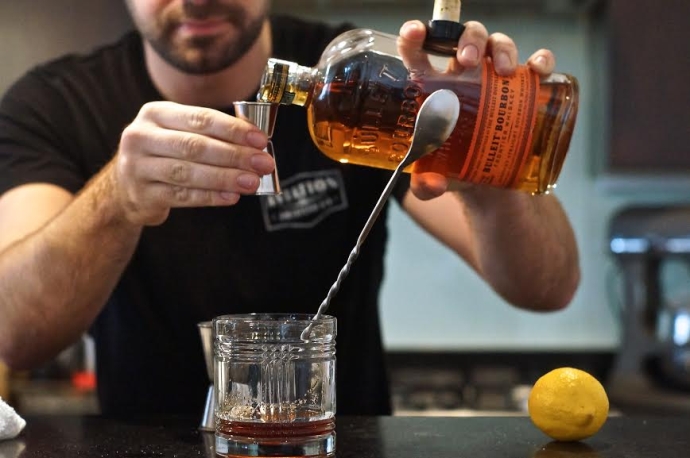 Step 5 of 9:
Add 2 oz of bourbon.
Tip: 2 oz also equals 1/4 cup in a pinch.
---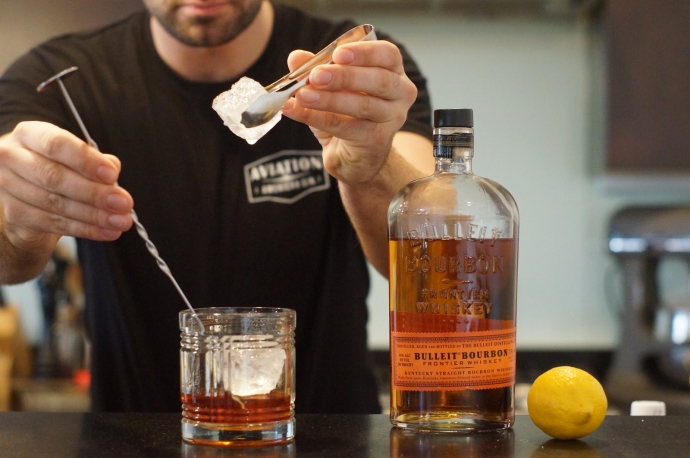 Step 6 of 9:
Add ice to glass using the spoon to guide first few cubes to avoid splash.
Tip: Contrary to popular belief you can make a supreme old fashioned with classic tray ice cubes, the trick is to make sure your ice comes directly out of the freezer, cold and dry. (Do avoid the bagged stuff from the convenience store please.)
---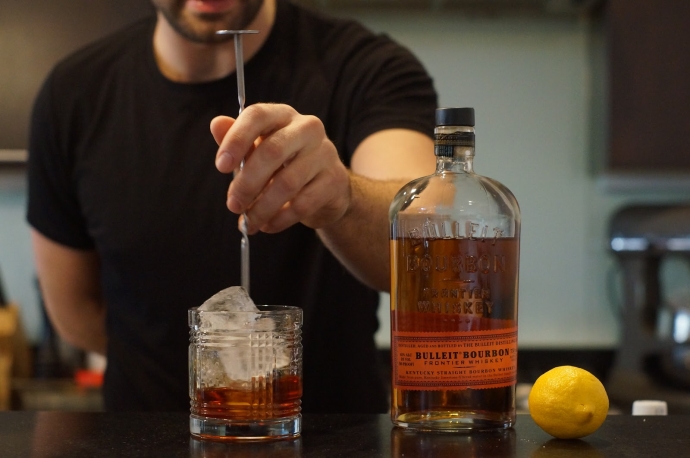 Step 7 of 9:
Stir, adding more cubes as you go. You know your drink is about done when your glass begins to fog up.
Tip: Bartenders use a coffee straw to take a small sample of the cocktail to make sure its ready for the guest, your old fashioned shouldn't have any burn to it, but also shouldn't taste watery. We call that the "sweet spot".
---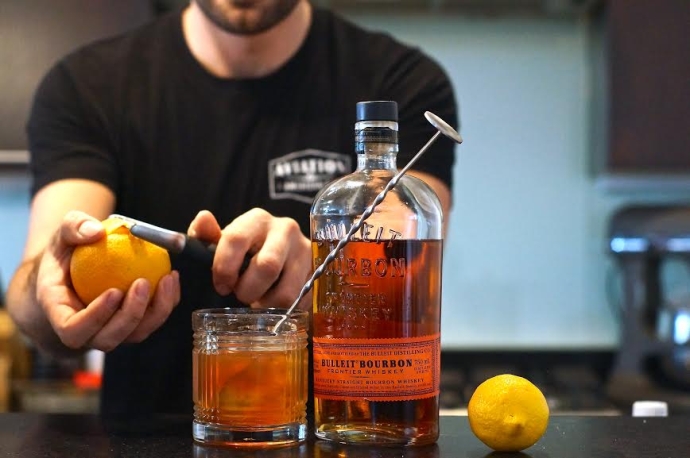 Step 8 of 9:
Peel garnish both lemon and orange.
Tip: Make sure to throw peeled citrus in the fridge after use.
---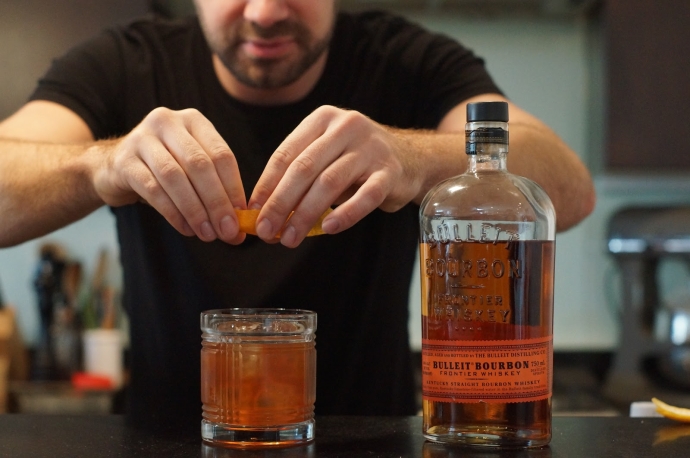 Step 9 of 9:
Zest your peeled garnish into your glass, orange first then lemon. Hold the peel lengthwise and pinch together to get the oil from the peel into the glass.
---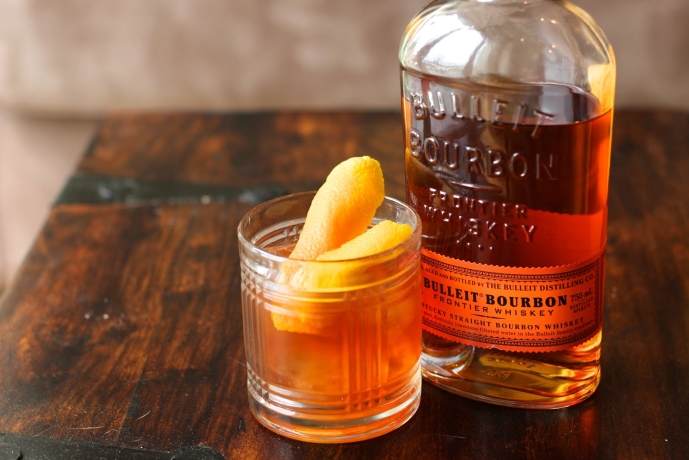 Garnish and enjoy!

Photos by Marci Prester & The Drink Nation
Tags:
Cocktails
,
Education
,
Whiskey
Recent Articles

Feedback
How are we doing? Tell us what you like or don't like and how we can improve. We would love to hear your thoughts!