I Scream, You Scream, We All Scream for Winecream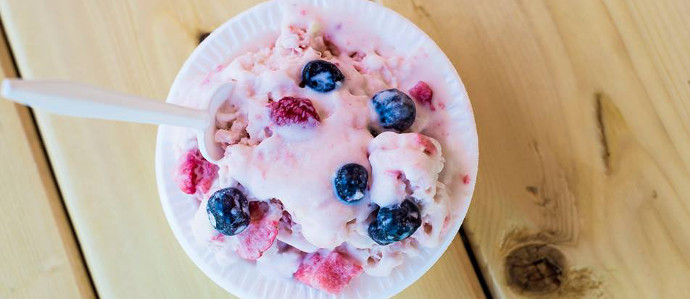 Upon hearing the name Winecream, you needn't be a mental giant to figure out what this boozy concoction is. Yes, wine lovers and sweets fanatics rejoice: wine has met ice cream, and the marriage is a happy one.
Now, this may not be the first mix of the two favorite indulgences - we were fairly ecstatic when we ran across a Chocolate Cabernet at a grocery store not too long ago, but equally saddened when another visit to the grocer revealed that Maryland's convoluted liquor laws must have put the kibosh on the New York based ice cream's sale in the frozen aisle - but this is the first larger scale, local creation of its type, which makes it even more exciting. And since we've had the chance to previously experience the deliciousness that results from the pairing of fermented fruit with frozen sweet goodness, we are fairly sure this is going to be an epic addition to Baltimore.
But really, besides the obvious, what is Winecream?
Just like all of those fancy froyo shops that have taken off in popularity, Winecream is a totally customizable dessert product that happens to be boozy as well. They first use "supercharged wine," (which means it's about double the alcohol content of what it will end up being in the end) which they mix with a cream and sugar base, then flash freeze using liquid nitrogen.
Choices abound from the type of wine to the add ins. Choose strawberry, pineapple, peach or mixed berry wine (at this time) to add to the base. "We're doing all sorts of weird flavors," says Katie Gorham, founder of Winecream. All of these are produced in their northern Baltimore County facility near the Hereford zone. "We're officially the newest winery, under the name Crossroads Company," she adds.
Then, go healthy and add in a fresh fruit puree, sliced fruit or nuts, or get indulgent with bits of candy or cookie pieces. The result is a six ounce serving of decadence that weighs in with an ABV of about 10%.
As if that's not cool enough, customers of the intended storefront will get to witness the liquid nitrogen freezing their own personal concoction. It's like a chef's table, Coldstone style.
So how does one go about getting some of this frozen, drunky tastiness? Well, owners of Winecream, (Katie Gorham, native to Baltimore, along with her fiance Chris Brida who she "dragged here from Massachusetts, but now happily wears an Orioles shirt," and her own family including her brother and parents) have been traveling around the state to wine and food festivals like Das Best Oktoberfest and the Maryland Wine Festival, to share their boozy dessert.

Now, they want to open up a storefront in Highlandtown in an effort to settle in to a solid indoor venue, as well as to help in the revitalization of the area. To do so, they are asking for your support.
To help out some ambitious and boldly boozy Baltimore friends make their dream (and ours, too, really!) of a storefront in which to sell their delicious dessert come true, check out their video on Indiegogo.
In the meantime, while it's too chilly for outdoor festivals, the team is happy to come make your private event a success. Check out their Facebook page or website.
Photo via Winecream
Tags:
Food
,
Fundraiser
,
Wine
Recent Articles

Feedback
How are we doing? Tell us what you like or don't like and how we can improve. We would love to hear your thoughts!