A Guide to Baltimore's Best Bars for Day Drinking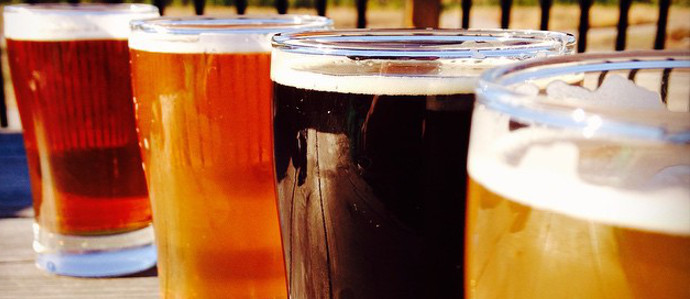 You can't drink all day if you don't start in the morning, Baltimore. And now that we've hit our holiday stride (meaning: the brunt of the holidays are over but we can still claim holiday fatigue and the need to kick back) it's time to reward ourselves for all of that endless holiday shopping, baking or just attending office parties with some serious day drinking. Show your out of town guests how to throw back in Bmore, or just settle in solo for some QT at the bar.
Venice
This Highlandtown treasure is the underground joint (really, it's in a basement) to get your drink on during the day. They open at 8 AM, people. Can you get more serious about day drinking than that? Craft beers are just $3. Watch tv, play the jukebox, challenge a fellow drinker to a game of pool, see how many different packaged snacks you can down while there… Whatever you choose, this is Baltimore drinking at its finest. (339 S Conkling St.; 410-732-3045)
Cat's Eye Pub
Music 365 days a year? We're in. And Cat's Eye sits in Fell's Point, the known home of day drinking in Baltimore. Pay homage to all those sailors that kept all of these bars in business to make Fell's Point profitable so many years ago, and enjoy some tunes and brews on the waterfront. (1730 Thames St.; 410-276-9866)
Mama's On The Half Shell
Oyster shooters. Is there a better start to your day than raw oysters in PBR or vodka? Follow it up with some of Baltimore's best crushes and cocktails, and this is a day drinker's heaven. Don't forget to fill your belly with some food, too. Mama's is known for their seafood, but we think their mac and cheese is one of Baltimore's best, and a pretty stellar choice to absorb all of that liquid goodness. (2901 O'Donnell St.; 410-276-3160)
Nick's Oyster Bar
Right at the entrance to Cross Street Market in Fed Hill, grab a 16 or 32 ounce beer and some of the best seafood in town from oysters and mussels to fish platters, or grab some pit beef or turkey. Pleasantly gritty, this place will put a smile on any day drinker's face with big beers and wee prices. (1065 S Charles St.; 410-685-2020)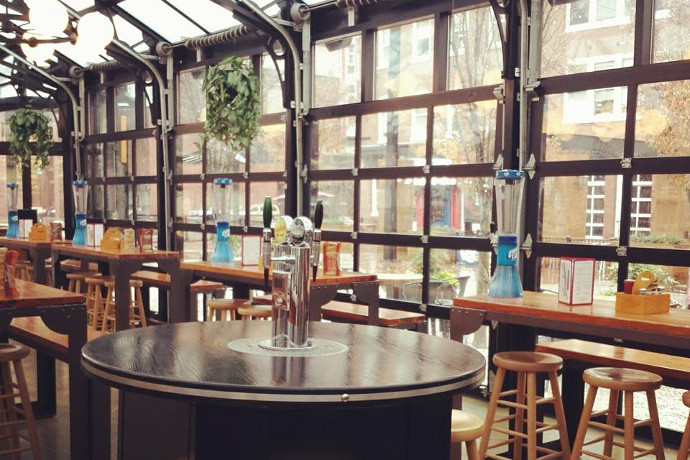 Leinenkugel Beer Garden
Throw back some beer and nosh on sauerkraut smothered brats for a German style afternoon. If you're lucky, score seats next to the outdoor fireplace for prime afternoon beer drinking and people watching. (34 Market Pl.; 443-208-3316)
Kislings
Wings, beer, sports and crushes are the siren songs that bring day drinkers to this corner spot on the cusp of Canton and Fell's Point. Friendly bartenders and entertaining regulars make this a prime joint to hunker down in on a weekday afternoon. (2100 Fleet St.; 410-327-5477)
Racer's
Sure, it's a little outside of the city but when you can get three 12 ounce beers for $7 from 10 AM until 7 PM, it's worth the cab/Lyft/Uber ride to get to this divey bar in Parkville that has 13 rotating taps and carries an enviable selection of bourbon and scotch. Ready to take your day drinking back home? Check out their adjacent shop that has one of the best selections of any shop in the Baltimore area. (7732 Harford Rd., Parkville; 410-665-6000)
Poncabird Pub
Serving local Roma's sausage and hot dogs topped with salami, Poncabird Pub is a favorite for in-the-know locals who dig a dive bar. There is not one fancy thing about this place, from its behind-the-bar kitchen to its off-the-beaten-path location, and that's what makes it special. Don't have the day off, but looking to duck out and not get caught with that pint in your hand? Poncabird is the place. (1719 Poncabird Pass; 410-631-7530)
Photo via Flickr and Leinenkugel's Beer Garden
Tags:
Beer
,
Cocktails
,
Food
Recent Articles

Feedback
How are we doing? Tell us what you like or don't like and how we can improve. We would love to hear your thoughts!