Chef Cyrus Keefer Starts Kickstarter for French-Asian Inspired Restaurant, Pique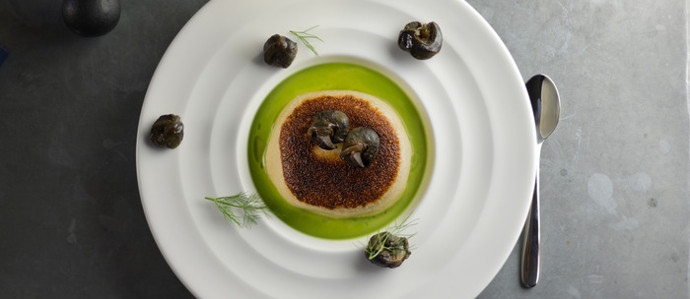 We've seen Kickstarters for everything from a potato salad that raised upwards of 65k to the end of the year favorite, The Drinking Jacket. Now, in Baltimore, Chef Cyrus Keefer (who has had a big hand in the success of local loves like Birroteca and Fork and Wrench) is trying his hand at using Kickstarter to fuel his dream of opening a French-Asian inspired restaurant in Charm City.
While Keefer's initial plan was to open a spot called Allbird, an Asian fusion joint with poultry (obviously) and other bites like dumplings, Keefer modified the vision to his French-Asian inspired Pique, with a likelihood of a late night pop up of his Allbird vision housed in the same 36th Street spot in Hampden, similar to the concept of the late night taco window he had a hand in creating in his recent short re-visit to Bandito's kitchen in Federal Hill.
To introduce Charm City to the flavors to be expected at Pique, Chef Cyrus has his first pop up at Sotto Sopra in Mt. Vernon this Thursday, January 22. Small bites for the reception include chicken liver hard tacos with guacamole, mesquite butter, cured lime and chipotle, tempura caper berries with black garlic gribiche and raw beef vinaigrette, and mini escargot buns with nori chimichurri and truffle butter.
Of the event, Keefer remains humble, yet enthusiastic. He says,"I have a great team: Sous chef Dave Trivette, General Manager Jen Dibble... Ricardo [Sotto Sopra's chef/owner] is an angel and his staff is outstanding. I have built a killer team [with] Jerry Pellegrino in the house, Jonah Kim, and Rebecca Hummer, a Stephen Starr alum and wiz at pastry, among others."
And while the professionals helping Keefer behind the scenes make an amazing team, he admits he couldn't do all that he has without Angela Keefer, his wife and part of the inspiration for his new venture. Keefer shares, "She is my full support. She handles decisions, social media with Twitter, facebook, and she's my muse.. her and my 2 children."
Sure, this new spot is going to be BYOB, but we at Drink Baltimore can definitely get behind that. After all, the incredibly popular Wine Source is right in the neighborhood, and we can think of no better evening than settling in with some of Keefer's top notch cuisine while swilling some of the best booze offerings from the Wine Source (in the off chance you've not been there, not only is their wine selection impressive, but customized six packs as well as growlers of local favorite brews are on tap, too).
Of his Kickstarter plan, Keefer says, "The kickstarter has been an eye opener. It's been extremely difficult thus far, but I expected so much, hence the live part and then doing video feed and testimonials with two weeks to go. I hope we meet our goals."
That said, Chef has some pretty incredible rewards for those who contribute to the Kickstarter cause, from recipes delivered to your inbox, to an in house event.
So, while we've gotten word that the event for this Thursday might be sold out, we've also been informed by Keefer that there are other pop ups in the works. We're thinking of trolling Craigslist for tickets from someone who can't make it…Or maybe that angel Ricardo will open up some more seats? Here's hoping!
In the meantime, to learn more or to donate, check out the Kickstarter page.
And, for those who don't have a problem with a little "language" here and there, we recommend checking out Keefer's facebook page for his absolutely endearing outtakes while preparing the Kickstarter video.
Photo via Pique
Tags:
Food
,
Wine
Recent Articles

Feedback
How are we doing? Tell us what you like or don't like and how we can improve. We would love to hear your thoughts!