House Infusions and Unique Cocktails Accentuate David Hynes' New Menu at Waterfront Kitchen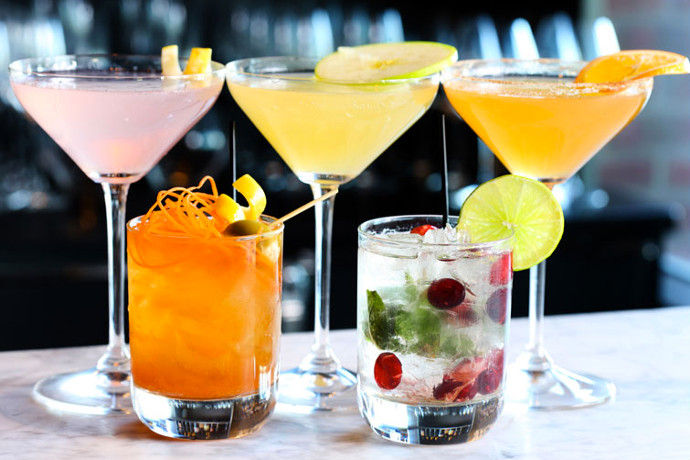 Situated on the edge of Fell's Point just before the waterfront area transitions to the Harbor East community,
Waterfront Kitchen
has been known as a Jerry Pellegrino-run restaurant with his artistry in the kitchen matched only by his extensive knowledge of wine. Recently, however, this restaurant, with one of the best water views in all of Charm City, has transitioned its menu as new chef
David Hynes
has taken over the kitchen, and we were lucky enough to get a sneak peek (and taste) of the new menu and drink selection.
Hailing from Brooklyn, NY, Executive Chef David Hynes, last seen cooking at Manhattan's Strip House, loves to add his own twists to traditional dishes. We most enjoyed his threefold take on deviled eggs which included an Asian-inspired pickled beet rendition with the white of the egg sporting a beautiful purple hue and sriracha incorporated into the yolk paired with a yuzu creme fraiche, a European-style half egg with a spicy chorizo topper and a zesty, tangy romesco sauce and a Maryland version that featured an adornment of lump crab atop the egg half with a creamy and spicy Old Bay creme fraiche pairing.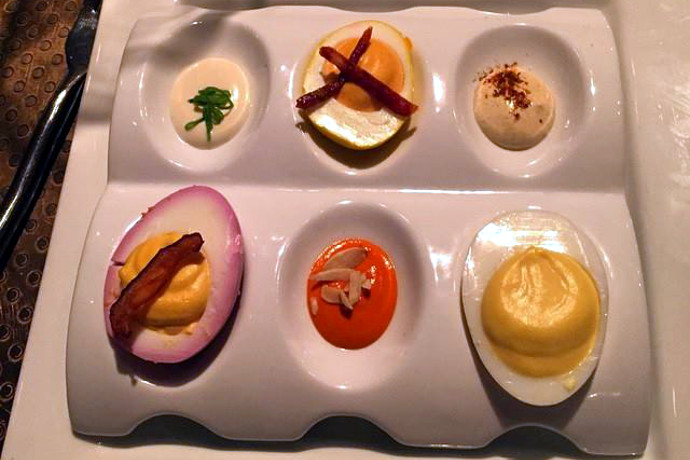 Hynes is most proud of his Hudson Valley Duck Breast entree, which he proclaims is "bad ass." We agree. Rubbed with Chinese Five Spice, cooked to medium rare and laid upon a sweet but balanced orange gastrique, it was the best duck we've had in recent memory, and possibly the only duck dish of its kind to be found in Fell's Point.
We were even more excited that General Manager and face of the beverage program, Nicki Kerns, paired this with a surprising 2013 Meiomi Pinot Noir from Sonoma that blew us away with the more than reasonable price point of $14/glass and $48/bottle, given the quality. You can find other glasses on the menu as low as $10/glass (Gascon Malbec and Torres Tempranillo are quality choices), but the quality of the Meiomi exceeds the extra cost. Pro Tip: You can also find it locally at Canton Crossing Wine and Spirits, or through Drizly, the new drinks delivery app.
The Braised Short Rib was a star too, with fall-apart, melt in your mouth meat over creamy parmesan grits that were so delicious they recruited a previous non-grit eater at the table over to Team Grits. The Pan-Roasted Rockfish was an exceptional portion of the firm, flaky white Maryland fish and the caramelized brussel sprouts and fennel apple salad over which it was served provided the perfect tart taste and textural balance.
When it comes to dessert, we enjoyed the flourless carrot cake (the kitchen uses almond flour) with bruleed cream cheese icing, and would maybe try the bread pudding with caramel sauce again (though we'd like a touch more cinnamon or depth in the bread pudding), but the chocolate mousse was to die for.
But what about the drinks? This is Drink Baltimore, and admittedly we've only mentioned the tremendous Pinot Noir which is going to grace our home bars and may be the hostess gift for many upcoming parties. So, let's get up to speed on the beverages.
There are several classics on the menu including a Sazerac, Old-Fashioned and Negroni, all in keeping with Baltimore's ongoing trend of serving up pre-prohibition style beverages. House infusion cocktails incorporate seasonal ingredients from produce grown in conjunction with the Living Classrooms BUGS program such as the greenhouse tomatoes in their take on a Bloody Mary. We particularly enjoyed Waterfront's Bellini, the Bellino, which featured sparkling wine, cointreau and Fee Brothers peach bitters. Our absolute favorite was a drink with a name that sounds absolutely horrendous but tastes like heaven in a glass after a long day. The Dead Leaves and Dirty Ground (yes, we swear that's the moniker of this potent potable) is a mixture of blanco tequila, amber agave nectar and Granny Smith apples. Perfectly balanced, the apples and nectar play nicely with the tequila so that it remains a main player in the cocktail while the other flavors act as complements rather than covers.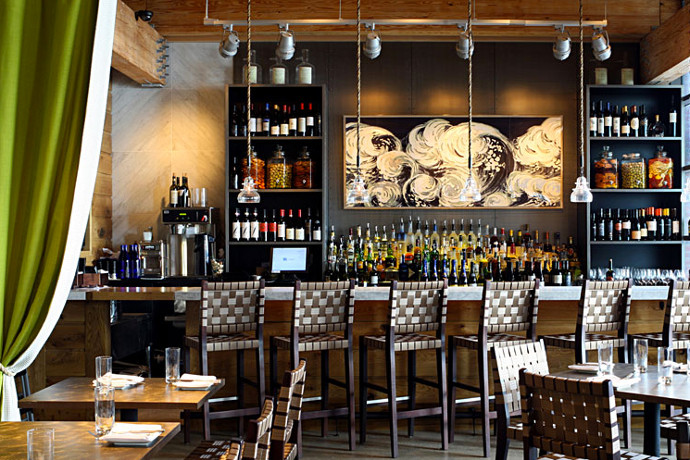 Hynes and Kerns both expressed the dual vision for Waterfront Kitchen to be a destination spot in Fell's Point. One way of embracing that goal is the offering of brunch on both Saturday and Sunday. Bottomless bloodies and mimosas grace the menu at $20 alongside what sound like promising dishes like the Surf and Turf Hash with that previously mentioned braised short rib along with shrimp, scallions, peppers and mustard hollandaise, and Quiche Espaṅol with spicy palacios chorizo, caramelized onion, garlic confit and potato with that amazing romesco we had the chance to sample with the eggs. However, Chef Hynes' mouth-watering description of the Steakhouse Benedict with poached eggs, sliced steak and creamed spinach on an English muffin topped with au poivre hollandaise has us wishing it was Saturday already.
While our meal was meticulously planned for our gathering, after meeting with Chef Hynes we're fairly sure that he intends for every meal to be as impeccable as the one we were fortunate enough to enjoy. With warm weather on the horizon, we're pretty sure this is going to be on the list of destination joints for fancy waterfront brunches or a sexy date night.
Waterfront Kitchen; 1417 Thames St.; 443-681-5310
Photos by Stacy Zarin-Goldberg (Drinks and Interior) and Chrissie Bortner (Eggs)
Tags:
brunch
,
Cocktails
,
Dinner
,
Food
,
Wine
Recent Articles

Feedback
How are we doing? Tell us what you like or don't like and how we can improve. We would love to hear your thoughts!