New Restaurants in Baltimore to Get Excited About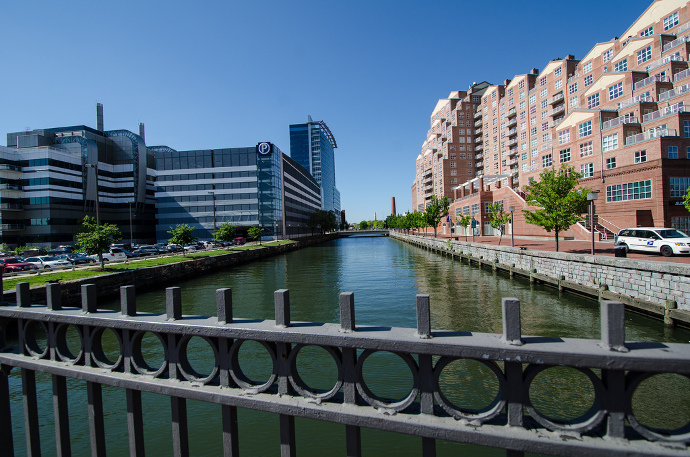 Baltimore has so many new restaurants opening, but we could only pick a select few — so here are our favorite new places opening up in the city just in time for summer.
Right on Broadway near Thames, this new casual concept open until 2 am encapsulates all that we need when we're bar-hopping in Fell's. Choose between classic, pork, chicken, and veggie, decide on your sauce (from traditional tomato to pesto to creamy options), and then choose between sliders, a sub, or a classic bowl. There are options other to line your belly, like fried pickles, hummus, and salads, as well as other ball-style options like goat cheese balls, buffalo chicken balls, and crab balls. There are pitchers and pints to be had, as well as cocktails, and if you're really ballin', you can pop in for their brunch and grab a dish like the deep fried egg over meatball hash - with $13 bottomless mimosas or Bloodys, of course. (814 S Broadway; 443-759-5315)
Colette
This French-inspired little sister of Baltimore's Bottega in Station North is a stylish newer spot featuring barrel-aged cocktails alongside traditional shaken and stirred classics. There are plenty of affordable small plates to enjoy at the bar, including various-topped crostinis, soups, cheeses, and the likes of innovative apps like gruyere beignets. Those looking for a heartier meal can settle in with more upscale cuisine at the tables. (1709 N Charles St.; 443-835-2945)
Cosima
Opened this spring by Donna Crivello, the rustic space in Woodberry offers Southern Italian cuisine using fresh and seasonal ingredients, from upscale entrees like grilled swordfish with caponata, saffron risotto, and salsa verde and braised rabbit with green olives and oranges over stone-ground polenta to affordable wood-fired pizzas and appetizers like arancini and meatballs. Kristen Starks heads the bar program with the intention of creating an experience, welcoming the opportunity to guide newcomers through Cosima's extensive Amaro program as well as the wide range of wine options. (Mill No. 1, 3000 Falls Rd.; 443-708-7352)
The Elephant
In the previous home of The Brass Elephant, Steven and Linda Rivelis are on the brink of opening the revitalized space as The Elephant, an expansive multi-leveled bar and restaurant that pays homage to the building's history while simultaneously offering top-notch global cuisine and handcrafted cocktails utilizing, primarily, locally distilled liquors. (924 N Charles St.)
Gunther & Co.
This elegantly renovated space in Brewer's Hill boasts a comfy yet large bar area, a cozy patio, and an airy dining room with soaring ceilings, exposed brick, and a wall of living greens. Ranging from raw bar to affordable eats to upscale entrees, the menu is diverse, and Shaun Stewart's direction in the bar equates to a range of creative cocktails and an impressive wine and beer list. (3649-3699 Toone St.)
Gnocco
Chef Brian Lavin - known for his work in the kitchens of Salt and Fork & Wrench - will offer Italian and Spanish inspired cuisine at this new Brewer's Hill corner bar, with a menu that highlights rare cuts of meat and offal alongside dishes like lamb tartare, ricotta cavatelli, and razor clams. The bar, headed by Sam White, will feature seasonally focused cocktails, a strong Amaro and Vermouth program, and a wine list focused on Spanish and Italian varietals. We're particularly enthusiastic about their Aperitivo, the Italian version of happy hour that will feature complimentary hors d'oeuvres and drink specials. (3734 Fleet St.)
Handlebar Cafe
This eagerly awaited new restaurant in Fell's Point is due to open any day. A bunch of bicycle lovers are planning to pair their love of riding with the need to energize, offering bicycle repair, advice, and encouragement paired with wood-fired pizzas, burritos, breakfast, and a slew of cocktails. (511 S Caroline St.; 415-260-3991)
Loch Bar
The spring opening of this new addition to the Four Seasons in Harbor East features a wide array of raw bar options, a full menu of meat, seafood, and sandwiches and charcuterie and cheese. While the menu is impressive, we're most excited about the 50+ craft beers and the sizable whiskey list (including more than a few Japanese whisky varieties that aren't always easy to find around town). (240 International Dr.; 443-961-8949)
Myth and Moonshine
While Myth and Moonshine has been a Canton corner bar for some time, the ownership changed in the late part of last year, making way for changes that are just starting to take shape. While the vast moonshine collection remains, there is recently a revised moonshine cocktail list, new weekly specials, and an expanded second level space as well. (2300 Boston St.; 410-777-5502)
Modern Cook Shop
We've been waiting with bated breath for this bar-restaurant-market from the owners of Fork & Wrench to open in Fell's Point. With daytime sandwiches that are as Insta-worthy as they are savory, evening dishes that are as affordable as they are beautifully constructed, and cocktails just as on-point as at F&W, we're not sure how we'll convince ourselves to just grab take-away from the market, but we're glad the option is there. (915 S Wolfe St.)
SoBo Market
This cozy spinoff from SoBo Cafe is another bar-restaurant-market space that offers local beers, quality wine, and impressive cocktails alongside an uber-affordable menu of creative small plates, salads, and sandwiches.
(13 E Randall St.; 410-685-6605)
Southern Provisions
What was JD's Smokehouse for ages on Canton Square has taken on many names in the last few years, but its most recent iteration, Southern Provisions, looks promising as a corner bar that might just settle in for a while with a menu of Southern comfort to line the belly of any suds-swilling Square drinker. Pimento cheese, house-made pork rinds, cheesy grits, hot chicken, and the entertainingly-named entree "Meat Sweats for Two" grace the approachable yet creative menu. Plus, we can always get behind a place that offers a drinks menu and a whiskey menu, with picklebacks listed separately. (3000 O'Donnell St.)
Points South Latin Kitchen
Right on Thames Street in Fell's Point, this spring addition brought to Fell's Point by Bryson Keens offers a variety of authentic Central and South American dishes and cocktails. Points South offers, to date, the only house-bottled cocktails in Fell's, and is one of the few bars in town to feature a caipirinha on the menu. Points to them, indeed. (1640 Thames St.; 443-563-2018)
Photo via Flickr user m01229
Recent Articles

Feedback
How are we doing? Tell us what you like or don't like and how we can improve. We would love to hear your thoughts!