Where to Celebrate Bastille Day 2016 in Baltimore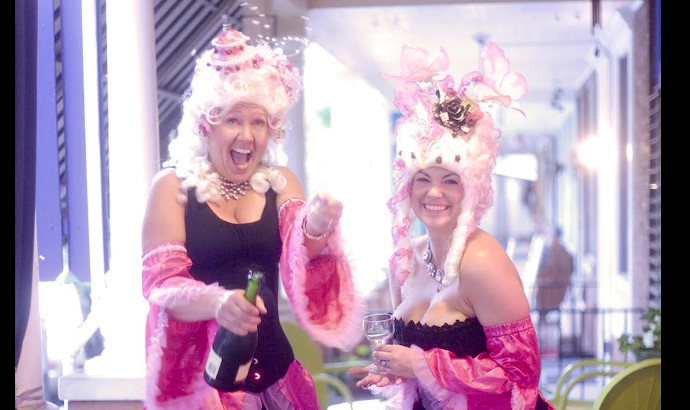 While Americans just finished celebrating the United States' independence, the French are getting ready to celebrate theirs. Bastille Day, or July 14, marks the day that the French stormed the Bastille fortress-prison in 1789, overthrowing the government and freeing prisoners.
In honor of the French and their victory in 1789, bars and restaurants around Baltimore will be paying homage by offering specials and throwing parties. Attend any of the hosted celebratory soirees or pop into any of the other spots and create your own French fete. Vive la France!
Aromes
Starting at 6 PM on July 14, this BYOB in Hampden will be offering a special Bastille Day menu to be served at communal tables. Keep an eye on their Facebook page for more details as the date draws nearer. (3520 Chestnut Ave.; 410-235-0035)
Colette
Combining the celebration of the French holiday with a kick-off to Artscape, Colette will feature wine, beer, and boozy specials to the backdrop of DJ'd music with Marie Antoinette on hand to pass out the cake. (1709 N Charles St; 443-835-2945)
Chef's Expressions at Gramercy Mansion
Chef's Expressions is using the celebration of French independence to raise money for those in need. This annual event that benefits Meals on Wheels offers butlered hors d'oeuvres and a seated meal with wine pairings. Tickets are $99.95 plus service charges and can be purchased at 410-561-2433 (CHEF) or here. (Gramercy Mansion, 1400 Greenspring Valley Rd.)
Crepe du Jour
This charming spot, with its colorful facade in Mt. Washington, offers up way more than just crepes on their authentic lunch and dinner menus, with starters like escargot and assorted cheeses to mains that feature a variety of seafood as well as meats in traditional preparations (think: beef bourguignon, coq au vin, and duck leg confit). Of course, there are dozens of crepes to choose from and many can be made gluten-free for a slight upcharge. While their drink menu is wine-focused, with a large number of by-the-glass options, there are a few imports for those who prefer a brew their meal. (1609 Sulgrave Ave.; 410-542-9000)
French Kitchen
On the first floor of downtown's Lord Baltimore hotel, the exquisitely decorated French Kitchen, with its soaring ceilings and grand entranceways, replica Eiffel Tower, and ornate chandeliers is an ideal spot for a more upscale celebration of the French holiday. Their newest menu, which debuted in spring of this year, highlights classics like pate, coq au vin, and beef bourguignon but also features locally inspired dishes including an impeccable horseradish encrusted rockfish and a slightly sweet, creamy shrimp and corn chowder, all of which pair well with a variety of wine and cocktail offerings. If the weather cooperates, head upstairs to the LB Skybar after dinner for a breathtaking view of the city at the comfortable, but classy, rooftop bar. (20 W Baltimore St.; 855-539-1928)
La Folie Wine Bar and Steak Frites
This corner bar on the Square in Canton just opened in June, with a French-inspired menu focused on burgers, mussels, and steak frites. Their claim to fame on the Square, though, just might be their signature drink - Frose (frozen rose wine) - and in steamy mid-July, it may be the ideal libation for raising a glass to the French. (2903 O'Donnell St.; 410 675-1880)
Le Garage
Known for their frites (served with a choice of 10 different dipping options), this Hampden eatery serves up affordable and accessible French food from tartines (open-faced sandwiches) and apps like ham and cheese croquettes and duck poutine to mains like steak frites and seared sea scallops. The drinks menu is full of creative cocktails and a variety of wine options to toast the holiday, as well as a quality rotating beer list that features lots of local brews. (911 W 36th St.; 410-243-6300)
Ma Petite Shoe
Beginning at 11 am on the 14th, this Hampden shoe and chocolate shop will offer a special summer shoe sale to continue through the weekend. Additionally, the cafe will offer a Bastille menu featuring crepes from around the world that are influenced by French cuisine, including "West African Chicken Mafe" and "The Brie-L-T". Between 5 and 8 pm pop in for champagne, music, chocolate. (832 W 36th St., 410-235-3442)
Marie Louise Bistro
This French-Mediterranean inspired Mt. Vernon spot with a downstairs dining room as well as a loft-style upstairs space offers a Thursday wine and cheese tasting perfect for celebrating Bastille Day. The special offers 3 different varieties of wine and a cheese buffet for $10, and is available only in the upstairs lounge. (904 N Charles St; 410-385-9946)
Petit Louis Bistro
Pop the cork early in the evening at Petit Louis Bistro's celebratory Bastille Day happy hour from 5 PM - 6 PM that includes cocktails and champagne as well as complimentary hors d'oeuvres for bar guests. Staying for dinner? Reservations are recommended. (4800 Roland Ave; 410-366-9393)
Photo via Ma Petite Shoe
Recent Articles

Feedback
How are we doing? Tell us what you like or don't like and how we can improve. We would love to hear your thoughts!