Where to Go for Bottomless Brunch in Baltimore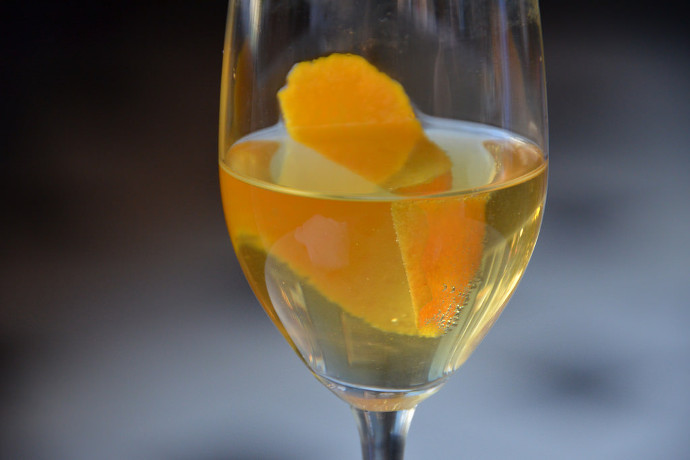 While everyone might love those pics from the dinner table, is there anything more Insta-worthy than that poached egg spilling its yolk? And what's even better than being able to snap that? Getting to do it over it unlimited beverages, naturally.
It's with that spirit that we offer a list of some of the best spots to both dine well and drink bottomlessly. (We're referring to the drinks - try to keep your pants on!)
This classy downtown Italian spot from Bryan Voltaggio of Top Chef fame just kicked off its brunch this summer, with 3 courses for $25 and $20 bottomless cocktails. 11:30 AM - 4:30 PM. (614 Water St; 410-528-0200)
Barcocina
Mexican inspired dishes including enchiladas, huevos rancheros, and interesting omelets, a variety of guacamole options, and tacos grace the brunch menu at this waterfront spot in Fell's Point, alongside sweeter options like ancho cinnamon French toast with banana rum caramel and red velvet pancakes with maple cream cheese fondue to accompany the $13 bottomless Bloody Marys, Bloody Marias, or mimosas. 11 AM - 3 PM brunch during the week, 10 AM - 3 PM on the weekend. (1629 Thames St; 410-563-8800)
Bluegrass Tavern
$12 mimosas are being poured at this Fed Hill spot for weekend brunch. Enjoy them with creative starters like apple fritters, crawfish hushpuppies, and country poutine, or larger plates like the cheesesteak omelet, jerk chicken and waffles, or banana pancakes with bourbon glazed bananas. Lunch-style bites like burgers, salads, and a fried chicken sandwich (hot or not) are on the menu as well. 10 am - 3 pm. (1500 S Hanover St; 410-244-5101)
Bistro Rx
$10 Bottomless Bloody Marys, mimosas, and screwdrivers are poured at this corner spot adjacent to Patterson Park with a menu featuring shrimp and grits as well as a breakfast flatbread and burger. 9 am - 2 pm every Saturday, 9 am - 3 pm every Sunday. (2901 E Baltimore St; 410-276-0820)
Bond Street Social
This brunch destination has an impressively large menu, from quiche and benedicts to mac and cheese bites to a duck confit hash with a bottomless menu of mimosas and Bloody Marys that run from $13 to $20. (901 S Bond St; 443-449-6234)
Cava Mezze
In Harbor East, this popular place is the go-to for what we think of as a dim sum-style Greek brunch with as many mimosas as you could want. For $30, get small plate after small plate of sweets like to-die-for banana fritters and heavenly Nutella waffles or get savory bites like smoked salmon or lamb benedicts, gyro hash, or pasta and eggs. While the mimosas aren't technically "bottomless," with the $30 brunch they're a penny each, so unless you don't have another dime or two, they basically are. 10 AM - 3:30 PM on Saturday, 10 AM - 4 PM on Sunday. (1302 Fleet St; 443-499-9090)
Don't Know Tavern
This Fed Hill tavern features one of the lowest priced bottomless deals in the city, with $10 bloodys and mimosas. Soak up that goodness with their spiced rum battered French toast or English muffins topped with mini crab cakes, poached eggs, and house made Old Bay hollandaise sauce, among a bunch of other serious brunch-worthy options. 10 AM - 2 PM. (1453 Light St; 410-539-0231)
Huck's American Craft
Grab $14 all you can drink mimosas, Bloody Marys, screwdrivers, bloody Bohs and Natty Boh at this corner spot on the cusp of Canton and Brewer's Hill. Since they serve breakfast all week, there are plenty of standards, but their weekend brunch also includes inventive dishes like the Texas Straw Hat featuring a cast iron pan layered with Fritos, chili con carne, fondue, bacon, sausage, and New York aged cheddar topped with an over easy egg, diced sweet onions, Peter Piper's pickled peppers, and sour cream. Is the way to end a hangover or prevent it? 10 AM - 3 PM. (3728 Hudson St; 443-438-3380)
Jimmy's Famous Seafood
Any brunch entree (except for the steak and eggs, for which there is an upcharge) can be paired with unlimited bloodys and mimosas for $19.99. The menu features a hangover-curing cheesy and spicy breakfast pizza, plenty of standards, and a decadent Chesapeake benedict (with creamy crab dip instead of hollandaise). Don't see something you want? Jimmy's is famous for a lot of reasons, not the least of which is accommodating their diners. At a recent brunch, they were happy to serve their soft shell crab sandwich brunch style upon request - with an egg on it. 10 AM - 2 PM. (6526 Holabird Ave; 410-633-4040)
Kooper's Tavern
Every Saturday and Sunday from 10 AM - 3 PM, Kooper's is serving omelets, pancakes, French toast, Belgian waffles, and $13.00 Bottomless Bloody Marys, screwdrivers and mimosas in the heart of Fell's Point. (1702 Thames St; 410-563-5423)
Little Havana
This waterfront mainstay offers one entree and bottomless bloodys or mimosas for $20.99. Grab chilaquiles, huevos rancheros, and omelets on the breakfast end of things, or if you're feeling more like lunch, there are plenty of salads, burgers, and (of course) their Cuban sandwich. 11 AM - 3 PM. (1325 Key Hwy; 410-837-9903)
Mt. Washington Tavern
Bottomless mimosas, manmosas, and Tavern Bloody Marys are on the menu for just $15 alongside options like oysters and eggs, omelets, benedicts, truffle fries, and cauliflower bites. Open at 11 AM on Saturdays and 10 AM on Sundays. (5700 Newbury St; 410-367-6903)
Myth and Moonshine
Known for their Farmer's Market inspired brunch, this Boston Street spot sports $12 bottomless mimosas and Bloody Marys for one of the longest running bottomless brunches in the city. 10 AM - 4 PM. (2300 Boston St; 410-777-5502)
Papi's Tacos
This popular taco stop just off Broadway in Fell's Point offers $12 all you can drink Bloody Marys and Marias, Mexican bellinis, Dos Equis Amber, and drafts to wash down their breakfast-slanted quesadillas, burritos, enchiladas, and tostadas as well as French toast and churros for those with a sweet tooth. 10 AM - 3 PM. (1703 Aliceanna St; 410-299-8480)
Plug Ugly's
At this popular pub on the Square in Canton, $15 bottomless Bloody Marys and mimosas grace the menu that features anything from lighter items incorporating fruit and yogurt to benedicts, egg scramble skillets and sandwiches. 10 AM - 2 PM. (2908 O'Donnell St; 410-563-8459)
The Point in Fells
The Point incorporates a few more drinks outside of the norm with their brunch specials offering $13 bottomless Bloody Marys, screwdrivers, mimosas, sangria, and Natty Boh drafts with a lunch or brunch purchase. Get fancy with your brunch and grab the filet mignon with jumbo lump crab meat, grilled asparagus, a sunny side up egg, hollandaise, and crispy onion straws or choose something simpler like the other egg dishes, burgers, sandwiches, or crabby tots. 10 am - 4 pm. (1738 Thames St; 410-327-7264)
Red Star Tavern
$10 Bottomless Bloody Marys and mimosas are a steal in Fell's Point at this space, which is just a little off the typical path. Blackberry French toast is a perfect accompaniment to the mimosas, while the spicy bloodys will wash down benedicts and chilaquiles. 10 PM - 2 PM. (906 S Wolfe St; 410-675-0212)
RowHouse Grille
Settle in for $14 mimosas to swill alongside sausage gravy and biscuits and a variety of breakfast tacos, or try one of the punny-named dishes like Hugh's Your Daddy Cream Chipped Beef or Challah Back French Toast. Saturday Limited brunch served 11 AM – 3 PM, Sunday full brunch menu served 10 AM – 3 PM. (1400 Light St; 443-438-7289)
Rusty Scupper
This Baltimore mainstay features a Sunday live jazz brunch buffet featuring made to order omelets, hand-carved meats, a waffle station, raw bar items, cheeses, desserts, and a whole slew of other brunchy items for $43 per person and $16 for children. 10:30 AM - 2:30 PM. Reservations are recommended. (402 Key Hwy; 410-727-3678)
Slainte
Bottomless mimosas, screwdrivers, and Bloody Marys are on special at Slainte for $13, and not just on the weekends. Get in your soccer and rugby and nosh on with plenty of basics as well as items like breakfast mac and cheese with rashers and eggs, Irish favorites like a Breakfast Boxty, and a traditional Irish breakfast featuring black and white puddings alongside eggs, beans, rashers, mushrooms and tomatoes. Weekdays 7:00 AM - 12:00 PM, weekends 7:00 AM - 1:00 PM. (1700 Thames St; 410-563-6600)
Smaltimore
One of the earliest openers for bottomless brunch, Smaltimore starts at 9 AM with bottomless Bohs, bloodys, and mimosas to 12 PM for $10. The menu offers a variety of egg options, corned beef hash, and a breakfast burrito. 9 AM - 12 PM. (2522 Fait Ave; 410-522-1421)
8 Ball Meatball
New-ish to Fell's Point, 8 Ball Meatball was quick to get in on the brunch game in Baltimore. Bottomless mimosas and Bloody Marys are $13 and the food menu offers small plates like a bacon deep fried egg served over meatball potato hash or glazed doughnut balls with berry compote for dipping, and larger dishes including omelets, a benedict, and their meatball-inspired riff on biscuits and gravy. 10 AM - 3 PM. (814 S Broadway; 443-759-5315)
Photo via Flickr user Rob.Bertholf
Recent Articles

Feedback
How are we doing? Tell us what you like or don't like and how we can improve. We would love to hear your thoughts!