11 Baltimore Bars Serving Up Delicious Fall Cocktails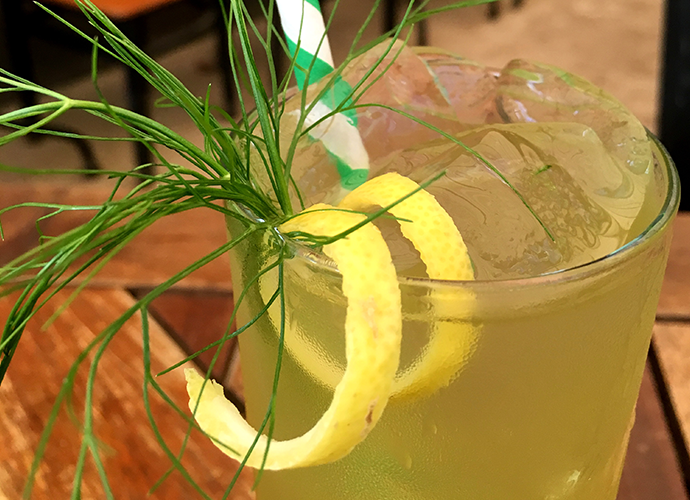 When fall descends on the city there's the beauty of multi-colored leaves and the noticeable increase in the wearing of the purple. There's also, typically, the invocation of the pumpkin and all associated spices, but this year's local cocktails invoke fall in a decidedly different way. Some of the bars were even gracious enough to give us their recipes so you folks can make them at home!
The World Ends With You
1 1/4 oz Gin Lane Victoria
1/2 oz Contratto Aperitif
1/2 oz elderflower
3/4 oz grapefruit juice
1/2 oz lemon
1/2 oz apple cardamom shrub
The Kent Island Harvest Hurricane
Maryland's Picaroon Gold Rum
Apple juice
Fresh carrot juice
House chai syrup
Adam's Apple
Dogfish Head Whole Leaf Gi
Baltimore Whiskey Company Ginger Apple Liqueur
Cardamaro
Apple-Cinnamon Shrub
Lemon juice
Fennel syrup
Muddled fennel frond
Welcome to Pear-adise
Rock Town Vodka
Caffo Amaro
Pear nectar
Lemon juice
House vanilla syrup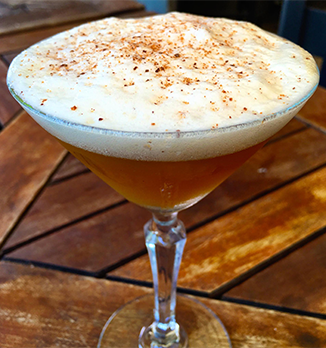 The Full Mountie
Rittenhouse Rye
Allspice Dram
Lemon
Cinnamon infused maple syrup
Egg whites
Angostura bitters
Panama Jacques
El Dorado 12yr Rum
Borsci San Marzano Liqueur
Housemade Pumpkin Spice Liqueur
Lemon juice
Orange bitters
Topped with an Evolution Craft Brewing Jacques Au Lantern foam and fresh grated nutmeg.
Blackberry Azedo
Hendrick's Gin
Muddled blackberries
Apple Palmer
1 oz Four Roses Yellow Label Bourbon
3/4 oz Clear Creek 2yr Apple Brandy
3/4 oz Cinnamon Demerara Syrup*
1/2 oz freshly squeezed lemon juice
1/2 oz freshly brewed iced tea
1 dash Bar Keep organic apple bitters
1 dash Bittermens Elmakule Tiki bitters
Add all ingredients (except iced tea) to a cocktail shaker and shake well with ice. Strain into a double rocks glass filled with cubed ice. Top with iced tea. Garnish with a lemon twist and freshly grated cinnamon.
*To make Cinnamon Demerara Syrup heat one cup demerara or turbinado sugar with a half cup of water until sugar is dissolved. While still hot, add two lightly crushed cinnamon sticks. Let syrup infuse overnight, then strain.
Tipsy Fall
Daron Calvados
Ramazzotti amaro
Apple cider
Cava
Apple garnish
Squash Old Fashioned
Bulleit Bourbon
Mole bitters
Squash agave nectar concentration
Dehydrated squash (roasted with confectioner's sugar for a little sweetness)
Grazie Miele ("Thanks, Honey")
Candied bacon infused rye whiskey
Spicy rosemary honey
Contratto Vermouth Rosso
China China Amer
Fall to Pieces
Laird's Apple Brandy
Carpano
Averna amaro
Rye whiskey
Dash of bitter
Whisky Smash
1 3/4 oz Rebel Yell bourbon
3/4 oz apple gastrique (chopped apples simmered with white vinegar and honey)
1/2 oz allspice dram (we make ours, but you can buy St. Elizabeth's, which is a quality product)
1/2 oz fresh-squeezed lemon juice Bittermen's Burlesque Bitters Shake all ingredients with ice, then strain over fresh ice. Garnish with an apple slice.
In addition to cocktails to procure at local spots or recreate at home, we also have a few concoctions to create with the wares from local wineries and distilleries….
Jazz Berry Chocolate Martini
3 parts chilled Jazz Berry
1 part chocolate vodka
Mix in a cocktail shaker and pour into martini glass
Fire & Spice (Spiced Wassail)
3 parts Spiced Wassail, slightly warmed
1 part Triple Sec
2 oz Fireball
Splash of club soda
Mix and pour into a bucket glass OR increase the ingredients and slightly warm them in a crockpot when entertaining—guests can serve themselves.
Viva Sangria Sour
3 oz Viva Sangria
1 oz pomegranate juice
1 oz Citron vodka
2 oz sour mix (or a few drops of aromatic bitters)
Splash of 7 Up
Ice
Mix in a cocktail shaker and pour into a tulip glass
BWC Classic Martinez
1 1/2 oz Shot Tower Gin
1 oz Vermut Negre
1/2 oz Montenegro Amaro
1/4 oz Meletti Amaro
1 dash of orange bitters
Combine all ingredients in cocktail stirring glass. Add ice, stir. Strain onto one large ice cube and garnish with flamed or clove studded orange peel.
Photos via Birrotecca Baltimore
Tags:
Cocktails
Recent Articles

Feedback
How are we doing? Tell us what you like or don't like and how we can improve. We would love to hear your thoughts!