New Bars and Restaurants to Visit This Fall in Baltimore
Gotta try 'em all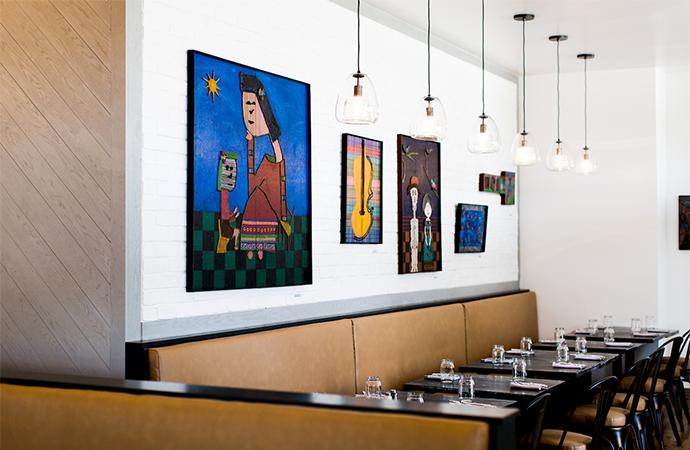 We all love our regular haunts, but there are dozens of new openings every month—so many that we've even missed a few! Here are the best new bars and restaurants that are coming up, or that sprung up in the last few months, that we think are must-trys!
This corner spot in Upper Fells has outdoor seating with umbrellas and a cozy indoor bar scene all created by Malcolm Mitchell, of Food Network fame via both "Food Network Star" and "Beat Bobby Flay." Opening the spot humbly, Mitchell didn't want attention given his past work. It's clear by the crowds that he didn't need the media to give credence to his ability to open a hopping spot in the area. (1901 Gough St.)
This space. What can we say? It's seen restaurants open and re-open a dozen times over a lot fewer years, but we're really excited for its newest iteration that just opened mid-September. This most recent restaurant comes from the long-time successful owner of Red Maple, Leonard Clarke, who is hoping to make the space viable with a diner-style concept, plus drinks. The diner concept mainly comes into play with the all-day breakfast feature. However, the rest of the menu toys with newer ideas like quinoa beet salad, short rib grilled cheese, and a Thai noodle bowl alongside more traditional options like the house meatloaf, roasted pork, and multiple burger options, including the pimento burger that would likely ward off, or cure, any hangover. On our most recent visit during the soft opening, the bar wasn't ready, but the taps and brown liquor looked promising. (529 E Belvedere Ave.; 410-323-2396)
This Naptown-originated all-day breakfast spot that made Canton its second home a bit over a year ago has popularized housemade pop-tarts with fillings like drunken apple and has chicken and waffles to die for. In the late summer, they've introduced a happy hour from 3–6 PM with $5 reds and whites, a $5 Iron Crush, and half priced appetizers. (3721 Boston St.; 410-762-2100)
A renowned spot for craft whiskey cocktails in Fell's Point, Rye has relocated to the previous Leadbetters spot, with a drink list curated by Perez Klebahn, and a food menu created by Cyrus Keefer. Newly reopened in mid-September, it's the newest spot to try again in Fells. (1639 Thames St.)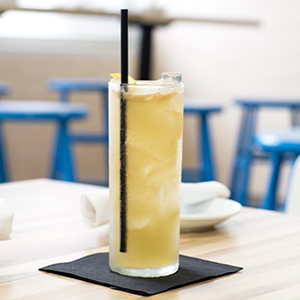 Wet City
Replacing Dougherty's Pub, Wet City features an impressive beer list and some seriously Instagrammable dishes. They also have a great cocktail program via owner and cocktail connoisseur Josh Sullivan. You can to find expect delicious cocktails such as the
Baku
(pictured right) made with rye, macadamia orgeat, yuzu juice, Japanese chili lime bitters, cream soda, and a twist of lemon and the Carmen Miranda made with Vizcaya Crystal Rum, Wray & Nephew Rum, cantaloupe juice, lime juice, macadamia orgeat, mint, and egg white on the menu of this new spot.
(223 W Chase St.; 443-0873-6699)
This new-ish corner spot at Lombard and Ann is for teetotalers right now, and is a perfect spot to take the edge off the morning with hearty breakfast sandwiches and creative coffee drinks. In the coming months, a liquor license is on the way, as well as a lounge area to fill the current open space. In the meantime, the Mediterranean-inspired menu includes various sandwiches and plated dishes that would either cure, or preventatively, ward off a hangover any day of the week. (1801 E Lombard St.)
This new spot on Thames Street features communal tables with shareable snacks. They have 20 beers on tap, many of which are local. Live music is featured Thursday through Sunday evenings as well as on Saturday and Sunday afternoons for the brunch crowd. (1606 Thames St.; 410-276-4700)
This new spot in Pikesville was recently opened by one of Baltimore's most well-regarded chefs, Chad Gauss alongside Chef Johntay Bedingfield. The spinoff from Gauss's popular Hampden eatery, The Food Market, features "cuisine of the Americas" with small dishes that range from fish taco dip to gringo pizza menu to larger dishes featuring fajitas and tacos as well as simply grilled proteins like rockfish, duck breast, lamb and scallops. The bar features a few signature cocktails and a bunch of brews as well as margaritas, mojitos, and sangria. (2620 Quarry Lake Dr.; 410-415-0606)
This new-ish spot is boasting some of the most enticing small plates for the most reasonable prices in town. With a creative wine list, fantastic cocktails, and a decent beer list, this place is one of the happiest hours in Baltimore. Need a reason to check it out? Free flatbreads during the Sunday games! (311 W Madison St.; 443-938-9109)
Sangria
The space previously known as Red Maple in Mt. Vernon was purchased by Ryan Perlberg (of Rye in Fell's Point) and is intended to serve drinks as well as small and shared plates. There's no word on the opening date, but we're looking forward to seeing the swanky midtown space re-open. (930 N Charles St.; 410-547-0149)
Photo of cocktails via Wet City, Interior photo via La Food Marketa
Tags:
Cocktails
,
Food
,
News
Recent Articles

Feedback
How are we doing? Tell us what you like or don't like and how we can improve. We would love to hear your thoughts!