5 Best Local Baltimore Beers for Fall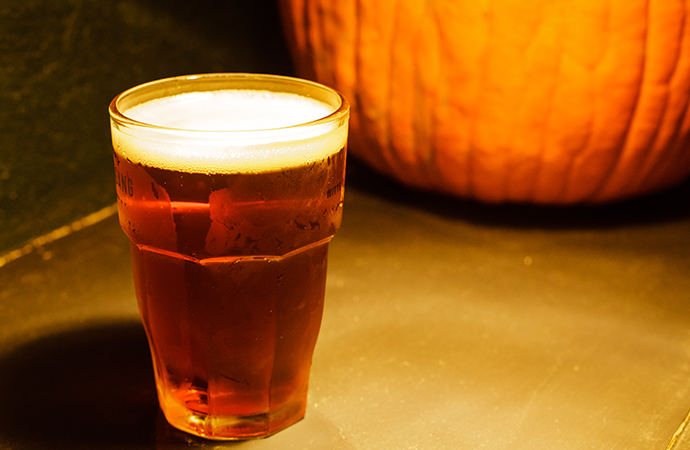 For more than a few years now, the flavor that has marked the seasonal change from summer to fall has been the highly debated pumpkin. And with this trend, a multitude of serious beer drinkers have let out an annual collective sigh (and, sometimes, a scream or two). We at Drink Baltimore acknowledge your sighs, regardless of any individual opinions about pumpkin and its associated spices, and sipped a slew of local brews we found appropriate for fall without the addition of anything that could be found in a mulled wine, holiday dessert or seasonal latte. Some are seasonal, and others are just what we'd deem worthy of pairing with football, fire pits and fireplaces, fall foods like sausages and chili, and the subtle chill in the air.
This Belgian porter is dark in color, but when the glass is tipped it's more transparent than expected. Similarly unexpected is its smooth drinkability. At 6%, it's just above the definition of being sessionable, but we would be just as satisfied drinking one with lunch as we would enjoying a few around the campfire. This is a beer that tastes like? Beer. In the style it was made. To some that may sound redundant, but in the world of craft brews, that goes a long way.
When we visited multiple stores to procure seasonal brews, there were many who steered us to a multitude of Flying Dog beers. While we tried them, our favorite remains the Marzen. Crisp, clear and copper in color, the brewery's rendition of this style is one of the best locally, sporting a reasonable (and expected for the style) 5.6% ABV.
One of their year-round offerings, this ale was slightly more bitter than a typical brown ale and is hopped like a pale ale. But for those who enjoy hoppiness, this 6% brew is on point as a fall alternative to an IPA.
This 6% nutty brown ale is a wee bit cloudy, not as sweet as a typical coffee stout, and is well balanced. While the coffee isn't pronounced, the subtle flavors seep through. We'd be happy to drink this one fireside or alongside a nice spread of sausages.
This dark beer infused with the flavor of beans from Easton's Rise Up Coffee, sports a proper head with small bubbles and a decent ABV, clocking in at 6.7%. If you drink it straight out of the fridge you'll miss the brew's subtle nuances and true flavor. Allow the stout at least 10 -15 minutes to come closer to room temperature, and its creaminess and coffee flavor will emerge.
Tags:
Beer
Recent Articles

Feedback
How are we doing? Tell us what you like or don't like and how we can improve. We would love to hear your thoughts!