Enjoy Hairspray Live! Themed Cocktails at These Baltimore Bars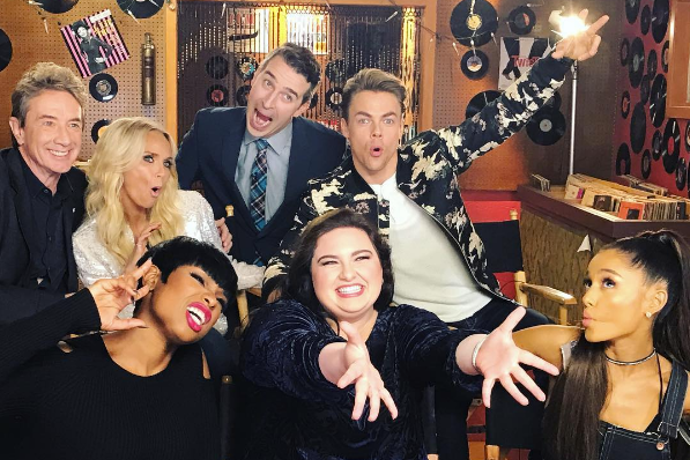 It's the holiday season, and it appears there's an early gift to all of us in Charm City.
On December 7th, the TV musical Hairspray Live! (adapted from Baltimore native John Waters' award-winning movie, naturally) will air on NBC. Baltimore will be celebrating in December and January with local hotels offering exclusive discounts and
themed hotel packages
, and John Waters has even offered up a list of his
favorite spots
to visit.
However, what interests us the most? The Hairspray themed creative cocktails, of course. And since the town is blessed with an abundance of talented mixologists, there's no shortage of beverages in Baltimore created just for this special occasion to sip through January as well.
With a nod toward the timelessness of the local musical, this is a similarly timeless concoction of vodka, lemon, lime and grenadine rimmed with sugar and garnished with a cherry. (700 Aliceanna St, 410-895-1879)
A mix of NYDC Dorothy Parker Gin, Liqueur de Violette, honey, lemon and Brut Rosé, this cocktail pays homage to the popular 60s 'do. (2 N Charles St, 443-692-6172)
With the teen dance show host as its inspiration, this cocktail of Tito's Vodka, cranberry-ginger shrub, lemon juice, and club soda comes with a cotton candy "beehive" garnish. It's served in a Collins glass, of course. (1520 Clipper Rd, 443-708-1935)
Café Hon
: The Blue Beehive, Pink Flamingo
Bacardi Melon, Blue Curaçao, pineapple juice and orange juice are combined for this first head-turning drink. What other spot in town would be more appropriate to feature a cocktail called the Pink Flamingo? The mixture of Deep Eddy Lemon, Triple Sec, cranberry juice and lemon lime soda combine to create this fruity flamingo cocktail. (1002 W 36th St, 410-243-1230)
In a city full of drinks, this is the one to wake up to. Hanson of Sonoma Espresso Vodka, Gran Duque d'Alba Cream Liqueur, Creme de Cacao, and Fresh Rise Up Espresso are mixed and then garnished with whipped cream and edible gold dust for a rock-star style start to the day. (800 Key Hwy, 410-752-1000)
Germano's cocktail shout-out to Rave Hairspray (a sponsor of the Little Italy Madonnari Arts Festival) combines light and dark rums, apple cider brandy, lime juice, and a touch of sweet sugar. (300 S High St, 410-752-4515)
Hairspray's antagonist is the inspiration behind this cocktail that mixes ilegal Joven mezcal, Suze, lime juice, pineapple gum syrup, and cappelletti vino aperitivo. (3650 Toone St, 443- 869-6874)
This namesake of the movie itself is a simple mixture of gin, sprite and lemon; vodka, honey, fresh mint and lemon topped with club soda make up the bar's bouffant-inspired drink; and a mix of prosecco, elderflower liqueur, gin and a splash of grapefruit with a twist makes up the Spraytini, a cocktail that's almost as fun as the movie itself. (24 W Franklin St, 410-625-6200)
Maryland's Picaroon Spiced Rum is mixed with Myers's dark rum, PAMA pomegranate liqueur, pineapple juice and a cherry foam befitting of the drink's name. (1640 Thames St, 443-563-2018)
This house-made hot chocolate features Gosford Shiraz and a whipped cream beehive with fresh grated nutmeg. (1604 Kelly Ave, 443-869-6240)
Maryland-distilled Sloop Betty vodka, St-Germain, Bacardi Limon, cranberry juice and sour mix are combined to create this aptly-named Charm City cocktail. (110 S Eutaw St, 410-209-2853)
Recent Articles

Feedback
How are we doing? Tell us what you like or don't like and how we can improve. We would love to hear your thoughts!