Where to Celebrate St. Patrick's Day 2017 in Baltimore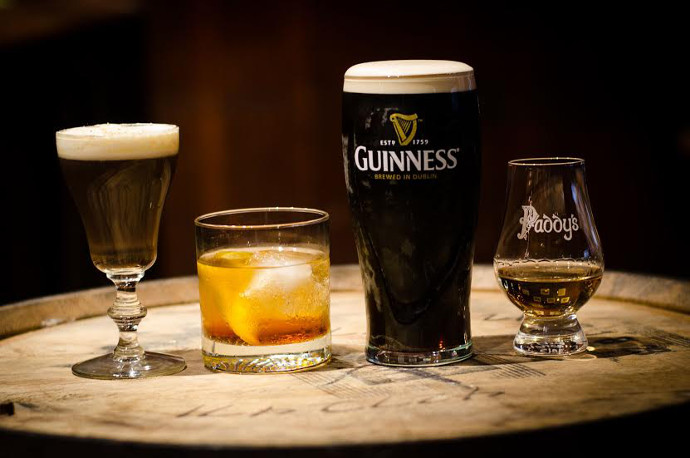 St. Patrick's Day falls on a Friday this year and that's good enough reason for us to consider it a holiday weekend. Let this list of St. Paddy's Day parties be your reminder to put in for PTO. Slainte!

Pints and Pancakes starts at 8 AM with pancakes, bacon, sausage and a free fixings bar as well as $2 Guinness that increases by $.50 each hour. Don't forget to buy a Flying Dog brew for a chance to score Flying Dog swag. (2706 Dillon St.; 410-276-9899)
At 10 AM specials begin with $1 oysters, $2.50 Maryland craft beers, $4 Guinness, and $5 Jameson drinks all to the backdrop of live music and an official blessing of the taps with Father Lou. The party continues on Saturday with a 9:30 AM opening for brunch. Then, from 1- 4 PM, BoatHouse will host a Maryland Beer and Oyster festival with $1 oysters and $1 pours of brews from Maryland breweries like Heavy Seas Beer, Jailbreak Brewing Company, Monument City Brewing Company, Key Brewing Co., and Waverly Brewing Company. (2809 Boston St.; 410-773-9795)
Drink specials are being featured all day and night starting at 10 AM with $4 16 oz Miller/Coors/Blue Moon aluminums, $5 Jameson drinks/ice luge shots, $6 20 oz Irish drafts, $7 Irish crushes, and $8 Irish Trash Cans with Red Bull. Bond and Bentley will be on hand with live music from 3- 6 PM followed by Starcrush from 7-10:30 PM. There will be a limited menu with a few traditional Irish additions. (1439 S Charles St.; 443-682-9141)
Starting at 11 AM this Brewer's Hill corner bar will have $3 green beers, $4 Flying Dog SOB Irish Red bottles, $6 Jameson shots, and $7 Love Bombs (car bombs made with Yards Love Stout) to wash down corned beef and cabbage, bangers and mash, and shepherd's pie. (3728 Hudson St.; 443-438-3380)
Grand Central's St. Patrick's Day Party in the Dance Club kicks off at 9 PM with free beads, test tube shots, shot boys, green glow drink specials after midnight and DJ Farrell spinning tunes. (1001 N Charles St.; 410-752-7133)
On both Friday, March 17 and Saturday, March 18 at 11 AM Claddagh Pub will host the 2017 Meet in the Street. Grab drinks and food under the large heated tent and listen to live music from Kristen and the Noise, Hot Tub Limo, Liquid A, and Starcrush. (2918 O'Donnell St.; 410-522-4220)
Shamrocks & Shenanigans 2017 will feature Mr. Greengenes with tickets ranging from $15 (general admission) to $60 (general admission with bar package). The bar package includes cocktails with Jack Daniels, Captain Morgan, Smirnoff, El Jimador and domestic beers from 8 PM - midnight. (34 Market Pl.; 410-727-5483)
Wilford O'Brimley and the Wild Oats will be on hand with Irish pub songs beginning at 10 PM. (1639 Thames St.; 443-438-3455)

From 7-9 AM, pints of Guinness will be $3.17. Throughout the day there will be live music, Irish dancers, a bagpiper, and Irish food specials. (616 President St.; 410-727-5107)
O'Flynn's will begin their celebration at 11 AM with traditional Irish food, music, and drinks as well as outdoor games if weather permits. (3432 S Hanover St.; 410-355-9040)
$5 Guinness, Harp, and Smithwick's drafts will be on tap as well as $5 shots of Jameson starting at 11 AM. Order a Guinness and be entered for a chance to win a seat at a Guinness Beer Dinner. (1724 Whetstone Way; 410-752-2337)
The Kiss My Blarney Stone party kicks off at 5 PM with punk bands The Screws, The Electric Prophets and The Methmatics. (218 E Lexington St.; 410-659-4130)
In Like Flynn is hosting a family friendly St. Patrick's Day event with live music, traditional fare and drinks, and children's activities. (1371 Andre St.; 667-303-3681)
Photo via Brady Kennedy
Tags:
Bar Crawl
,
Beer
,
Cocktails
,
Food
,
Holiday
,
Music
,
Outdoor Seating
,
Parties
,
Whiskey
Recent Articles

Feedback
How are we doing? Tell us what you like or don't like and how we can improve. We would love to hear your thoughts!