Inside the Distilling Process at Baltimore Whiskey Company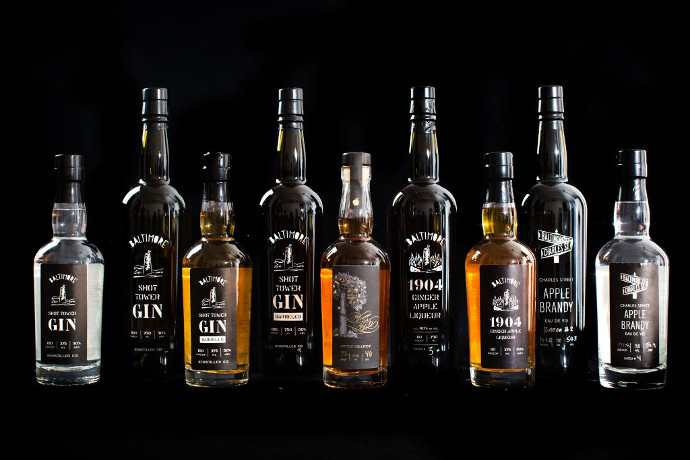 Max Lents, Eli Breitburg-Smith and Ian Newton launched the young Baltimore Whiskey Company just a few years ago, but one of their first spirits, locally popular Shot Tower Gin, was awarded a gold medal at this year's 2017 San Francisco World Spirits Competition (SFWSC), earning the distinction of being the first spirit distilled in Baltimore to claim a gold medal since distilling returned to the city. Their Charles Street Apple Brandy was awarded a silver.
"It's humbling to be considered amongst the best spirits in the world," said Breitburg-Smith, Baltimore Whiskey Company's head distiller.
With an historic 2100+ entries this year, the well-respected San Francisco World Spirits Competition has quickly become one of the most respected and influential spirits competitions in the world.
Additionally, The Baltimore Whiskey Company was awarded three medals at the annual American Distilling Institute conference and competition with Shot Tower Gin, Barreled Shot Tower Gin, and the 1904 Liqueur awarded bronze, bronze, and silver, respectively.

So naturally, when BWC invited us in recently to take a sneak sip from the barrels of their rye slated to be bottled and available in February, 2018, and to learn more about their distilling from talented distiller Breitburg-Smith, we hopped on the opportunity to stop in to their Sisson Street distillery.
While BWC is planning to move their distillery up the road just a bit from their rustic space in Remington to the Union Collective project in Hampden, their current space has an open, urban ambiance featuring local artwork as a backdrop to the stills with a loft filled with barrels upon barrels of aging whiskey. The small tasting table near the door is the perfect place to sample all of their current spirits.
We chatted with Breitburg-Smith at length about the rye that we're fairly certain will be swept off the shelves as fast as it can be stocked come February. Enthusiastic about the process, he took the time to share his knowledge of rye as well as their specific distilling process with us.
"So, the first thing to know about rye whiskey is that it is a well-defined category of American whiskey. The rules are that it has to be at least 51% rye grain (malted rye doesn't count), distilled no higher than 160 proof (80% abv), and it has to spend some amount of time in a new charred oak barrel at a proof of between 105 and 125."
While he admits the rules are numerous, he's also an advocate for them..
"The benefit to all those rules is that the savvy consumer should be able to garner a lot of information about the bottle they are buying just by looking for information on the label. There is a definite assurance of quality in knowing that it can only be made from grains, no sugar added and no artificial flavors (though a small amount of caramel coloring is allowed, we won't be using any). One of the defining characteristics of bourbon and rye whiskeys is that they spend time in a new charred oak barrel versus a used barrel. This means that they extract oak character from the barrel at a higher rate than their Scottish and Irish counterparts. That is why you don't find very many ryes or bourbons that are older than 8 years - they have a tendency to get over-oaked in a shorter amount of time."
BWC is making a straight rye whiskey, which in addition to all of the aforementioned rules, means that it will spend a minimum of 2 years in a barrel. Breitburg-Smith says they have chosen to use solely 53 gallon barrels
"We believe that there is a delicate balance between the extraction of oak characteristics, like woodiness, vanilla, etc., and the micro-oxidation of the flavor compounds contained within the spirit itself and those same flavors extracted from the oak. If a small barrel is used, the extraction of oak characteristics overwhelms the spirit and there is not enough time allowed for micro-oxidation to take place, and one will end up with a young tasting, oaky whiskey, instead of a well balanced spirit."

BWC's mash bill is also unique. The only grains they use are rye grain and rye malt (70% rye grain, and 30% rye malt).
"Typical rye whiskey mashes contain some corn, barley, or both, though there are certainly other distilleries experimenting with non-traditional mash bills. Our mash lasts for a total of about four hours and then it is cooled to 82 degrees and transferred to one of our open top, cyprus fermenters. We typically pitch a high gravity belgian yeast strain and let the fermentation free rise up to 95 degrees. We will cool down the mash if it gets above 95. We chose to use open-top fermentation and Belgian yeast to increase the amount of esters, aldehydes, and acids that are created during fermentation - both the yeast choice and the secondary fermentation from the wild yeasts and lactic acid bacterias in the wood increase this."
Unlike beer, where minimizing those flavor compounds is often the goal, BWC's goal in their whiskey is to create them because when they travel through the still and react with the barrel and the micro-oxidation that occurs in the barrel they create deep and complex flavors.

Fermentation lasts four and a half days before they transfer over to the still which is a classic copper pot still, more similar to a Scotch still than an American pot still. The whiskey is distilled twice.
"The first run is called the stripping run and the second run is called the spirit run. It is a short still which means that there is less rectification of the spirit, which in turn helps us to maintain many of those characteristics we worked to created during our fermentation. Taller stills or column stills are designed to create a cleaner more neutral spirit. We also are believers in slow distillation and making deep cuts. Our spirit run takes about 14 hours which ensures that we can make the best cuts possible and produce a spirit that is complex yet doesn't contain the flavor compounds we don't want."

The final spirit is around 140-150 proof after the second distillation. Because legal requirements are to barrel between 105-125 proof, some water must be added to reach the appropriate barreling strength. BWC prefers to barrel between 110-115 proof due to the different extraction of barrel characteristics that can be achieved at a lower proof. They also vary the char of the barrels so that there is some variety when at the blending stage.

If you want to geek out on more details about the distilling process of the whiskey or other spirits you can stop in for tours, and tastings of spirits already bottled (we promise you'll love that gin - even if you think you don't like gin). Otherwise, stay tuned for the debut of this rye that is already smooth straight out of the barrel.

Photo via Baltimore Whiskey Company on Facebook
Recent Articles

Feedback
How are we doing? Tell us what you like or don't like and how we can improve. We would love to hear your thoughts!