Things No One Asked For: The SIXOVERONE, A Multi-Bottle Opener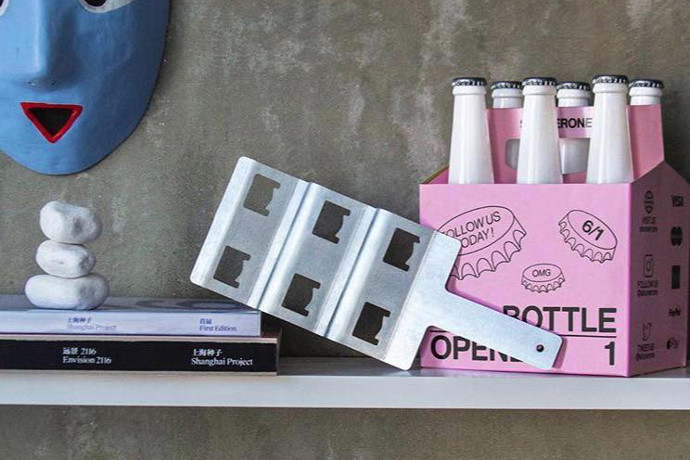 We all know the situation: you're throwing a party and have a bunch of six packs sitting around. People want a drink immediately, but you've got to open all those pesky bottles one after another. There just isn't enough time! You get through three bottles and your guests are already complaining because you can't get them a beer fast enough. Sound familiar? No, it doesn't, but apparently this is a problem somewhere.
Enter the
SIXOVERONE
, a large and cumbersome bottle opener that can open an entire six pack at once, as long as the bottles are in the six pack case and lined up perfectly. And you have shitty friends who absolutely cannot wait for you to open beers one at a time. Or you have friends who can't open their own damn beer when they need one right at that very second.
To prove that people will spend their money on absolutely anything, the
Indiegogo campaign
for this contraption has already been funded, and you can chip in and get your single-use waste of drawer space for $22 (which is 30% off the suggested retail rip-off). No one tell these guys that you can go to any beer event anywhere near you and pick up six swag bottle openers for free.
The campaign describes the SIXOVERONE in some real desirable ways. It was, for instance, "created so people could share more beers with more friends." Because, as in the opening example, I just couldn't keep up with my friends' demands on my beer, and they were unwilling to open one themselves. It was a real problem! It was also "designed to be the perfect tool to get you turned up with your friends." I don't think I need to add anything to that, but I will anyway: any business venture that uses the phrase "turned up" not directly in relation to sound is probably a waste of your money.
Recent Articles

Feedback
How are we doing? Tell us what you like or don't like and how we can improve. We would love to hear your thoughts!