Boston's Harpoon Brewery Loses Super Bowl Bet to Philadelphia's Yards Brewing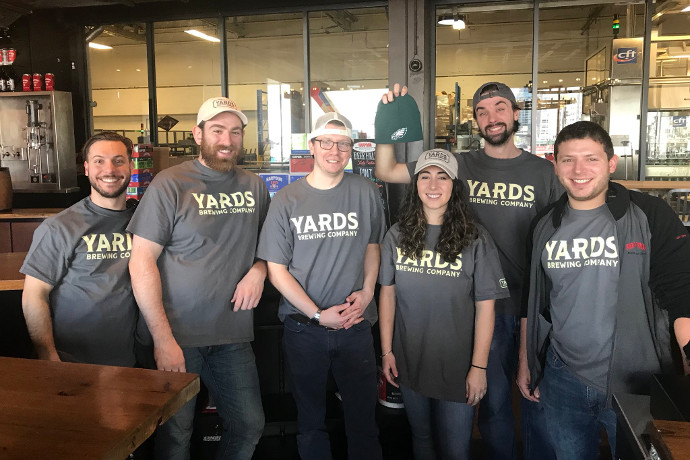 Last week, Philly's Yards Brewing Co. and Boston's Harpoon Brewery made a Super Bowl bet that if the Eagles were to win Harpoon's staff had to wear Eagles gear and Yards brews will have to pour through their taps.
Well, the Eagles were victorious, and Harpoon is making good on their bet, as you can see from the photo of Harpoon's staff they've posted on Twitter. The brewery Tweeted, "Not sure if you heard the news, but turns out Philly won the Big Games last night. @YardsBrewing, guess we'll find out how we look in kelly green. Go ahead and send the keg over. (Please don't grease it up!)" Of course, they've added one last dig at Philadelphia's proclivity for conquering greased poles.
We think they're probably just happy for their free shirts @yardsbrew. Come on down to our Boston brewery to point and laugh or drown your sorrows... #biggamebet #newenglandstillrules pic.twitter.com/9Ki8aPalwy

— Harpoon Brewery (@harpoonbrewery) February 5, 2018
The night of the Philadelphia victory, Yards send out a celebratory Tweet, "WORLD F#%&ING CHAMPIONS!" accompanied by a video of some dudes in dog masks drinking Yards beers and dancing around. Congrats to Yards, who gets to keep their pride and their own beer flowing on their draft lines.
WORLD F#%&ING CHAMPIONS! pic.twitter.com/jhcWlnOxhQ

— Yards Brewing Co. (@yardsbrew) February 5, 2018
From January 23 when the bet was announced through Super Bowl Sunday, Yards donated $1 from every pint and $10 from every keg of Philly Pale Ale sold in the taproom to Prevention Point, a charity that helps prevent overdose deaths in Philadelphia. According to Eater, Yards was able to raise over $7,000, which they'll donate on Thursday, the day of the Eagles Super Bowl parade.
Photo via Harpoon Brewery on Twitter
Recent Articles

Feedback
How are we doing? Tell us what you like or don't like and how we can improve. We would love to hear your thoughts!