Where to Drink in Baltimore's Locust Point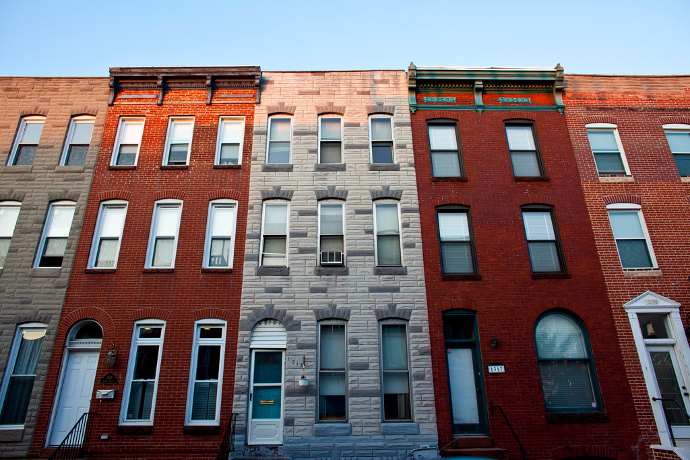 It's often easy to point out where to swill suds in spots around Baltimore like Federal Hill, Canton, Hampden, and Fells Point where bars abound. While many Charm City drinking destinations have at least one main street lined with options for libations, there are a few neighborhoods that house a number of quality places to partake that are a little more discreet.
Locust Point plays home to Under Armour, likely the only name in that neighborhood known to anyone not from the area. But it also houses a few of Baltimore's best bars (some of which may actually not be known by some from the area). And don't be fooled by the fact that it's off the beaten path - there's also some damn good food there, too.
Like any neighborhood in Baltimore, there are numerous spots to stop for a drink. For this neighborhood we chose a top five knowing that there are some other local options to check out close to each. Our only caveat is to check the days and time of operation - a few of these close a little earlier than Baltimore's closing time of 2 am, or aren't open on Sundays. Otherwise? Drink up, and spread the word about one of the lowest key drinking destinations in Baltimore. (Or don't - and we'll keep it all to ourselves.)
Any other "microspot" tucked away on a corner in Locust Point may have remained a tiny hidden gem for only the neighbors to know about, but it was not so from day one at 1157, given the reputation of its talented Chef/Owner Jason Ambrose. Known for his creative cuisine across town at
Salt
, Ambrose's new spot inspired eager anticipation for its opening in late 2014, and it's lived up to the hype ever since. The food menu, heavy on inspired small plates and incorporating a handful of uniquely composed sandwiches, is punctuated with a couple of Ambrose's upscale style dishes that remind us of Salt. Perhaps more importantly, there's more than enough whiskey to go around at this spot (including Japanese whisky the last time we visited), the wine list is thoughtful, and the largely local beer list is on point.
Neighbors and regulars know that the term "microspot" is apt. For those uninitiated to these digs, take that moniker seriously - with one eight-top communal table, a few small booths, and a handful of bar seats, this is a spot best visited early (and often), but the size may necessitate making your dining or drinking companion choices based on both quality and quantity. (1157 Haubert St; 443-449-5525)
Simultaneously stylish yet cozy, bar Liquorice has an upscale feel with the comfort of a corner bar. Lounge on the comfy couches toward the back, or hunker down at the bar, lowlit with modern industrial inspired versions of chandeliers.
The food menu is limited in size, but not in flavor or portion. The "not so small" plates features one of the best-priced charcuterie plates in the city ($13) alongside a few other noshes including their bruschetta, a favorite of ours in past visits. Hot pressed sandwiches with more than generous fresh meat, cheese, and veggie fillings on crusty bread are the mains here, most coming in at $10 or less. Don't sleep on the house special - a decadent nutella bread pudding.
Brown liquor and its associated cocktails are our chosen specialty at this spot, but there's no shortage of other cocktails, as well as a quality beer and wine list that owner Jeff Cahill is more than happy to help you navigate. (801 E Fort Ave; 443-708-1675)
Forget the nights of "pizza and a pitcher" and get to this unassuming Fort Avenue find for pizza and? Whiskey.
With one of the best whiskey selections in town, and knowledgeable bartenders to guide you through the choices, this comfortable neighborhood spot is the destination for an unpretentious night of whiskey tasting in a spot where you can still hear your drinking companion, even late on a Saturday night. Line your stomach before, during, or after with their popular pizza. (620 E Fort Ave; 443-682-7227)
This neighborhood mainstay is as comfortable a spot to duck into for its comfortable bar (with shuffleboard) as it is for a meal with a fancier feel in its dining area. In Baltimore style, there's plenty of seafood (namely, crab and shrimp) on every section of the menu, but sandwiches and steaks abound as well. There are plenty of cocktails and other local libations as perfect for food pairing as they are alone, or to wash down specials like the $5 burgers on Monday. (1222 Hull St; 410-727-7476)
The neighborhood mourned when longstanding J. Patrick's Pub departed this property, but it speaks volumes that its near-immediate replacement in that real estate is still going strong.
In Like Flynn opened in 2014 after renovating the previously windowless property and creating an open and industrial styled Irish-inspired tavern with a diverse menu that speaks as much to the traditional Irish influence of the previous pub as it does to Maryland style seafood and the Jamaican heritage of one of the three new(ish) owners. Now, a Jerk Burger and Curried Vegetables successfully mingle on the menu with Maryland Crab Cakes and Beef and Guinness Pie, all scratch-made.
The dining room is open and warm and the bar is as comfortable and Irish as any other similarly styled pub in Baltimore. There's a $5 happy hour food menu and most drinks won't top out over $5 during happy hour either. (1371 Andre St; 667-303-3681)
Recent Articles

Feedback
How are we doing? Tell us what you like or don't like and how we can improve. We would love to hear your thoughts!