Where to Drink in Baltimore's Little Italy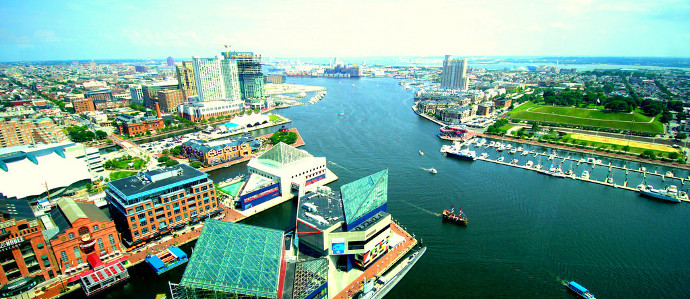 Neighborhoods like Canton, Fells Point, Federal Hill, and Hampden are all known drink destinations in Baltimore given the high quantity of spots to sip. However, Little Italy also houses a number of spots with bars worth sidling up to for both upscale outings or modest meetups.
This Little Italy mainstay is known for its low price points regularly, but their specials make happy hour in Charm City all the more charming. Sausages, meatballs, salads, and three varieties of pasta with a choice of ten different sauces, along with a handful of other dishes, all clock in at no more than $8 (or well under). That kind of menu leaves no excuse for not noshing while taking advantage of the obscenely affordable drink specials like $2 for Miller and Yuengling, $3 for Peroni, and $3.95 for any of eight wine options. (231 S High St; 410-528-1096)
Cozy yet classy, La Scala has seats for drinkers to settle into at the bar but there's also the option to take a glass down to the indoor bocce ball court. While the wine list is extensive, and there are a number of beer options, liquor drinkers shouldn't sleep on ordering the locally-renowned espresso martini. The upscale ambiance makes for an ideal weekend date night, but the happy hour prices are perfect for after-work get-togethers. Every dish and drink on the happy hour menu is $6. Food ranges from classic Italian appetizers to an innovative Mexican-Italian fusion menu while drinks run the gamut from a handful of signature cocktails to an array of wine and beer options. (1012 Eastern Ave; 410-783-9209)
The intimate bar in this elegant Italian restaurant is the perfect spot for playfully named cocktails (Rye Me To The Moon and The Dude Abides are just a couple), local beers, and an innovative wine list with flights of any as an option. Order from the lunch or dinner menus, or pop in for a nightcap cup of coffee with any combination of cordials from their Caffe Coretto menu to accompany one of their decadent desserts. (248 Albemarle St; 410-685-1859)
This quaint corner bar is a cozy space to explore their exclusively Italian wine list as well as grappa, port, and amari. Most glasses are priced between $6 and $10 and there are bottles for sale to take home as well. The food menu features housemade soup, antipasti, cheese, salads, bruschetta, and sandwiches. (301 S Exeter St; 410-727-8191)
Relaxed yet sophisticated, this wine bar is related to its adjacent restaurant, Cafe Gia. While the nomenclature is suggestive of a focus purely on wine, in addition to its thoughtful selection of grape-based beverages this spot also sports a
significant number of creative cocktails
on their menu and regularly hosts beer dinners as well. Small plates adorn the menu, but don't underestimate as a result of that moniker, either - portions are generous, and given their quality, we're grateful for it.
(408 S High St; 410-685-3300)
Recent Articles

Feedback
How are we doing? Tell us what you like or don't like and how we can improve. We would love to hear your thoughts!