Behind the Bar: Tory Pratt of Pratt Standard
In this edition of
Behind the Bar
,
we chatted with
Tory Pratt
, the founder of
Pratt Standard
, which makes cocktail ingredients and syrups that are authentic, made with great ingredients, and perfectly complement any spirit. Pratt, who lives and works in Washington, D.C., talked to us about recipe research, how she created this unique line of syrups, and what she loves about rum.
Pratt Standard is currently running a fundraiser to help grow their company,
which you can find here
so you can lend your support to this quickly expanding venture.
The Drink Nation (TDN): Tell us about Pratt Standard.
Tory Pratt (TP): Pratt Standard Cocktail Company makes cocktail ingredients inspired by pre-prohibition recipes. Our cocktail syrups are a perfect addition to any home bar. Founded in November 2014, our versatile cocktail syrups are carefully researched and engineered for authenticity to help home bartenders up their game. Pratt Standard products are available
in stores
and online through our website as well as through
Amazon Prime
.
TDN: How did you get your start?
TP: I grew up around the food industry. My mom was a caterer, and my parents started a smoked seafood business together when I was young. Instead of an allowance, my mom would give me a spoonful of mystery food, and if I could identify all the ingredients, I would get $5. I'm the kind of person who always has a cooking project going on- there's always something fermenting on my kitchen countertop (this week it's dosa batter). I care deeply about food quality, flavors, and ingredient sourcing.
In 2014 I bought a bottle of gin from Green Hat Gin in DC and questioned why I would pair high fructose corn syrup-laden tonic water on top of a craft gin. It totally masked the botanicals of the gin — there had to be a way tonic was made before HFCS and synthetic quinine, with more delicate, natural flavors. So making authentic tonic syrup as a base for real tonic water became one of my relaxing cooking projects. I delved into the history of tonic water, and 47 recipe iterations later, True Tonic Syrup was born. Since then, Pratt Standard has launched five craft cocktail syrups- a ginger, tonic, kola, grenadine, and rich simple syrup in 16 ounce bottles, and a set of three 8 ounce cocktail syrups.
TDN: Describe a typical workday.
TP: My days vary a lot, which is something I love. My old job was pretty cut and dry; a cubicle without a window, emails, calls, and report-writing. Now my days include things like tasting liquors at new distilleries (no matter the time of day), experimenting with new syrup recipes, making sales calls, running customer service, raising investment, or teaching cocktail classes. There's no shortage of stressors, and I spend a lot of my day problem-solving and planning, but every action I take directly impacts my business, which gives me a sense of agency in my work that is mildly addictive. My favorite thing about running this company is that the syrups are versatile classics- our customers are constantly coming up with new cocktails to make with them, so the products never get boring. As I mentioned before, my parents ran a smoked seafood company when I was young, and for years afterwards, they couldn't so much as look at a piece of smoked seafood. I still enjoy regularly drinking my cocktail syrups, even four years into running this business.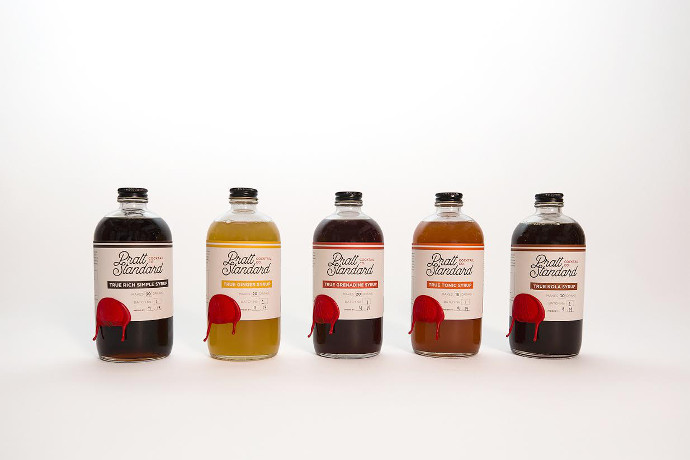 TDN: How did you develop your syrups?
TP: When we're developing a new syrup, we start by doing intensive historical research into how it was originally made. For example, our tonic syrup is based on the original recipe for tonic syrup, which included not only the natural source of quinine (Cinchona Bark) but also botanicals like lemongrass, cinnamon, and saffron.
Then we try to source ingredients as close to the original recipe as possible. Our grenadine syrup is made from pomegranate juice, how grenadine was supposed to be made (it was never supposed to be cherry!). The pomegranates used for grenadine around the birth of cocktails were Turkish or Iranian pomegranates, so we source Turkish pomegranate juice for our grenadine.
Then finally we start recipe testing, and I use my background in cooking to manipulate flavors and botanicals in the syrup to achieve authenticity and flavor balance. Lastly, we test the syrup in cocktail recipes and make sure it is delicious, versatile, shelf stable, and tastes fantastic at all levels of dilution and temperature. If the syrup fails to meet our standards at any point during development, we reevaluate.
TDN: What's next for your business?
TP: We're currently offering a
limited round of investment
through WeFunder, an online equity crowdfunding platform. We're raising up to $550,000 to hire sales staff, professionalize our digital marketing, and improve our margin. Pratt Standard already has customers in all 50 states, but we need to prove national demand and build our sales pipeline to meet it.
TDN: Tell us about your cocktail classes.
TP: We teach classic cocktail classes in the DC area for the public, corporate team building, and private parties. They're two-hour classes that include three cocktails and instruction on cocktail history, distilling, and on techniques like garnishing, shaking, and stirring. The idea is we want people to learn cocktail theory, not just three specific cocktail recipes, so we teach styles of cocktails instead of recipes, like collins/soda drinks, sours, and lowballs. Attendees get to pick their own liquor and their own mixers, they learn the basic bar techniques they need to make most cocktails, and they do a bit of shaking and stirring. They leave this class understanding how to make their own custom cocktails at home, as well as a few classics. Not to mention it's only $50 per person, which is less than the cost of going out and getting three drinks at most places in DC.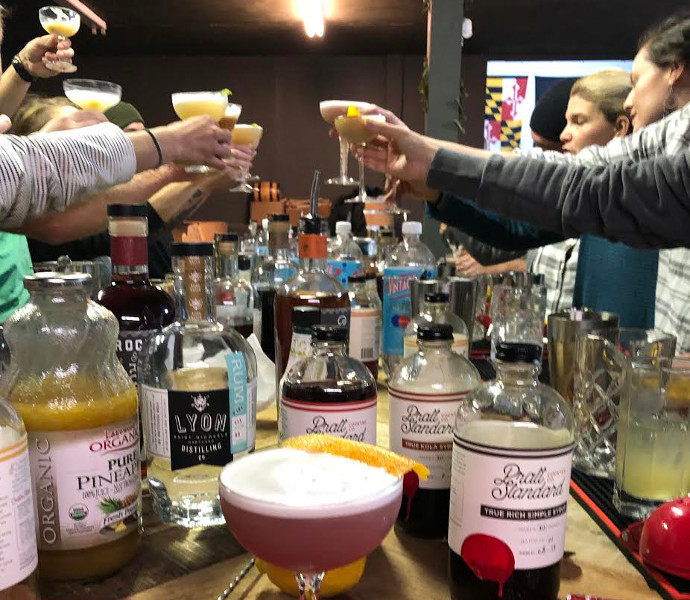 TDN: The company used to be called TRUE Syrups & Garnishes. Why the change?
TP: TRUE Syrups & Garnishes was a great name to convey the authenticity in our syrups, but this company and our products are about a lot more than authenticity, and a lot more than syrups. Yes, we sell syrups. But what we're really about is the genuine interaction that sharing a cocktail with someone can bring, which is much broader than a name that means "authentic syrups." When I was little, my family would go on roadtrips to organic farms, regularly driving an hour out of the way for premium quality ingredients from people we trusted to make delicious, authentic, real food. We ate family meals together every single night, and it was always restaurant-quality, made with love, and with the goal in mind of providing a foundation for our family to connect with each other. In the end, the Pratt family standard for food is about all the things that this company is about: authenticity, premium quality, flavor, and connectedness. So, we're now Pratt Standard, and we are committed to helping our customers make cocktails and build meaningful connections over them with friends and family.
TDN: Where do you ship?
TP: We ship to all 50 states from our website and Amazon. We're hoping to expand our reach to Canada and the EU in the next year or so.
TDN: What's your favorite cocktail to make using one of your syrups?
TP: It's hard to pick a favorite, because the syrups are like my children. I love making sours with the grenadine for others, though, because people expect it to be disgustingly sweet, when in reality it's balanced. Here's my general recipe for a sour with our grenadine:
2oz spirit (any)
.75 ounce lemon juice or lime juice or 2 ounce grapefruit or orange juice
1 ounce Pratt Standard Grenadine
Shake over ice for 15-20 seconds, strain into a coupe glass. Garnish if desired.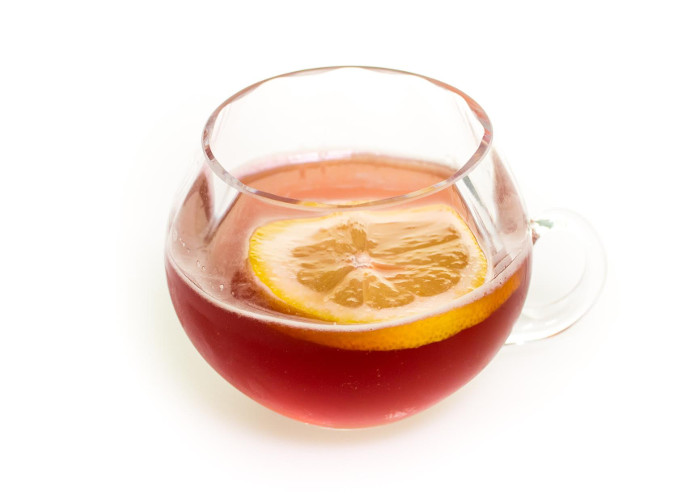 TDN: How are your mixers different from other syrups on the market?
TP: When I started this business, I tried many of the syrups out on the market, and found them to taste a lot like cough syrup. They also weren't particularly versatile- they had specialized flavor profiles that overpowered the drink. I can only speculate that these companies thought if their customers couldn't taste their syrup as the primary flavor in a cocktail, they wouldn't continue to buy the syrup. The problem with that is that the best cocktails, like food, are about balance. I wanted to make a line of syrups that tasted delicious on their own, and provided a compliment to premium liquor. Achieving premium flavor in a syrup, to me, requires learning from how they were originally made, acquiring premium ingredients, and applying cooking processes to making a syrup. A lot of people think that bartenders would be the best at making a cocktail syrup, but making a syrup is not a mixing process; it's a cooking process. I believe my background in cooking technique and flavor profiles, and our continual insistence on quality, has helped our products develop the loyal following they have in the last four years.
TDN: Any predictions about where the industry might go next, or what trends we'll see soon?
TP: We think cocktails aren't just a trend- they're here to stay. Craft liquor is following the path of craft beer, and we're looking to ride that wave of growth. Our syrups are a perfect complimentary product to the clear liquors (and dark liquors) being released all across the US right now, which is why our best wholesale customers are distilleries- we offer them an easy product to drive their bottle sales and create repeat customers when they need quick cashflow. One thing I have noticed is that demand for cocktails is not limited to populations in cities. While many cities in the US are at the forefront of cocktail creativity, there is strong demand for cocktails, cocktail recipes, and cocktail education in suburban and semi-rural areas. There are fewer cocktail bars in these areas, and people are less likely to go out to drink, so they're more likely to make a cocktail at home.
TDN: Favorite beer?
TP: I can't drink beer, unfortunately. I have an allergy to gluten. I drink a lot of cider now, though, and really like Graft Cider from New York and Mt. Defiance's Cider from Middleburg, Virginia.
TDN: Favorite liquor?
TP: If I had to pick one spirit for the rest of my life, I'd probably pick rum. It's just so versatile in flavor profile depending on the sugarcane or sugarcane byproduct it is distilled with. And rum just speaks to me.
TDN: Favorite cocktail?
TP: A classic daiquiri. To me it's the perfect drink. But I always tell people I'm an equal opportunity drinker and I love everything. Negronis are another go-to of mine (made with amaro other than Campari- I know, a sin!), as well as Penicillins and Gin Rickeys.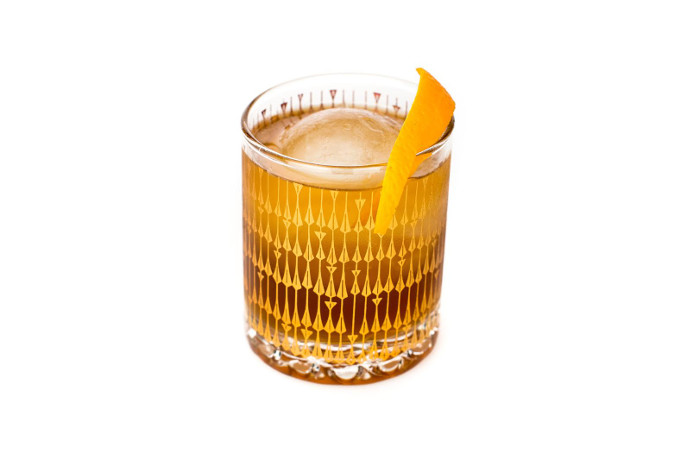 TDN: What do you think the essentials are for a good home bar?
TP: I actually send out a list after my cocktail classes with what I think are essentials at different price points. For a basic bar, you at least need shaker tins, bar spoons, a knife, a peeler, vodka, bourbon, simple syrup, angostura bitters, club soda, and citrus.
TDN: Where do you go for a drink when you're not working, and what bartenders do you always visit?
TP: There are a couple bars I go to drink when I'm not working — The Royal and The Passenger are favorites of mine, as well as Espita Mezcaleria. I go out to bars mostly to try new liquors I want to have for my own home bar. My favorite bartender is Ben Alt, and he also happens to be my right hand man at Pratt Standard as our Production Manager. He embodies our ethos of quality in food and beverage in a non-fussy, accessible environment. He manages and bartends at Reliable Tavern in the Petworth neighborhood in DC, and is looking to open his own place in the near future.
TDN: If you could have a drink with any famous person, living or dead, who would it be, what would you drink, and why?
TP: In a shameless effort to promote the business, I'd want to have a drink with Daniel Birnbaum, CEO of Sodastream. Since you need carbonated water to make tonic with our tonic syrup, ginger with our ginger syrup, and kola with our kola syrup, partnering with Sodastream would be natural. And most of our customers come to me saying they've bought our syrups because they have been looking for a natural, premium alternative to the syrups that Sodastream sells. I'm assuming we'd probably drink a gin & tonic, rum & kola, or a Moscow mule, or a non-alcoholic alternative.
Photos via Tory Pratt
Tags:
Behind the Bar
Recent Articles

Feedback
How are we doing? Tell us what you like or don't like and how we can improve. We would love to hear your thoughts!