Bars Featured in The Wire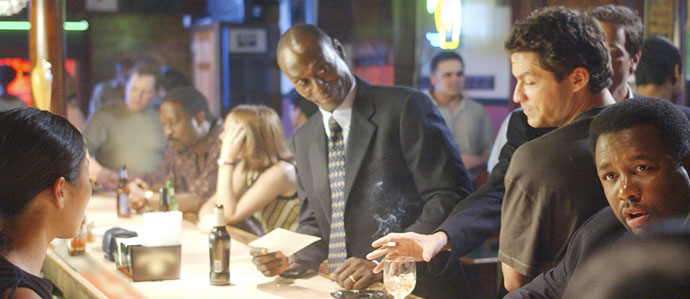 Photo from HBO's The Wire
Though it ended over three years ago, The Wire continues to be one of the most well-respected television shows of all time. It is widely studied by scholars, there are college courses on it, and several books on the series are forthcoming. If you live in or near Baltimore and haven't watched what many call the greatest television show of all-time… well, stop reading now and head to Netflix.
Over five seasons, the Wire crew (on both sides of the line) had the opportunity to hang, work, meet, conspire and drink in several real-life Charm City establishments. Check out the list we compiled, below:
Leon's of Baltimore (Mount Vernon): Featured in Season 3 when the homophobic and dimwitted Lamar is trying to hunt down Omar. Leon's is the oldest GBLT bar in Baltimore.
New Haven Lounge (Northwood): Lester Freamon and Clay Davis have their tense meeting at this bar that is actually a jazz lounge.
The Prime Rib (Mount Vernon): D'Angelo Barksdale treats Donette to a fancy dinner here during Season 1 while worrying about whether he belongs at such a restaurant.
Red Star (Fells Point): Stringer has lunch here and it is one of the many scenes where McNulty follows Mr. Bell to get a feel for his daily routine.
Ritz Cabaret (Fells Point): The filming location of the strip club and meeting point of the Barksdale crew in the first season which was known as Orlando's.
Ruth's Chris Steakhouse (Inner Harbor): Bunny Colvin rewards Namond, Darnell, and Zenobia with the progress they have made by taking them to Ruth's Chris. By the end of it, Darnell wishes they had just gone to McDonald's instead.
Sidebar Tavern (Downtown): The scene of the many Irish wakes featured throughout the five seasons of the show, Sidebar was renamed "Kavanagh's" during filming.
Recent Articles

Feedback
How are we doing? Tell us what you like or don't like and how we can improve. We would love to hear your thoughts!