I'm a Pisco Sour Kinda Guy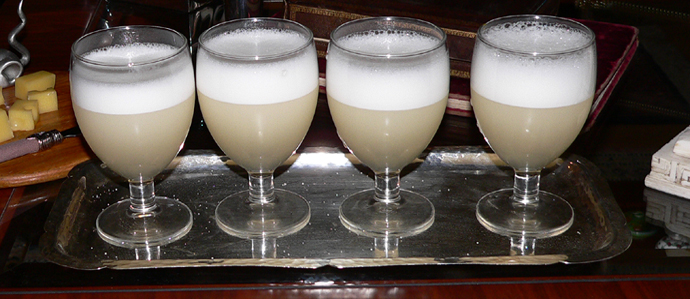 Photo courtesy of Manuel González Olaechea y Franco via Wikimedia Commons.
This week, we're going to briefly examine a liquor that's been making its way through the States steadily over the past few years – pisco.
A staple of Peruvian drinking culture, this is a strong, colorless grape brandy that was developed by Spanish settlers around the 16th century. While natives of Peru hold it close to their heart (while sipping delicious pisco sours), there are also many Chilean varieties of pisco available as well.
Pisco was a popular drink several centuries back, especially among sailors. Its cheap production cost meant wide availability, and in the 1600's it was one of Peru's top exports, rivaling wine in production quantity.
Peruvian Pisco is distilled using freshly fermented grape juice in copper pot stills. As is the case with wine or many other spirits, several different varieties exist: Pure, Aromatic, Mosto Verde, and Acholado. These all describe the varieties and quantities of different grapes used in each batch of pisco. Pure notes that it is from a single grape variety, Aromatics are typically made from Muscat, Mosto Verde is distilled from partially fermented grape must, and Acholado is a blend of several grapes.
Just as many battles were fought over what makes a whisky specifically a "scotch," and what makes bourbon a proper bourbon, such is the same fate of pisco. Peru and Chile have debated for years over the rightful "ownership" of pisco. Peru claims that only manufacturers in Peru have the right to call their spirit pisco, and have even gone as far as to ban all pisco imports from Chile.
The battle may rage on, but in the meantime y'all should probably track down a bottle and try making yourself one of these delicious beauties.
Pisco Sour
* 2 fl oz Pisco
* 1 fl oz Lime juice
* 3/4 fl oz Simple syrup
* 1 Egg white
* 1 dash Bitters
Shake all ingredients, or blend with ice and strain into a glass. The bitters are intended as an aromatic garnish on top of the pisco sour foam. Simple and delicious!
---
Justin is the Editor for Drink Philly. He is an avid craft liquor/beer enthusiast, as well as a self-proclaimed "food-adventurer." When he's not with the Drink Philly team, he's off video-gaming or moonlighting as a nerdly hip-hop artist.
justin@philly.thedrinknation.com, @zillapersona
---
Related Articles:
Recent Articles

Feedback
How are we doing? Tell us what you like or don't like and how we can improve. We would love to hear your thoughts!