Drink Your Spirit: 5 Classic Holiday Cocktails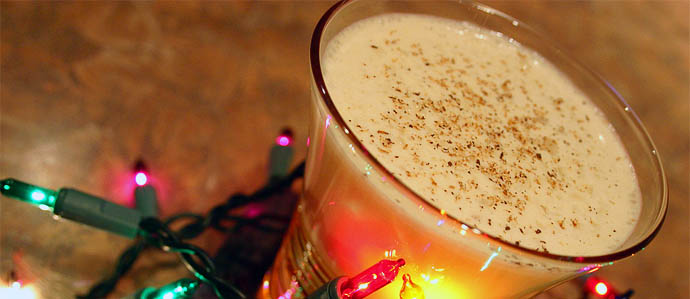 The holidays are just around the corner and whether you're planning a huge bash or just want to curl up on the couch with a mug of something delicious and boozy, these classic cocktails will make even the smallest gathering festive.
Eggnog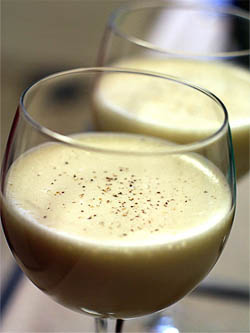 This quintessential holiday tipple has gained a bad rap in the past few decades, perhaps due to the dozens of sickeningly sweet pre-packaged versions that you can buy even on the shelves of every convenience store. But don't underestimate eggnog; if done properly, it's a rich, frothy, potent concoction that pleases even the finickiest drinker.
While the exact origins of eggnog are unknown, it's believed to have been brought to Colonial America from England in the 18th century, where it possibly descended from posset, a beverage made with hot milk, sugar, and brandy, sherry, or Madeira (another fortified wine). While sherry and brandy were scarce on this side of the pond, the Colonies were awash in cheap rum and bourbon, and etymologists have suggested that the name eggnog actually derived from term egg-and-grog (grog being the common word for rum at the time) or from the term "noggin", a small wooden mug in which the drink might have been served. Because eggs and dairy were far more common in America than England, eggnog quickly became a popular wintertime drink. This recipe, borrowed from World Bar in New York City, features rum, vanilla, and spices whipped to perfection.
10 large eggs, separated
1 cup superfine sugar
3 cups heavy cream
2 cups Mount Gay Eclipse Rum
6 tsp pure almond extract
6 tsp pure vanilla extract
1 tsp freshly grated nutmeg
1 tsp ground cinnamon
Grated nutmeg and cinnamon for garnish
Separate eggs into two bowls. Beat yolks until stiff and beat whites with half the sugar until peaks form. Slowly fold whites and yolks together. In another bowl, beat cream with almond extract, vanilla and remaining sugar in a bowl until stiff. Slowly fold in cream with egg mixture. Add rum and stir. Mixture can be refrigerated overnight, or served immediately. Serves 18–20.
Photo via Flickr user izik
Hot Buttered Rum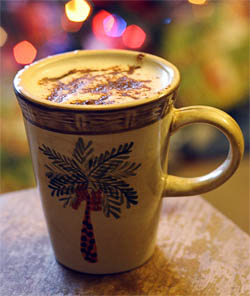 Like eggnog, hot buttered rum also came into existence in the late 17th and early 18th Centuries, when the Colonies were importing cheap molasses from Jamaica and distilling it into rum. George Washington was even rumored to have been a fan, supposedly serving it to constituents to influence their vote. Don't let the name scare you, hot buttered rum is simply a kind of hot toddy, which is a cocktail made with boiled water, sugar, spices and alcohol. A batter for buttered rum can be created ahead of time and refrigerated until ready to serve.
1 lb light brown sugar
½ lb unsalted butter (softened)
2 teaspoons ground cinnamon
2 teaspoons ground nutmeg
½ teaspoon ground allspice
2 teaspoons vanilla extract

In a mixing bowl, beat together softened butter, brown sugar, vanilla extract and spices until well combined. Batter can be refrigerated for up to a month. When ready to serve, remove batter from refrigerator & let soften for several hours. Pour hot water into a m u g to warm it , then toss out the water. In the mug, combine 2 heaping tablespoons of batter with 1½ oz. dark rum like Mount Gay Gold or 10 Cane. Top with boiling water and stir well. Garnish with nutmeg. Serves 8.
Photo via Flickr user Terwilliger911
Mulled Wine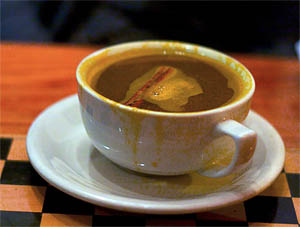 Perhaps the most versatile of the holiday libations, mulled wine is extremely popular in Europe, with as many variations as there are countries in the E.U. The first evidence of spiced wine can be traced back to the Roman Empire, where hippocras, named after Hippocrates, was the first known spiced wine and was simply wine mixed with spices and sugar. Other historians claim it can be traced back to wassail from the Middle Ages in England, thought to be made from spiced cider that closely resembled mulled mead or ale. Regardless of its origin, it spread in popularity, with each country adapting the recipe to its own tastes and local ingredients. Known better as vin chaud in France, glühwein in Germany, glögg in the Nordic countries, and negus in England, mulled wine is perfect for sipping from a thermos while outside on a cold day.

1 bottle of inexpensive red wine (Beaujolais works nicely)
¼ cup brandy
2 sticks cinnamon
5–6 whole cloves
½ tsp ginger root, coarsely grated
½ tsp nutmeg, coarsely grated
5 pods cardamom, cracked
Zest of half an orange or lemon
½ cup brown sugar
cheesecloth

Wrap spices and citrus zest in a square of cheesecloth and knot closed, placing in a non-aluminum pot. Pour in the wine and brandy and simmer over low heat, stirring occasionally until warm. Do not allow mixture to boil. Stir in brown sugar and simmer for another 30 minutes. When the liquid is steaming, the mulled wine is done. Let cool for 10-15 minutes then serve with a lemon wedge. Serves 6.
Photo via Flickr user missmeng
Punch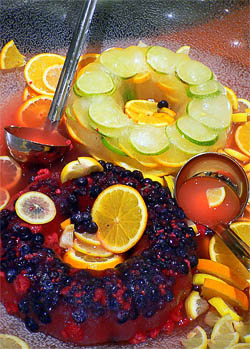 Originally imbibed by British seamen who set up shop in India in the early part of the 17th century, classic punches have been enjoying a renaissance recently, partly due to David Wondrich's wonderful book, Punch: The Delights (and Dangers) of the Flowing Bowl. This drink is meant to be shared and therefore is the perfect addition to a large holiday party, especially because it's easy to drink and packs quite an alcoholic punch (pardon the pun). Admiral Russell's Christmas Punch is an easy and delicious concoction and is Wondrich's go-to holiday party drink. In fact, in 1694, the Admiral himself threw a gigantic Christmas party in Cadiz for 6,000 of his closest friends, sailors and their Spanish guests. As the story goes, at the center of the festivities was a large tiled fountain full of this punch, along with a ship's boy floating by in a boat, ladling out the booze. The recipe below divides the original by 500 (little boy in a boat not included).

6 lemons
1 cup raw sugar
1 750 ml bottle of VSOP cognac
1 cup sherry (oloroso or amontillado)
grated nutmeg

Fill a medium metal bowl with water and freeze overnight. Peel 4 lemons and put peels into a bowl. Add the sugar and muddle, let stand for 30 minutes then muddle again. Cut peeled and unpeeled lemons in half and juice enough lemons for 1 cup of juice. Bring 1 cup of water to boil then pour over lemon peel and sugar mixture in the bowl. Stir until sugar dissolves then strain syrup into a large bowl, discarding the peels. Mix in lemon juice and add the cognac, sherry and 4 cups of cold water. Cover punch and refrigerate for 2-6 hours. Take frozen bowl of ice from freezer and dip into hot water to release the block of ice. Turn ice block rounded side up in punch bowl, add chilled punch and sprinkle fresh nutmeg over top. Serves 12-18.
Photo via Flickr user maitri
Kir Royal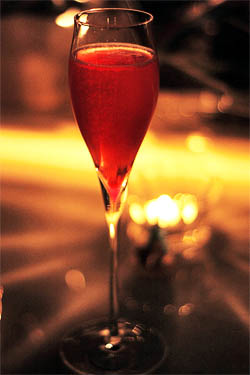 While it may not technically be a traditional holiday drink, but this classic French aperitif is quite fantastic. The bubbly champagne, along with its deep ruby color from the blackcurrant liqueur, give it a festive air and make it a perfect cocktail for New Year's Eve.
Kir was originally known as blanc-cassis and made simply with white wine and crème de cassis but was eventually renamed after Félix Kir, mayor of Dijon, who made if famous by offering it at important receptions in Burgundy after World War II. A slight variation on the original drink, the Kir Royal swaps champagne for white wine to make it a classy addition to any holiday party.

3½ oz Champagne
½ oz crème de cassis

Add crème de cassis to Champagne flute. Top with chilled Champagne.
Photo via Flickr user ayane

However you choose to enjoy festivities this year, try adding one of these easy and delicious classic holiday drinks to your celebration; they're guaranteed to lift your (holiday) spirits.
Top photo via Flickr user ReeseCLloyd

Jen Killius is one half the cocktail blog Home Speakeasy. Check it out!
Recent Articles

Feedback
How are we doing? Tell us what you like or don't like and how we can improve. We would love to hear your thoughts!