Bar Review: Wit & Wisdom, a Tavern by Michael Mina in the Four Seasons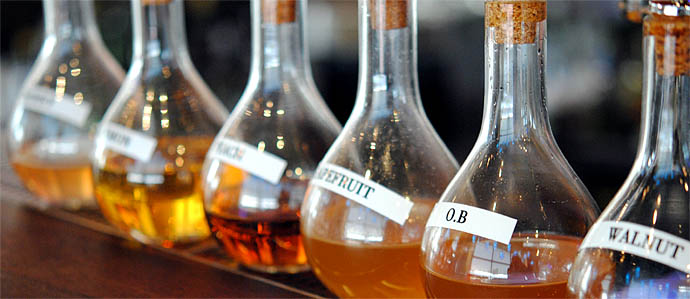 Wit & Wisdom, a Tavern by Michael Mina opened this past November in the Harbor East Four Seasons Hotel with views of the Baltimore waterfront. The space is instantly warm & cozy, somehow both posh and down to earth, full of browns and off-whites enlivened by the strategic orange or red pillow. Twinkling lights and small fires offer an invitation to sit down for a while, and curl up with a drink.
Executive chef Benjamin Lambert's food menu boasts exciting comfort American with touches of Eastern Seaboard fare, and the beverage program shows the same promise. Following the overarching philosophy of using local and fresh resources, all cocktails are handcrafted. Juices are hand-squeezed daily and any leftover is discarded. The bar team is technically meticulous – all drinks are "done the right way, and recipes have been designed to achieve optimum balances between sweet and sour, fruity and bitter.
Baltimoreans will delight in seeing that hotel guests are presented with local beer options, including Natty Boh (just $1.88 during happy hour), DuClaw Venom ($4 at happy hour), and even Brewer's Art's Resurrection. The wine list features mostly West Coast vineyards, with a select few from France or Spain. Happy hour runs 4–7 PM daily, with the beer specials, $5 wines and apps and a changing $6 specialty cocktail. The cocktail menu has many well-thought-out choices, and we recently had a chance to sample several. A few to try, if you go: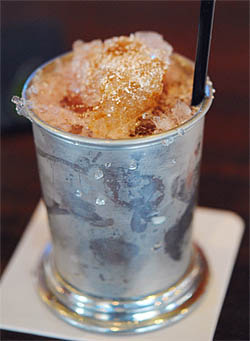 Shetland Nectar (Highland Scotch, ruby port, sorghum sugar, served in a julep cup over crushed ice with a dash of Aztec bitters): Like an adult snow cone, this drink brings to mind lazy summer afternoons, allowing the ice to melt which then transforms the drink even more. There is a molasses-like after taste with notes of sour.
The Company (saffron gin, rhubarb honey, lemon, orange bitters, shaken & served up in a coupe with a sprig of thyme): Even those who dislike gin could be converted with this drink, in which its strong signature aroma is turned pleasant, sweet and tangy by the accompanying herbs and spices.
Friar's Patch (mint-infused cognac, Bénédictine, apple juice, honey, shaken & served up with a sage leaf): One of our favorites, this reminded of a great port, with deep flavors and an initial sweetness that faded into a pleasant sour note.
Jalisco Sour (blanco tequila, Aperol, agave nectar, lime, grapefruit marmalade,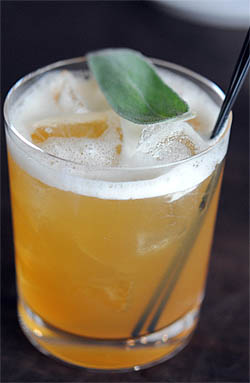 shaken & served over ice with ground cinnamon): This vibrant yellow drink is reminiscent of sunny days on a beach in Mexico. Freshly grated nutmeg on top gives this cocktailprovides a warmness, and the El Tesoro Platinum provides freshness and images of sand & water.
Sticky Wicket (bourbon, smoked maple syrup, Fernet Branca, soda water, served short over ice with an orange peel): While the previous drink was perfect for fair weather, this particular concoction is more masculine. Think leather chairs by a fireplace on a cold winter night, maybe even puffing on a cigar. Smoky maple syrup provides minimal sweetness, and the Fernet Branca and bourbon provide strong body and heat. This drink is not for the weak of heart.
Charming Farmer (George Dickel, Okinawa black sugar gomme, lemon, shaken & served up or over ice with charred bay leaf): This closely resembles a Whisky Sour. Dry shaken with farm-fresh egg whites and garnished with a charred bay leaf, it goes down smooth, with a hint of tartness.
200 International Dr. (International & Aliceanna); 410-576-5800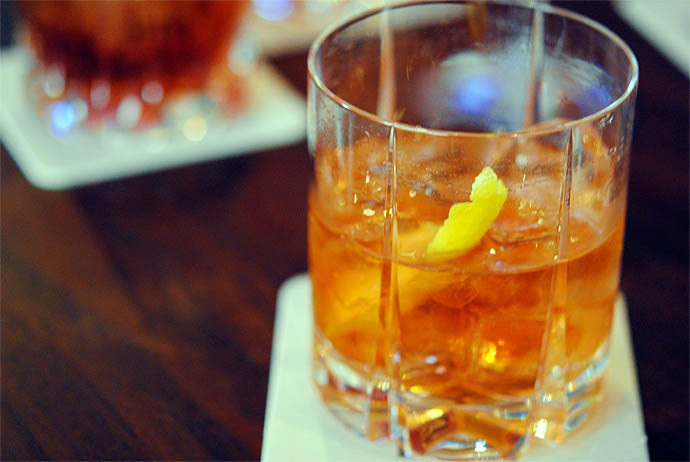 Photos by Lan Pham
Recent Articles

Feedback
How are we doing? Tell us what you like or don't like and how we can improve. We would love to hear your thoughts!