Beer Review: Dogfish Head Tweason'ale
This is no foo-foo fruit beer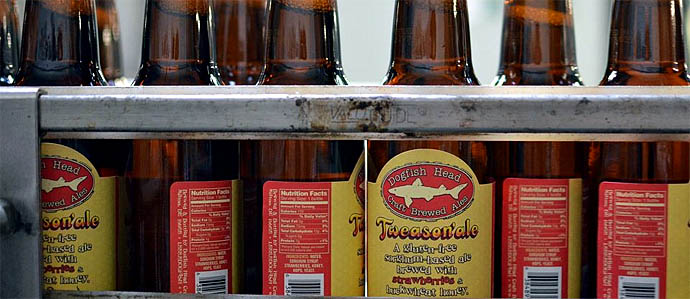 Big beers with sky-high ABVs, exotic ingredients and reverse-engineered recipes unearthed from archaeological digs from around the globe typically are the hallmarks of Delaware's Dogfish Head Brewery. But for its latest seasonal selection, Sam Calagione and company have come up with a fruit beer, made with strawberries and buckwheat honey, which they're calling Tweason'ale.



We know what you're thinking. A foo-foo fruit beer? From Dogfish Head?

Before you get bent out of shape and start dismissing Tweason'ale because it isn't "off-centered" enough to be included in the portfolio of the brewery that defined extreme beers, bear in mind that this brew is part of an entirely different mission.

Calagione says Tweason'ale comes as a response to one of the most frequent requests he gets: A thoroughly Dogfish Head brew that's safe for those with gluten intolerance issues, like celiac disease. He and his team produce it using a syrup made from sorghum, a grassy, grain-like plant whose starches do not contain gluten.

Tweason'ale joins the ranks of Dogfish Head's other seasonal wonders, like Aprihop, Festina Peche, Punkin and Chickory Stout. When those beers finish their limited runs, Tweason'ale fills the voids, which means it should be available in 12-oz. four-packs throughout much of the year. It's the first new label from the brewery to be distributed in four-packs in almost half a decade.

What's interesting is that it doesn't taste at all like a bowl of Fruit Loops with some added fizziness, as many other fruity fermentables tend to. This one actually tastes like beer.

The light-to-medium body brew pours a peachy amber color with intense clarity and thin foamy head that quickly dissipates. Whiffs of berry backed by what can only be described as malty sweetness dominate the nose. On the palate Tweason'ale's fruitiness is even more subtle. It comes on like slightly sour stone fruit, almost reminiscent of cider, and gives way to a more traditional malty, beer-like character, which Calagione chalks up to the addition of buckwheat honey. A gentle effervescence and lingering tartness ensures it finishes crisp and dry, without any cloying sweetness.

Though indeed fruity, by no means does Tweason'ale come off as a fruit bomb. The sweetness from strawberries is carefully balanced by the buckwheat honey's perceived malt character, which makes it a satisfying sipper, one worth trying whether you're gluten intolerant or not.
Recent Articles

Feedback
How are we doing? Tell us what you like or don't like and how we can improve. We would love to hear your thoughts!