Showcase of Nations Ethnic Festivals 2012 Calendar Guide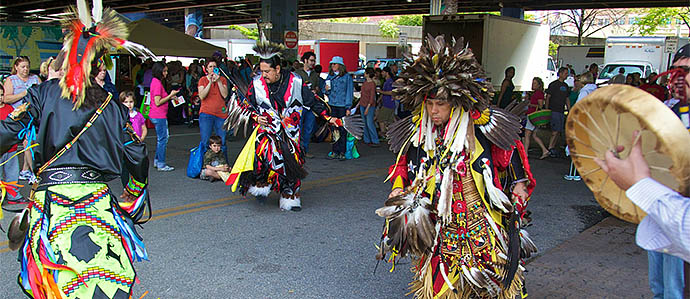 Baltimore's Festival Season is officially upon us. Every year Charm City celebrates its cross-section of ethnic heritages with festivals running from June to October. The dancing, live entertainment, food, drinks, and general festivities are hosted all across the city so make sure to mark your calendars in advance.

June 7-10
St. Nicholas Greek Folk Festival
St. Nicholas Greek Orthodox Church (520 South Ponca St.; 410-633-5020)
The first of the celebrations, this free folk festival kicks off the season with traditional dancing, costumes, delicious foods, beautifully crafted art and tours of the St. Nicholas Greek Orthodox Church. Expect activities to start Thursday, June 7 and run through Saturday, June 9 from 11 AM–11 PM and continue on Sunday, June 10 from 12:30 PM-10 PM.

June 23 & 24
LatinoFest
Patterson Park (Linwood & Eastern Aves.; 410-563-3160)
This year Baltimore celebrates its 32nd LatinoFest in Patterson Park. This fun-filled weekend of Hispanic culture features live musical performances, costumed dancers and traditional foods for $5. The festivities begin Saturday from noon-10 PM and continue Sunday from noon-9 PM

July 7 & 8
African American Festival
M&T Bank Stadium (Lots B & C; 410-244-8861)
Spread out across Lots B & C of M&T Bank Stadium, the African American Festival celebrates black history with an eclectic mix of regional and nationally-known entertainers, including top soul and R&B recording artists, educational exhibits, arts and crafts, foods and children's activities. This free festival has been a tradition for over 30 years, and this year's festival is presented by Mayor Stephanie Rawlings-Blake. Expect this event to occur Saturday, July 7 from noon-10 PM and Sunday, July 8 from noon-9 PM.
July 14 & 15
Baltimore/Washington One Caribbean Carnival Festival
Clifton Park (Harford Rd. & St. Lo Drive; 410-362-2957)
Perfect for the summer weather, this Caribbean celebration brings many island traditions to the states. Spend the weekend enjoying the popular carnival parade, live reggae and soca performances, colorful costumed dancers and authentic Caribbean cuisine. This event starts on Saturday, July 14 with a parade at 900 E. 33rd St. at noon that continues into a Festival in Clifton Park until 10 PM. On Sunday, July 14 the event runs from noon-9 PM in Clifton Park.
August 4 & 5
International Festival
Poly/Western High School (near Falls Rd. & West Cold Spring Lane; 410-396-3141)
This free festival showcases the diverse cultures of Baltimore City with international performers, multicultural foods, children's activities and an annual soccer competition. It runs Saturday, August 4 and Sunday, August 5 noon-9 PM.

September 8 & 9
Ukrainian Festival
Patterson Park (Linwood & Eastern Aves.; 410-967-0501)
The essence of Ukrainian culture is captured through this festival with unique arts and crafts, customary songs and dances, a beer garden, assortment of appetizing foods, children's activities and storytelling. Head to Patterson Park on Saturday, September 8 from noon-9 PM and Sunday, September 9 from noon-7 PM for the fun.

October 19-21
Russian Festival
Holy Trinity Russian Orthodox Church (1723 E. Fairmount Ave.; 410-276-6171)
The last festival of the season is a celebration for all ages with traditional and delectable foods made by the parishioners, live bands, imported crafts and more. This 39th annual event will be held Friday, October 19 from 11 AM-9 PM, Saturday, October 20 from noon-9 PM and Sunday, October 21 from noon-6 PM.

Photo via Baltimore Office of Promotion & the Arts

Recent Articles

Feedback
How are we doing? Tell us what you like or don't like and how we can improve. We would love to hear your thoughts!