Cool Down: 10 Baltimore Bars With Great Air Conditioning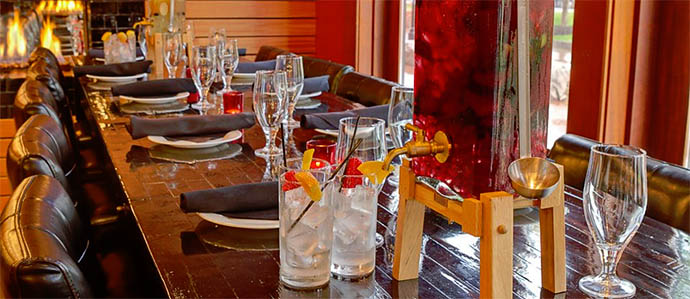 With summer temperatures that have hit 100°F and higher, it is critical to know which Baltimore hot spots (no pun intended) you can sneak into for some excellent air conditioning and refreshing libations. We picked ten of the best bars for cooling off, but this is just a small sampling — let us know more of your favorite places to chill on Facebook or Twitter.
Bistro Rx: Scroll through the delicious list of wines and flatbreads without sweating in the summer heat (2901 E. Baltimore St.; 410-276-0820).
Bond Street Social: This upscale bar and restaurant serves "social drinks" in an 80-oz. jar as well as "social plates" of food for you and friends to share as you escape from the humid Baltimore air into their cool A/C. (901 S. Bond St.; 443-449-6234)

The Brewer's Art: If you find yourself in need of some cold air north of the harbor, our hands down pick is Brewer's Art (1106 N. Charles St.; 410-547-6925).
Brewer's Cask: Step into the blasting A/C after a hot walk around Federal Hill (1236 Light St.; 410-273-9377).
The Horse You Came In On Saloon: The Horse's blasting A/C is sure to keep you cool while you grab a drink and listen to the live music they have playing seven days a week (1626 Thames St. 410-327-8111).

JD's Smokehouse: With over 50 beers on tap, you certainly won't run out of options while chilling in this Canton hang (3000 O'Donnell St.; 410-675-4029).
Johnny Rad's: If you are looking for a quick way to cool down head to the back skeeball room where the perfect combination of fans and air conditioning will blow you away (2108 Eastern Ave.; 443-759-6464).
Mt. Washington Tavern: The many levels of this bar and restaurant are all crisp and cool and offer a great escape from the heat (5700 Newbury St.; 410-367-6903).
Mr. Rain's Funhouse: The quirky atmosphere and superb drink menu in this Federal Hill bar are only two of the many reasons to duck in here to cool off this summer (800 Key Hwy.; 443-524-7379).
Ropewalk: One of the oldest bars in Federal Hill, Ropewalk has a large multi-room set-up with ample space for cooling off and great drink specials to enjoy while you are inside (1209 S. Charles St.; 410-727-1298).
Photo via Bond Street Social on Facebook
Recent Articles

Feedback
How are we doing? Tell us what you like or don't like and how we can improve. We would love to hear your thoughts!