Craft Vodka Showdown: Taste Testing Five East Coast Vodkas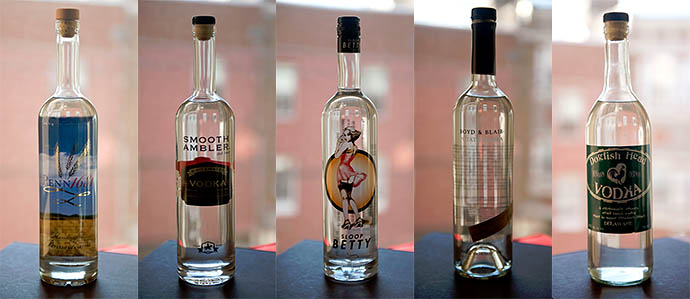 While people often associate vodka with Russia or Eastern Europe, this wildly popular spirit has played a big role in the recent U.S. craft spirits renaissance. American craft distillers now produce several vodkas, which are slowly but surely making a name for themselves among the bigger giants of the industry. Increased customer awareness helps fuel the demand for small batch vodka, as drinkers look for high quality spirits made from local and organic ingredients.

Despite the governmental red tape many U.S. microdistillers face, distilleries on the East Coast have been charging ahead, and have released several of the most interesting and unique vodkas on the market today. Contrary to popular belief, not all vodkas are — or should be — tasteless and odorless, and a few of these East Coast vodkas are great examples of this contradiction. We rounded up some of the most intriguing bottles for a blind taste test to determine which vodka is the most enjoyable, both chilled straight and in a cocktail.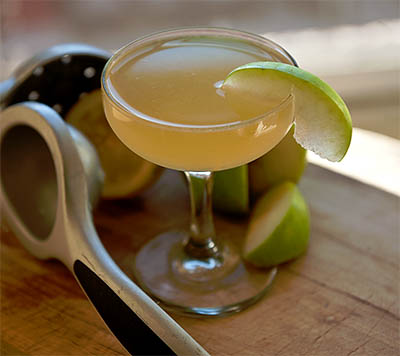 THE COCKTAIL

To test how the vodkas mixed up in a drink, we chose the Linvilla. It's is a fun and easy fall cocktail that plays off the crispness of vodka with delicious autumn flavors like apple and gingersnaps. Check out the recipe below.

The Linvilla

1½ oz. vodka
1 oz Calvados (apple brandy)
½ oz. Snap (gingersnap liqueur)
1 oz. fresh lemon juice

Combine all ingredients into a cocktail shaker and shake with ice. Strain into a coupe and garnish with an apple wedge.

THE VODKA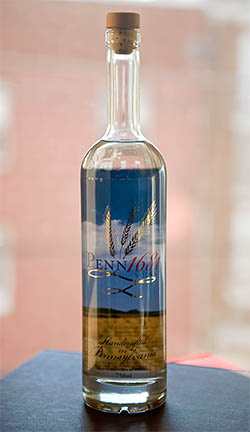 Penn 1681 Vodka

State: Pennsylvania
Alcohol: 40% ABV
Primary Ingredient: Rye
Price: $21.99

Distilled in sunny Philadelphia by Philadelphia Distilling, this vodka is a loving tribute to Pennsylvania that uses organic ingredients indigenous to the Keystone state. As a nod to the leading crop in Pennsylvania in 1681, this vodka is made primarily from rye and distilled in a four column continuous still, the only one of its kind in use at a craft distillery.

The specially made column still may be just what gives this vodka its incredible purity. Penn 1681 is almost completely odorless and extremely smooth going down, with almost no heat whatsoever. Overall this is a superb example of an almost flavorless, neutral vodka and would be well suited for any spirit forward cocktail, such as a vodka martini. In the Linvilla, Penn 1681 was the most smooth and mellow of all that we tried, nearly undetectable as an ingredient, while still providing the potent punch any decent cocktail needs.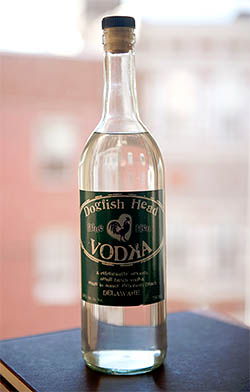 Dogfish Head Blue Hen Vodka

State: Delaware
Alcohol: 40% ABV
Primary Ingredient: Unspecified grain
Price: $24.99

In addition to their award winning beers, several years ago Dogfish Head began distilling a line of craft spirits that includes vodkas, rums and gin. While some of the more wacky infused vodkas raise eyebrows (peanut butter? garlic?!), the classic vodka is where it all begins. The spirit is made on premises upstairs at the Rehoboth Beach brewpub in a small, 200-gallon pot still. The vodka is quadruple distilled then charcoal filtered and bottled with individual date and batch information handwritten on the label. It is not distributed, and is only available at the on-site retail store.

The initial aroma of this vodka is a strong ethanol scent. Blue Hen is not completely flavorless; it has a distinct, sweetish essence. It goes down relatively smooth, with just a slight burn. This vodka would be a great base spirit for creating your own infusions (as Dogfish has figured out), as well as in cocktails that that have both sweet and sour elements. In the Linvilla, the sweet tanginess came through quite nicely, playing off the lemon juice where a less distinct vodka might have faded into the background.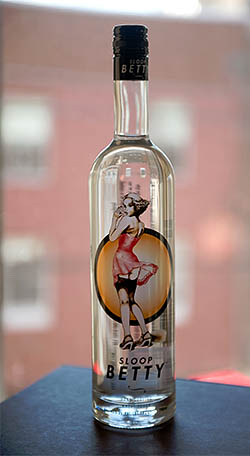 Sloop Betty Vodka

State: Maryland
Alcohol: 40% ABV
Primary Ingredient: Wheat
Price: $31.99

Named after a historic ship that sailed the Chesapeake Bay, Sloop Betty Vodka was created by Chris and Jon Cook, founders of Blackwater Distilling in Stevensville, MD. This unique spirit is made from 80% wheat and 20% cane, primarily from Maryland. In addition to using local ingredients, the brothers also have a strong commitment to the environment and produce their spirits in a socially and environmentally responsible manner.

The spirit has a sharp, ethanol aroma. It has less flavor than the Blue Hen, but still has sugary notes on the nose, and more of a burn going down. Sloop Betty would work well in a mixed drink or cocktail with strong flavors that mellow its intensity, such as a Bloody Mary. The Linvilla didn't quite offer enough in the way of strong flavors to soften the Sloop Betty's sharpness, but another cocktail with more sweetness would have handled it nicely.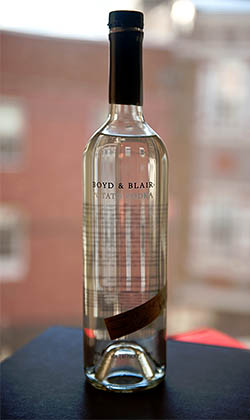 Boyd and Blair Vodka

State: Pennsylvania
Alcohol: 40% ABV
Primary Ingredient: Potato
Price: $29.49

Coming out of Pittsburgh, Boyd and Blair vodka was created by two passionate friends who wanted to create a classic, locally based spirit. Boyd and Blair uses local potatoes to ferment this vodka and distills it in a custom copper pot still. Starting with the potato mash, everything is made by hand, and each bottle is hand numbered. Traditional potato vodka is uncommon in the liquor store, making this offering extremely unique.

The potatoes give this vodka a subtly sweet aroma and taste. This spirit has lots of flavor, turning the whole "vodka should be odorless and flavorless" maxim on its head. Boyd and Blair almost tastes like a mild rum, which works well. This vodka is certainly unique and would be excellent in a spirit-forward cocktail like a vodka martini or simply a vodka on the rocks.

Boyd and Blair really stood out in the Linvilla. Whereas the Penn 1681 was great for allowing the other ingredients to shine, Boyd and Blair made the cocktail something unique. The rummy sweetness changed the entire profile of the drink, adding to the complexity and really making it something interesting and delicious.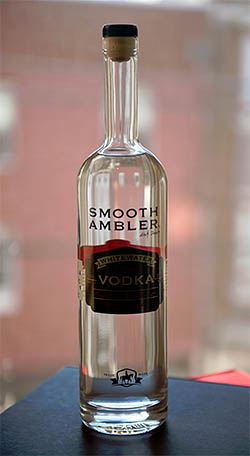 Smooth Ambler Vodka

State: West Virginia
Alcohol: 40% ABV
Primary Ingredient: Wheat
Price: $30.99

Smooth Ambler Spirits, an artisan distiller nestled in the Appalachian Mountains of West Virginia, has recently been making a name for itself in the U.S. with a line of whiskies, vodka and gin. Smooth Ambler mills local grains on site and combines them with the pure mountain water of Greenbriar County to create a unique vodka. Triple distilled in a pot-and-column still, this small batch spirit is bottled by hand and is truly a "grain to glass" vodka.

This vodka is extremely clean, with a clean, clear aroma. There is a small hint of buttery richness in the flavor, and it goes down very smooth with only a little heat. This is excellent vodka, especially if you prefer your vodka to have that classic "no odor or flavor" characteristic. This versatile vodka would work well in almost any kind of cocktail. Similar to Penn 1681, Smooth Ambler was extremely crisp and smooth in the Linvilla, allowing the other ingredients to shine.

The Winners

It was a close match, but there were some clear favorites. In the end, it was impossible to choose between the Boyd and Blair and the Penn 1681 vodkas. Depending on what you want from a vodka, either would be fantastic. The Boyd and Blair was extremely unique and turns the idea of a vodka needing to be completely neutral on its head by having a deliciously sweet and complex flavor, perfect for sipping. On the other hand, the Penn 1681 is a wonderful example of a traditionally odorless and flavorless vodka. Its purity and crispness lends itself well for cocktails and mixed drinks.

Be sure to keep these craft vodkas on your radar when seeking out unique and tasty spirits; there wasn't a bad one in the bunch. East Coast distilleries are definitely coming into their own as creators of innovative and distinct spirits, with a big focus on local and environmentally friendly ingredients. They will undoubtedly continue to improve and impress as they refine their processes and extend their lines with new products.
Photos by Jen Killius
Recent Articles

Feedback
How are we doing? Tell us what you like or don't like and how we can improve. We would love to hear your thoughts!