Gordon Biersch Opens in Harbor East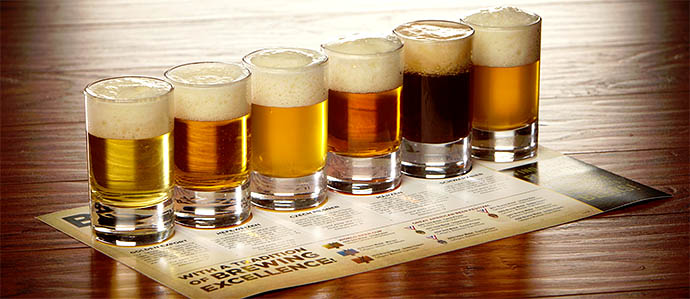 It feels like every time we turn our heads something new is coming from Harbor East, and each venture better than the next. This week, Chatanooga, TN-based Gordon Biersch opened the latest addition to its brewery and restaurant collection, a spot managed by Jon Jones and located just east of the Harbor East circle. An ample 300 seats are spread between indoors and a patio (with seating for 50), and a garage-door style opening allows all patrons to enjoy the harbor breeze.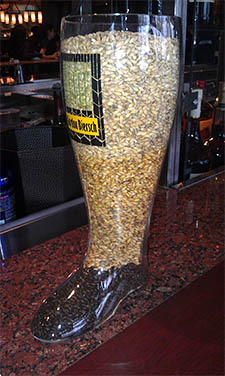 We caught up with head brewer Chris Cashell, who detailed the five flagship Gordon Biersch beers and gave us a quick look around the facility. All of the beers brewed on site adhere to the German Beer Purity Law (Reinheitsgebot) and the hops and malts are all imported from Germany. Year round he will be brewing a light Golden Export (5.0% ABV); a traditional wheat Hefenweizen (5.5% ABV); the brewery's hoppiest beer, a Czech Pilsner (5.6% ABV); one of the most popular, the Marzen (5.7% ABV); and a shockingly light "black beer" called Schwarzbier (4.3% ABV). There will be a seasonal beer every three or four months, and Caswell may have the opportunity to make a brewer's select in the future (fingers crossed). Beer tapping parties will be held for each seasonal offering and party-goers will be encouraged to drink out of "Das Boot."

Even though Gordon Biersch is a well-oiled chain, there are some nods to Baltimore, including having Brewers Art Resurrection as one of eight guest beers on tap, and Cashwell's own Baltimore brewing experience. He noted that since Baltimore Brewing Company closed, there has been an absence of German beers in a city that has three of the four major beer styles well represented. Gordon Biersch fills that gap and provides us with other brag-worthy bonuses as well.

One of those bonuses worth noting is the extensive hand-crafted cocktail menu that ranges from classic martinis and Bloody Marys to skinny margaritas. The belle of the ball is the Cucumber and Basil Collins which is made with Hendrick's gin, muddled cucumbers and basil, fresh lime and soda ($9). The high quality liquors used and hand-crafted care make these beverages a steal at $6 during regular and late night happy hours.

Despite the German-influenced brews, the food at Gordon Biersch is noted as being made-from-scratch and California inspired. Jacob Pulcher will serve as the executive chef for the Baltimore restaurant.
1000 Lancaster St., Suite B; 410-230-9501
Tags:
Beer
Recent Articles

Feedback
How are we doing? Tell us what you like or don't like and how we can improve. We would love to hear your thoughts!