Spirit Review: Broken Shed Vodka
Made from whey, a crisp and smooth winner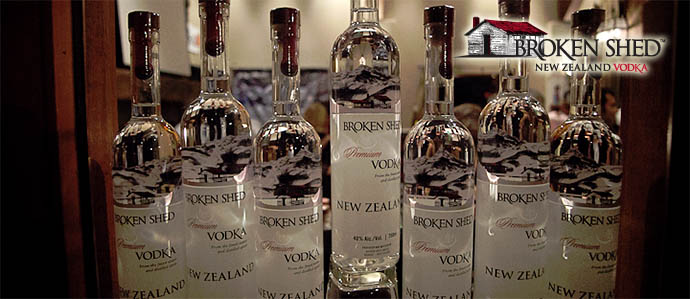 New Zealand: a land of sweeping vistas, adventure and now... vodka. A relatively new spirit on the market, Broken Shed Vodka was founded in 2009 and has its humble beginnings in an old shed (hence the name) in the fairly remote area of Wanaka, New Zealand. Eventually the founders moved production to Central Otago as the distillery launched its first spirit in 2011. Broken Shed Vodka won the silver medal at both the prestigious San Francisco World Spirits Competition and the International Wine and Spirits Competition in 2011. The company began distribution in the U.S. in June of this year.

Distilled from whey, a byproduct of milk curds that is rich in proteins and lactose, this spirit is one of the more unique vodka offerings available right now. After distillation, Broken Shed is then blended with two different spring waters from East Tamaki in the North and Central Otago in the South of New Zealand. The founders tested numerous different spring waters and base spirits before deciding on their current combination, both chosen for their purity and clean taste. All of their ingredients are sourced exclusively from New Zealand. Additionally, the spirit is crafted without using additives and sugars, which can mask or change the taste of vodka.

The initial aroma of Broken Shed is that of mild ethanol. However, the spirit is crisp and refreshing. As it opens up, a slight milky sweetness appears and it finishes extremely smooth with very little bite. A side by side comparison against several other top-shelf premium vodkas highlighted its extremely pure and unique taste, and it was the hands-down preference.

This is a fantastic vodka and at its $30-$35 price point, it's an absolute steal compared to many other high-end, pricey spirits that are more widely available. It's definitely worth picking up a bottle or two and would be best enjoyed over ice or in a cocktail that lets its delicate flavor shine, such as the Orchard Keeper, below.

Orchard Keeper

2 oz. Broken Shed Vodka
1 oz. Rothman and Winter Orchard Pear liqueur
½ oz. Domaine de Canton ginger liqueur
½ oz. fresh lemon juice

Add vodka, pear liqueur, ginger liqueur and lemon juice to shaker with two ice cubes and shake vigorously. Strain into a coupe and garnish with a pear slice.
Recent Articles

Feedback
How are we doing? Tell us what you like or don't like and how we can improve. We would love to hear your thoughts!