Spirit Review: Kilbeggan Irish Whiskey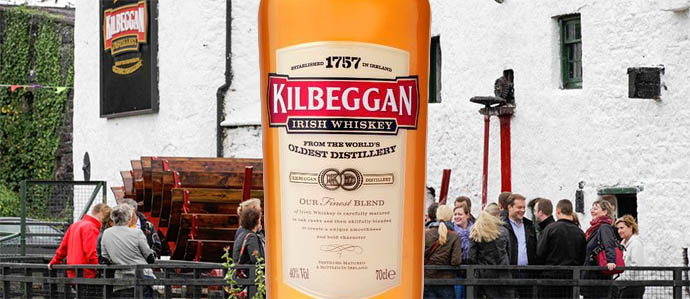 Founded in Ireland in 1757, the Kilbeggan distillery created one of the original Irish whiskies. The company claims to be the oldest licensed distillery in the world; however, there was a brief hiatus. Thanks to the Irish War of Independence and the devastating effects of U.S. Prohibition on the Irish whiskey industry (after Prohibition ended, Scotch whisky stole its place in the American drinking canon), the original distillery ceased production in 1953 and closed in 1957. It then reopened when it was purchased by in the 1980s by the newly created Cooley company.

Less well-known outside of Ireland than market-dominant brands Jameson and Bushmill's, Kilbeggan is first double distilled from malted barley at Cooley Distillery in a 3,000 liter copper pot still from the 1840s. The liquor is then brought to Kilbeggan in central Ireland where it's aged in used bourbon barrels and housed in centuries-old storehouses. The result is the flagship blended 8o proof Irish whiskey, created to be an easy drinking, every day spirit.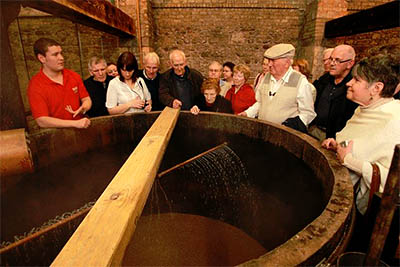 Kilbeggan has soft and buttery aromas leading to a citrusy, vanilla and caramel flavor on the nose. This opens up to a warm, round mouthfeel on the palate, with peach and malt overtones. The finish is mostly smooth, though a little woody and astringent. Overall it's softer and smoother than other Irish whiskies.

However, while mellow, it lacks a bit of character. This isn't a complex whiskey, but would be a good choice for those who like bourbon or who are just starting to open up to whiskey. For the price, it's a very smooth and versatile spirit, good for both sipping and mixing.

As we head into late fall, Kilbeggan would make a great addition to an Irish coffee.

Irish Coffee

4 oz. freshly brewed coffee
1½ oz. Kilbeggan Irish Whiskey
1 tsp. brown sugar
heaping spoonful of whipped cream
nutmeg and chocolate for garnish

In a heated glass, pour in whiskey and mix in coffee and brown sugar until dissolved.Top with whipped cream and top with grated nutmeg and chocolate.
Recent Articles

Feedback
How are we doing? Tell us what you like or don't like and how we can improve. We would love to hear your thoughts!