More Than Moonshine: 5 White Whiskeys to Try Today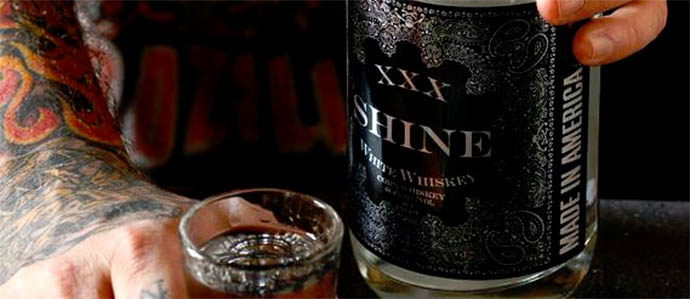 When it comes to whiskey, age isn't just a random number. The amount of time whiskey spends in a barrel determines its color and many of its most beloved qualities, including complexity and tasting notes. Without the aging process, you get a real taste for the base spirit — 100% corn whiskeys are especially fragrant, with a bit of sweetness. Over the past few years there has been a resurgence in the popularity of white whiskeys (sometimes referred to as moonshine). Curious about these "white dogs"? We tasted five of them to provide you with this handy guide.



Tuthilltown Hudson New York Corn Whiskey: Made with 100% New York corn, this spirit sips very pleasant and smooth, and the experience is aided by its incredibly beautiful fragrance. If you've never had an un-aged whiskey, try this one first, as it's meant for straight sipping. The 80-proof whiskey is also the foundation for Hudson's very popular Baby Bourbon, also highly recommended.

High West Silver Whiskey: Tried first on a whim, we found this offering from Park City, UT seriously impressive. For something that spends just five minutes in a barrel, it makes for an excellent drinking experience. Made from 85% oats and 15% barley malt, this is a versatile 80-proof spirit that can be enjoyed neat, on the rocks or in a cocktail.

Death's Door White Whiskey: Unlike the previous two, this whiskey isn't immediately approachable for sipping — it's a bit hot on the tongue. However, it can be used successfully in cocktail recipes for Negronis, martinis or a twist on a classic Old Fashioned. Made from 80% locally-grown wheat and 20% malted barley, the spirit spends 3 weeks in a stainless steel vat and is finished in uncharred oak barrels. Also 80-proof, it's one of best sellers in Wisconsin distillery's catalog, so it's definitely worth trying. Tasting notes are described as vanilla, chocolate covered raisin, and dark cherry.

Philadelphia Distilling XXX Shine White Whiskey: Accurately described by the distillery as hard-edged, this un-aged whiskey is another that is best experienced mixed into a cocktail. Like Death's Door's offering, 88.8-proof Shine is an worthy substitute in classic cocktails such as Manhattans or Old Fashioneds.

House Spirits White Dog: Made with 100% malted barley, this small batch and limited edition spirit from Portland, OR makes for an interesting sipping experience, with enjoyable spicy and smooth tasting notes. Try it neat (even though it is 100 proof!) or in a cocktail like a Manhattan, Tom Collins or a sour.
Recent Articles

Feedback
How are we doing? Tell us what you like or don't like and how we can improve. We would love to hear your thoughts!