Brewer Interview: 21st Amendment on Sneak Attack, Oysters and More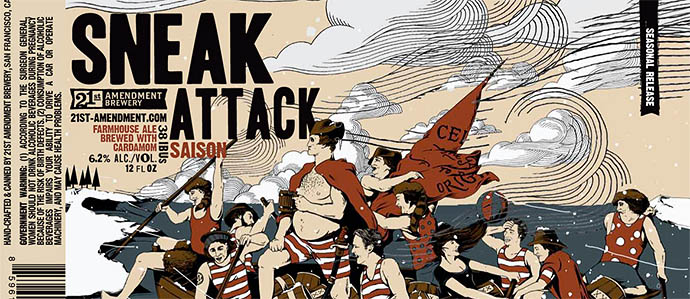 Co-owners Nico Freccia and Shaun O'Sullivan founded 21st Amendment in 2000, and over the past 13 years the San Francisco brewery has become one of the most popular craft beer producers in the country. One of the first to embrace cans (inspired by Oskar Blues, according to O'Sullivan), the brewery is known for a variety of styles, including a regular IPA, a black IPA and a summer wheat beer.

We had a chance to catch up with the pair last week during the East Coast release of Hog Island Oyster Stout. We chatted about that brew and the stories behind some of their most popular offerings, as well as what to expect in 2013.

On the Origin of High Hell or Watermelon (Wheat Beer, 5.1% ABV)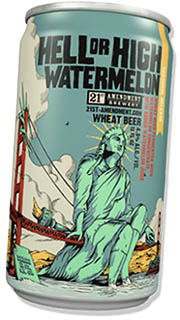 "I wanted to make a fruit beer at home," Nico explains, "and at first I thought maybe cantaloupe. But then I saw watermelon in the store and thought that might good, but its probably not gonna work because it's all water.

"The base beer was a wheat beer, though, so it was pretty dry, and when I added the watermelon it actually got dryer. In other words the yeast ate those sugars so instead of being sweet, it turned out actually really crisp, dry and refreshing. It retained this sort of kiss of watermelon flavor, too, so it worked."

On the Spicy Secrets of Fireside Chat (Winter Spiced Ale, 7.9% ABV)

"This is a dark, strong ale, brewed with warming spices like cinnamon, nutmeg, all-spice, cocoa nibs and all spice berries. The inspiration was Anchor Christmas Ale," Shaun divulges, continuing, "I like that beer a lot, but it's a little lower in alcohol content than I'd like. I wanted to tone the spice down and raise the alcohol content up. Side note: I would never write down what the spices were from year to year — I just knew don't add too much nutmeg!"

"The secret is restraint," Nico adds, "It's beer first and spices second."

On the Origins of Marooned on Hog Island (Oyster Stout, 7.9% ABV)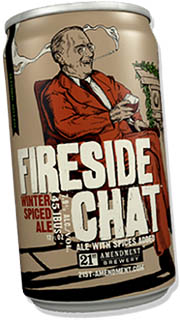 This beer is maybe the first beer we ever brewed at the pub," recalls Nico, "because we made a stout when we first opened. San Francisco Bay historically was a great source of oysters, and there's a place just south of us called Oyster Point, so back then, we made a beer called Oyster Point Oyster Stout.

"We're doing one collaboration a year, and we wanted to make a point to not always partner with breweries. Instead, we want to explore other artisanal producers, from food to musicians or artists of other kinds.

"For years we've been using Hog Island Oysters to brew our oyster stout. The company breeds its own proprietary oyster! It's called a Sweet Water, and it's a derivative of the Eastern Atlantic Oyster, but thinner and sweeter. So we approached the owners and asked if they were into a collaboration together; they said absolutely. It's a fun story — plus we do a lot of launch parties where we get to eat a lot of oysters."

On Brewing With Oysters

"Oyster shells contain calcium and there's also salinity. Both are necessary ingredients in brewing beer," Shaun notes, "Sometimes when you brew you add calcium carbonate, which kind of rounds out the taste — it basically takes out the harsh elements of roasted barely and malts and other harsh astringent flavors, and softens them up a little bit."

"Plus the shells have a lot sodium in them, and so does the brine," Nico adds, "Sodium gives sort of a silky mouthfeel to the beer. It helps to accentuate that oyster character. If you drink it with oysters, you'll notice how the oysters tend to taste really creamy, with a nice silky finish."

On What's in Store for 2013: Sneak Attack (Saison, 6.2% ABV)

"We're releasing a beer in early 2013 that's gonna be something no other craft brewer has ever done," Nico reveals.

"We're about to release our brand new winter seasonal," he continues, "It's called Sneak Attack and its a Saison. It's dry-hopped with whole organic cardamom pods, so you get a little bit of spice to accentuate the natural spiciness of the yeasts. But the main idea is we're attacking winter with a summer beer. We're sneaking up on winter and attacking it!

"We all love the big beers in winter: the barley wines and imperial stouts and really rich full-bodied beers. But sometimes you need a palate cleanser, to kind of resuscitate, you so we call this 'the antidote to winter' or 'the antidote to the big beers of winter.' It's super crisp and refreshing and dry and spicy."

Look for Sneak Attack in to be released during the first week of January!
Tags:
Beer
Recent Articles

Feedback
How are we doing? Tell us what you like or don't like and how we can improve. We would love to hear your thoughts!